Lifestyle News & Tips
Denmark Police shut down photo exhitibiton of naked women
The Independent
Polyamory: The Art of Multiple Loves
Elephant Journal
13 things couples should do in bed
Bustle
Going down on women is good for your health
Daily Digest
Do women get blue balls?
Elite Daily
What are sleep orgasms and how can I have one?
Vice

How wife sharing gives you a better marriage
Reasons why college students are embracing swinging
Stats on modern day swingers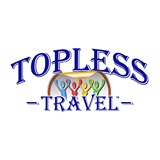 Toll-Free:
877-90-SWING
Fax:
954-796-9463
Office:
347-995-3884
Check us out on social media!


Come with us and explore new, exciting, fun destinations, re-visit your favorites and
pump up the Fun Factor in your life to Maximum Capacity!
Whether it's relaxing at a resort, an active adventure, a visit to a new exotic & erotic destination or a sexy cruise, our staff has
over 15 years of experience in the "Lifestyle" travel industry and we'll find the right vacation to indulge your fantasies!


Go to www.ToplessTravel.com or call 1-877-90-SWING for details.



---