Sustainability Survey
Please take a few minutes to help us shape our services and information by taking a
quick survey
about your interest and experience in sustainable corrections.





CLICK HERE




NIJ Issues "Greening Corrections Technology Guidebook"

The long awaited report from NIJ

on the state of sustainability in corrections is now available.

Download the Report.



The report was authored by Paul Sheldon, Senior Advisor, Natural Capitalism Solutions and Eugene Atherton, former Program Manager: Corrections Technology Center of Excellence. Readers of the report will note that it discusses in detail Mr. Sheldon's Seven Steps to Sustainability in Corrections which form the basis of

www.GreenPrisons.org

webinar series.
Missouri Prisons Going Green and Saving $1.2 Million Yearly with Ozone
Missouri is expected to save $1.2 million per year in natural gas, water and sewer costs simply by improving energy-efficiency at 15 correctional facilities statewide. During 2007, Aqua-Fusion Ozone Systems were added to each facility's on-premise laundry as part of Gov. Blunt's directive to pursue areas of energy conservation.
The Ohio Green Prison Project

The Ohio Green Prison Project (OGPP) is working on a pilot project with the Southeastern Correctional Institution (SCI) in Lancaster, Ohio, to demonstrate that training incarcerated people to retrofit prisons with energy-efficient green technology can make facilities more cost-effective. The project will provide trainees with job skills to prepare them for careers in the burgeoning green economy, making them more likely to succeed when they return to their communities. The lower operating and energy costs are expected to result in savings for SCI and Ohio taxpayers.

UPCOMING EVENTS
President's Perspective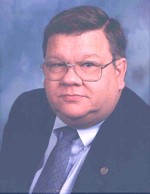 The keynoters for this year's National Symposium on Sustainability in Corrections have been announced and we are pleased that Maryland Secretary of Justice and Corrections Gary Maynard, and retired Michigan Director of Corrections Pat Caruso will headline the program. See the article below on both Secretary Maynard and Director Caruso to learn more about their distinguished careers. GreenPrisons is pleased to welcome them to this year's program.

Part of the Symposium will include a Commissioner's panel on Tuesday, October 30th that will include Secretary Maynard, Director Caruso, Commissioner Bruce Lemmon of Indiana and Director Gary Mohr of the Ohio Department of Rehabilitation and Correction.These accomplished leaders will provide insight into their diverse and successful approaches to sustainability.

Workshop proposals are still being accepted for this year's symposium. Practitioners who submit a workshop proposal that is accepted will receive a free registration for up to two participants per workshop.

GreenPrisons will be at the Southern States conference in Lexington, Kentucky, July 15 and 16. Come by our booth and register for a free IPad donated by Linkwriter and learn how to immediately turn all your documents into instant digitized documents that can be routed anywhere you can send email.

In July we will resume our highly successful webinar series focused on water management. We will explore technology used to conserve water in the institution as well as the re-purposing of ground, rain and gray water. Registration is now open at www.greenprisons.org.

It will be a busy summer leading up to the Symposium this fall. Be sure to stay in touch with GreenPrisons to keep up with the latest developments and as always your submissions about what is going on in your system are welcome.

News and Information
Gary Maynard and Pat Caruso Speaking at Second National Symposium on Sustainability in Corrections

Maryland Secretary of Public Safety and Corrections, Gary Maynard will be the Keynote Speaker at the opening luncheon on Tuesday, October 30th for the Second National Symposium on Sustainability in Corrections. Secretary Maynard has an extensive background in correctional management including serving as a warden and regional director. He has served as Commissioner or Director in Iowa, South Carolina and Oklahoma before being selected to lead the Maryland Department of Public Safety and Corrections.

In addition to his correctional experience Mr. Maynard retired from the Oklahoma National Guard as a Brigadier General after 32 years of service. He is past President of the American Correctional Association, a Commissioner for the Commission on Accreditation of Corrections, and served on the ACA Standards Committee. He is an author, adjunct professor and a truly dedicated public servant.
GreenPrisons is also proud to include Patricia L. Caruso as the Keynote Speaker for the Luncheon on Wednesday, October 31st. Director Caruso spent 23 years with the Michigan Department of Corrections including nine years as a warden and almost eight years as the Director of the Department, serving as a cabinet member to Governor Jennifer Granholm. She retired from the Department in 2011.
As Director she was responsible for directing the administration of Michigan's correctional system which includes the adult prison system, probation and parole supervision, the parole board, community corrections, and all related administrative functions including a budget of approximately $2.0 billion. During her tenure the Department successfully reduced the prison population by more than 7,500 prisoners, implemented the nationally acclaimed Michigan Prisoner Reentry Initiative, realized a 33% reduction in recidivism, greatly expanded public and private community partnerships, increased use of electronic monitoring, and closed 14 facilities.
Director Caruso received a B.A. in political science and sociology from Lake Superior State University and a Master of Arts in comprehensive occupational education from the University of Michigan.

Presenters Wanted

Presentation proposals are now being accepted for the Second National Symposium on Sustainability in Corrections October 29 – Nov 1 in Plainfield, IN. Practitioners are encouraged to submit workshop proposals now to ensure they are part of this year's program. Practitioners whose proposals are accepted for presentation will receive a free registration for the entire symposium. Vendors are also encouraged to make presentations as part of our premieum exhibit package. Practitioners and vendors can download the proposal form and review the exhibit guide at www.GreenPrisons.org or email Tommy@GreenPrisons.org for more information.
EPA Releases List of Top 50 Green-Powered Organizations

The U.S. Environmental Protection Agency (EPA) has released an updated list of the Top 50 Green Power Partnership organizations voluntarily using clean, renewable electricity from resources such as solar, wind, and low-impact hydropower. Intel Corporation tops the list as the largest single user of green power, followed by Kohl's Department Stores and Microsoft Corporation. Federal agencies included in the top 50 include the U.S. Department of Energy (13th), U.S. Air Force (17th) U.S. EPA (18th), and the U.S. Department of Veteran Affairs (23rd). Combined, the Top 50 partners are using more than 15 billion kilowatt-hours (kWh) of green power annually. Through their use of green power, these top organizations are avoiding carbon pollution equal to that created by the electricity use of more than 1.3 million American homes each year.
CEQ Announces 2012 Greengov Presidential Awards

The White House Council on Environmental Quality has announced that the nomination process for the 2012 GreenGov Presidential Awards will begin on Monday, April 23rd. Federal and military personnel are invited to participate in the Green Presidential Awards to celebrate extraordinary achievement in pursuit of President Obama's Executive Order 13514 on Federal Leadership in Environmental, Energy and Economic Performance. The GreenGov Presidential Awards honor exceptional Federal personnel, teams, projects and facilities, and programs that exemplify President Obama's charge to lead by example in sustainability. For a listing of the award categories and nomination information, please visit http://www.fedcenter.gov/greengovpresidentialawards.
Prison Gardens a Growing Trend, Feeding Inmates on the Inside and Food Banks on the Outside
by Rachel Cernansky
Nelson Mandela may have started it all when he was in prison—"A garden is one of the few things in prison that one could control," he wrote in his autobiography. "Being a custodian of this patch of earth offered a small taste of freedom."
But the idea probably rose to national fame only earlier this past decade, when the Garden Project of San Francisco started selling fresh produce to Alice Waters's acclaimed Chez Panisse restaurant. Catherine Sneed, the woman who in 1992 founded that project, which is a post-release program for ex-prisoners, did so because she had already seen such success with the Horticulture Program at the San Francisco County Jail, where she would go out on a daily basis with prisoners to work on the farm within the boundaries of the jail.