GreenPrisons
expands your opportunities to hear from practitioners and vendors alike about new sustainable technology, or practices that can be utilized in corrections. Be sure to check out
Jamee Peyton's article
on the Green Prisons home page to find the links, and sign up to participate. We are looking for bloggers who are interested in sharing their thoughts on a regular basis.
---
---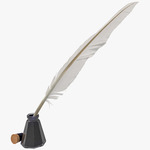 Need a question answered?
Looking for a recommendation on a vendor or a sample RFP? Now you can take advantage of our Listserv to get the answers to these questions and more.
Simply sign up
and post your first question or response. It's as simple as that and its FREE to the GreenPrisons network.
---
---

The Oregon Department of Corrections (DOC)
has been receiving a lot of attention this year for their sustainability efforts. The Department was presented with the
Recycler of the Year Award
at the Mid-Valley Green Awards on Saturday, March 11, at Willamette Heritage Center. DOC was praised for its recycling and upcycling efforts of ballistic vests, shoes, and fabric; its refurbishing of furniture; and its donation efforts of hundreds of blankets to the Salem Sleeping Bag Project.
Check out the entire article
here courtesy of the Marion County, Oregon website
Also from Oregon, Sustainability Manager Chad Naugle shares information about the agency's "plarn" project. Don't know what "plarn" is??
Learn here
courtesy of the Argus Observer.
---
---
Watch for next month's newsletter
to learn about the National Institute of Corrections (NIC) latest sustainability initiative. In April NIC and the US Department of Energy (DOE) will bring together some of the foremost correctional practitioners in the country to discuss their current sustainable practices. The group will look for ways for NIC and DOE to facilitate their support for the effort of more cost effective and sustainable correctional operations going forward. GreenPrisons will be there. Follow us on
Twitter
and
Facebook
to learn about it as it happens.