Misunderstandings & Undereducated Physicians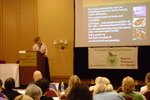 Currently it is pretty much left to each individual person to chat with their doctor(s) about their treatment choices. Since I have been at several meetings of (ASCO) American Society for Clinical Oncology, I can say that the attendees at the CAM talks don't learn much. Instead of them gaining information on the type of studies we feature on our site, mostly what they hear is "Don't do that, don't let your patient do that", and my personal favorite "don't have anything to do with vitamin C".
I asked Dr. David Rosenthal (at Dana Farber Cancer Center) what the evidence was to make such a statement - his answer - "I'll tell you later". Naturally that was completely uninformative as I didn't need to know personally, but wanted all present to hear. And I never did hear anything. That particular meeting took place in the early 2000's. We've got summaries of many of the CAM sessions at ASCO.
http://annieappleseedproject.org/ascocam.html
So how do you handle the fact that you read a lot on our site, and your doctor may not have? Download an article of interest, bring it with you, and use it to start the conversation. Sometimes the doc can surprise you with a real interest to learn.
---
Annie Appleseed Project will present 2 important
educational conferences
in 2012:
March 1-3, 2012
in West Palm Beach, FL
September 14-15, 2012
in San Francisco, CA
First Do No Harms
is the overall theme for both.
Florida will focus on detoxification and insurance issues.
Plan to come to at least one of these, and invite your friends, and doctor, nurses, social workers, acupuncturists, massage professionals, homeopaths, psychotherapists, etc. We'll provide CEUs/CNEs for many.
Help us raise funds to support these educational efforts by bringing our health-messaged postcards around to events in your . We are an all-volunteer network. AND make a tax-deductible(to the full extent of the law) donation NOW. Thank you for your support. We are going to announce a matching grant within the week.
Donate to our nonprofit
---
Want to know who's speaking - see the specific page for the event you are interested in. San Francisco information is not fully ready but a lot has been decided for the March 2012 meeting.
Keynote speaker is Keith Block, MD, founder of the Block Medical Center in Illinois. Dr. Block is also the author of
Life Over Cancer
.
The 2012 Florida conference will feature a juice bar and we'll raffle off a juicer.
http://www.annieappleseedproject.org/5thevcocath.html
---
Looking at the ENTIRE story - Evidence
Don't give up on
organic
soy. We hear all too often that many people still think soy is an AVOID. Absolutely untrue. It turns out when real soy food is studied, it has many healthful proplerties.
If soy is not labled as
ORGANIC
, then chances are very high that it will be genetically-modified.
The Food and Drug Administration (FDA)'s job is to protect us. But somewhere down the line they decided that the EVIDENCE on genetically-modified foods made it okay
NOT to label
them. A prime example of how Evidence can be misused. Short term studies of the effect of genetically-modified foods are not the right approach - yet this is exactly the sort of Evidence that the decision was based on.
The Whole is Greater than the Sum of its Parts
Yet another way that evidence gets screwed up, is that just a part of the whole is studied. Remember the old saying "the whole is greater than the sum of its parts"? We STRONGLY support that. Research is being done bit by teeny tiny bit - and it will never be able to envision the whole!
---