A bowl of Fresh, ORGANIC Fruits and Vegetables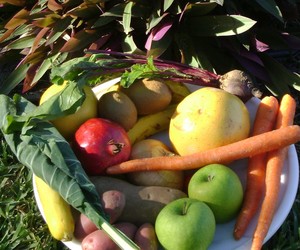 As an antioxidant,
prunes
are a powerhouse. Of the foods scoring the highest for their Oxygen Radical Absorbance Capacity (ORAC) - a test measuring antioxidant ability, prunes top the list.
According to the Department of Agricultre, other foods that score high on the ORAC list includes
raisins
,
blueberries
,
strawberries
,
kale
and
spinach
.
In several tests, women who ate large servings of
spinach
or
strawberries
increased their blood antioxdant scores by 25%.
Ann's NOTE: Best to eat organic, especially
strawberries
as they are among the most sprayed produce.
http://www.annieappleseedprojec
t.org
The Annie Appleseed Project

is an all-volunteer nonprofit.
Find us on
http://www.facebook.com/#!/pages/The-Annie-Appleseed-Project/152926424727258
or
or
http://www.facebook.com/#!/group.php?gid=87016010966
or on Twitter - Annie Appleseed
We accept DONATIONS from our site - Paypal.com, Google. com or Justgive.com DONATE buttons. Thank you.