Dear friends,
It is with immense pride and gratitude that I write to you from SOIL's Port-au-Prince office. I have worked full time for SOIL for 15 months now but have been involved as a friend, visitor, fundraiser and volunteer for well over three years.
I came to know SOIL after reading a short piece about SOIL's work in Haiti in the National Geographic (September 2008). Last year, National Geographic honored our illustrious and beloved Executive Director, Dr. Sasha Kramer, as one of 2011's Emerging Explorers. This prestigious award by such a ubiquitous institution reminds me that SOIL's impact is growing. People across Haiti and across the world are looking to us for information and technical support on ecological sanitation projects, both large and small.
SOIL is the leader in EcoSan in Haiti and I believe the reasons for this are simple. Now as always, our small staff is comprised of remarkable, committed people. To be sure, our tireless leader embodies the innovative and optimistic environmental and social possibilities that we all believe in. And, of course, it is nothing short of the truth that your support for Sasha and the entire team have made our work possible from the start.
With love and thanks from Port-au-Prince, Corinne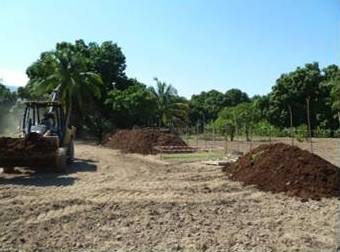 Compost for Sale!
SOIL has 400,000 gallons of rich, organic compost curing in piles at our waste treatment sites around Haiti and we're producing more at a rate of 5,000 gallons a week! The problem of what to do with it all is a wonderful dilemma to have in Haiti - a country where topsoil erosion and soil depletion have caused declining agricultural productivity and have limited the success of reforestation efforts. If you know of any organizations looking to buy compost, be sure to send them our way! All proceeds from compost sales go directly back into growing our sanitation programs.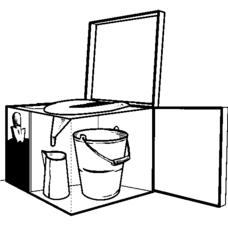 SOIL's EcoSan Toilet Design Goes Global
Last year, Daniel Tillias, the director of our dear partner organization, Pax Christi Ayiti, said "It is my vision that Haiti will have too many SOIL toilets producing compost and we'll have to start exporting them to the Dominican Republic and to all the other countries of the world". Today we're proud to announce that Daniel's vision is starting to come true as the latest edition of Hesperian's "Where There Is No Doctor" manual features SOIL and our new composting toilet model. Read more.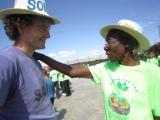 SOIL Celebrates the Grand Opening of the Tap Tap Garden in Cite Soliel
SOIL is proud to announce that some of our compost is being used in the largest urban garden in Haiti - the beautiful Jaden Tap Tap. Set on land in Cite Soleil that was once a garbage dump, the garden has more than 500 brightly-painted tire gardens, a flower garden, and a moringa tree nursery. SOIL joined Haitian rockstar, BelO, community members from all around Cite Soleil and partner organizations,
Bochika
and SAKALA-Pax Christi Ayiti, in celebrating the grand opening on a hope-filled day in late January. Thank you to everyone that came out in support of this amazing project. See the photos and watch a great video.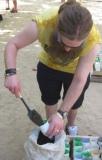 Cruise Passengers Plant 6,000 Trees
In one hot, sunny and beautiful day, passengers from JamCruise - a music-oriented cruise ship - stopped by northern Haiti to seed 6,000 citrus trees for SOIL. This wonderful gift helped us launch our new tree nursery in Limonade. The seedlings are growing bigger every day, so expect lots of agricultural related updates in the coming months. Special thanks to Trees, Water & People and Positive Legacy for making this day such a success. Are you curious what 6,000 seedlings look like? Check out the pictures from the fun, sweaty day on SOIL's Flickr page.
An Update from Okap
The mangos are ripening and the SOIL staff in Okap (aka Cap-Haitien) are hard at work. Here's an update on what's been going on in our northern office:
- Construction will begin this week on a new and improved composting facility.
- A new solar system to power the water pump at the Limonade agricultural site is almost up and running - one more week of work until we have running water!
- Public toilets constructed within the last few years are under review - we are meeting with communities to discuss their current state and make a plan for their future management.
- Household toilet trials are continuing: we are collecting feedback to improve the toilet design and collection system. More updates on this coming soon!
- A new round of hygiene promotion workshops are up and coming.
- We have a new cover material for "flushing" the EcoSan toilets: peanut shell husks! They are proving to be good at covering contents after usage and reducing smells.
In Loving Memory of Jean Ristil Jean Baptiste
SOIL lost a dear colleague, teacher and friend in March. Jean Ristil Jean Baptiste was a young community organizer and journalist from Cite Soleil who worked collaboratively with SOIL since 2006. As our colleague, Jean was our guide through the social complexities of the neighborhood where he was born and raised. He served as a mediator between our staff and community members, keeping us appraised of shifting needs and introducing us to respected leaders. As our teacher, he taught us to see through the false representations and prejudice that surrounds poor communities in Port-au-Prince and how to find hope in the most difficult of circumstances. And as our friend, he made us laugh with his warm smile and brilliant diatribes against corruption and greed.
Jean is sorely missed by the thousands of people whose lives he touched, from Cite Soleil to San Francisco. His legacy will live on through the children he inspired and supported in Cite Soleil and we in SOIL will do all we can to continue with his work for creating a better future in one of the forgotten corners of the world. We are so grateful to have had the opportunity to work alongside such a courageous and compassionate fighter.