Follow us on Facebook
Donate
Good Search
The Advent Journey:
Light Amid the Darkness
November 30-
December 2, 2012
Registration due by November 23, 2012
Join us for this opportunity to slow down and move into the busy month of December by focusing on the contemplative nature of the season. For more information about this retreat or to register, visit our website or contact Trisha at 608-835-3879.
Holiday Fair and Angel Tea
Sunday, November 18, 2012, 12:00-4:00 pm


This Sunday!



Purchase holiday gifts including jewelry, collectibles and antiques, Christmas ornaments, knit items, original artwork and delicious goodies. The Angel Tea is a unique event for all ages. Enjoy tea, hot chocolate or hot cider, along with wonderful goodies to eat. Door prizes and favors for all. Tickets are $6 for adults and $4 for children age 10 and under. Reserve your spot at the tea today by contacting us at rrdickwegner@gmail.com or 608-257-5270.
---
Holiday Concert
December 13, 2012, 1:30 pm
Please join us for our annual holiday concert, performed by the Middleton High School Choir and directed by Tom Mielke. The choir spends the day traveling around the area giving performances and we are honored to be one of the venues. The concert is free and open to the public, followed by light refreshments. For more information, contact Nancy at 608-836-1631, x105.
Need some Christmas gift ideas this year?
These purchases help support the ministries here. Contact Mike at 608-836-1631, x124 for more details, OR
Give yourself or someone you love a gift certificate for an overnight or retreat at Holy Wisdom Monastery.
Contact Jamie at 608-836-1631, x100 to buy a gift certificate.
All are welcome to Sunday worship at 9:00 am and these special events.
Taizé Prayer, November 16,
7:30 pm
'Thanksgiving Sunday',
November 18
We honor the many volunteers who make Sunday Assembly possible!
Sunday Assembly
Fall Meeting
November 18 following worship
Advent begins December 2
A time of preparation for the celebration of Christmas!
Sunday Assembly Advent Potluck Brunch,
December 2
Bring a dish to share and enjoy a time of fellowship after worship.
Plan now to join us for the celebration of the Birth of Jesus.
Christmas Eve Service
Monday,
December 24,
8:30 pm
Christmas Day
Service
Tuesday,
December 25,
9:00 am
Contact Lynn at 608-836-1631, x138 for more information.
The perfect setting
for your wedding or commitment ceremony

Finding the perfect setting, when planning a wedding or a commitment ceremony, is one of the most important details to check off your list. Holy Wisdom Monastery has both indoor and outdoor locations for 25 to 300 guests. Our on-site wedding coordinator helps couples to envision their perfect day during a tour of the facilities. She works with couples during the planning stages and is present during the rehearsal and ceremony. Couples may provide their own music, and guest officiants are welcome.

Contact Jamie at 608-836-1631, x100. All are welcome.
Join us in prayer. Join us in work. Experience ecumenical Benedictine life with us:
To learn more, contact Sister Lynne Smith at 608-831-9305.
Pre-plan your memorial or funeral service

While for some people, death is a difficult subject to think about and discuss, it's something that everyone must face. One option is to pre-plan the service. Your wishes are carried out after your passing and family members are less burdened in their time of sorrow. Your selection of music, the friends or family members that you want to speak at the service, the photos and other remembrances you want on display are all things that you can determine in the pre-planning stage.

Contact Jamie, 608-836-1631, x100 to discuss funeral pre-planning.
More than 1,500 years ago, Benedict of Nursia wrote the Rule, a guide for living in community. Benedict's Rule concentrated on hospitality, prayer, community life and how to create balance among these different dimensions of life. The Rule proved to be timeless. It still has something to offer Christian women and men of the 21st century. Find the Rule in our library or check out what's new. Donations to the library are always welcome.

For more information contact Nancy at 608-836-1631, x105.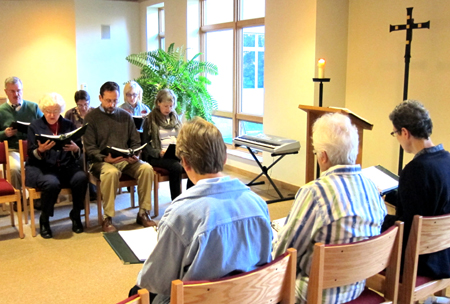 If 'thank you' were the only prayer we ever said says Meister Eckart "it would be enough."
All are Welcome for Daily Prayer
Daily prayer, or the Liturgy of the Hours in the monastic tradition, exists at the very heart of this community. Daily prayer draws us closer to God, to each other, and to the joys and pain of our world. The sisters form the core of this praying community as they gather for prayer morning, midday and evening. In the spirit of Benedictine hospitality these times of prayer are open to all others who wish to join them. Several people, like Ed Emmenegger, have made this a regular part of their week. Others come as they are able. Guests and coworkers at the monastery frequently participate as well. Together, we are all blessed to be a part of this praying community. Please consider joining us at any time. Daily prayer is held in the monastery oratory (lower level). The daily prayer schedule of the monastery includes:
• Morning Prayer, Sunday-Saturday, 8:00 am
• Midday Prayer, Monday-Friday, 11:45 am
• Evening Prayer, Sunday-Saturday, 4:30 pm

Additional information about the variety of opportunities for prayer at Holy Wisdom Monastery is available in the Prayer and Worship section of our website.
---
Reflections on Morning Prayer
by Ed Emmenegger, Holy Wisdom Monastery neighbor and volunteer

On Thanksgiving weekend 2009, while many were still gratefully celebrating the opening of the sparkling and highly acclaimed monastery building, I decided more prayer in my life would be a good thing for Advent. I wanted to see if I could build on positive experiences of morning prayer I've had away on retreat in past years.
Though I had often prayed in thanksgiving and wonder while walking the trails of Holy Wisdom for years, I wondered if I might re-awaken the love for a time of shared prayer in the morning.

I found great satisfaction in that Advent exercise. Once or twice, I even walked the twenty five minute distance from our house. Those times turned out to be extended meditations — walking alone and praying with the group, balancing silence with ancient expressions to our Source and Destiny.

After Advent, I just kept coming — and then I re-committed to doing it for Lent. I figured that would be about it. But I was hooked by then — and with the morning light increasing and the earth springing forth — the attractiveness of starting the day at Holy Wisdom only grew on me.

I don't make it every morning. Sundays I'm at the Catholic parish where I am on staff as pastoral associate. A couple of other days a week I have early morning commitments, making my average about four times a week. And I only come in the morning — it's close to home then, and a way to focus my day at work. Admittedly it's the only time available in my current daily schedule, but dawn and dusk have always seemed the most vivid time to engage the Source of all being, eternal Word and gentle Spirit.

Most meaningful is the silence before, the silence between psalms, the silence after the reading. And there is deep joy in excellent psalm translations that connect me to others around the world and through thousands of years. Singing directly to the Mystery with every kind of emotional and sensory approach, I can remember who I am and where I fit in this big wide universe.

Of some impact on me, I've become aware that formal morning prayer, an experience I avoided and which left me lifeless in an earlier phase when it was an expected part of my daily schedule, has found new life in my heart. It's as if a field used to producing corn or alfalfa now finds itself full of prairie blooms, — hardier, more colorful and more natural. I'm also happy that as I say aloud the names of people who have asked me to pray for them, I have a way to follow through on my intention to mention their intention.

To someone who has never thought of this as a possibility, or is reluctant, — try it with an open mind just one day, or for one week. It's not for everyone, and it's an acquired taste. It takes a little patience, both with self and others, to become natural with following the order of prayer and the chanting back and forth.

Every morning at prayer we sing the Benedictus, which is the song of Zachary, a person standing on the bridge between Judaism and Christianity. His voice just given back to him, Zachary sings his heart to God — Blessed be the God of Israel, who cared for the people and freed them. Our tender-hearted God will come as new dawn from heaven, light for those in the shadow of death and guiding our feet on the path to peace. I don't know exactly why, but I thrill at those words each time I pray with the sisters and the community at prayer in the oratory. To summarize, I'll quote a public radio philosopher out of context: those words sung at the beginning of the day are what give me "the courage to get up and do the things that need to be done."*

(*That's in the Powdermilk Biscuits jingle, sung by Garrison Keillor on Wisconsin Public Radio's Prairie Home Companion, in case you need a reference, though it might be familiar to the older segment of the Holy Wisdom Monastery crowd.)
Ed grew up in a large family and went to school in the Chicago area. He has lived with his family in the Shorecrest neighborhood on the north side of Middleton for 26 years. For 34 years he has worked at several Catholic parishes in the Madison area, and also in the managemant of the thrift stores operated by the Society of St. Vincent de Paul. Ed and his wife, Rita, have four grown children, two of whom live in Middleton currently. Ed loves Holy Wisdom Monastery for a place to walk, to reflect and to share in communal prayer.

---
Integrating Prayer into Community Life
By Sister Lynne Smith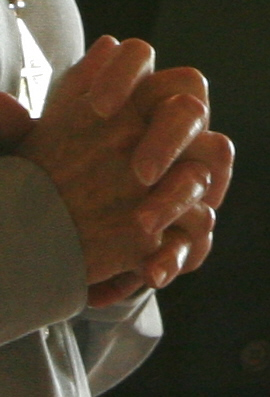 Prayer is an integral element of the Benedictine Sojourner experience as they participate in our life and ministry. Our Sojourners, Linda and Nancy, are faithful to the Liturgy of Hours three times a day and to morning and evening centering prayer. Since centering prayer is new to them, some of our faith formation classes have focused on centering prayer. In addition, they are taking part in a class on centering prayer offered by oblate Beth O'Brien. Lectio divina, a prayerful practice of reading and meditating on scripture, is an important prayer practice in the Benedictine tradition. We sisters spend time each morning in lectio, and we invite the Benedictine Sojourners and guests to join us in lectio on Saturday evening after dinner. The Sojourners are learning this prayerful practice of reading and meditating on scripture which they will be able to carry with them into their own lives.

If you are interested in becoming a Benedictine Sojourner, please contact Sister Lynne Smith, 608-831-9305.
---
We lost some genuinely special people this past year at Holy Wisdom Monastery. In April, we mourned the loss of Jim McCarthy (April 6), Rev. Ed Beers (April 16), and Judy Schoennherr (April 21). We were honored to host all of their memorial services at the monastery, where the consolation was the opportunity to welcome so many longtime friends and family members into our space.

All of their memories live on in various ways here at the monastery.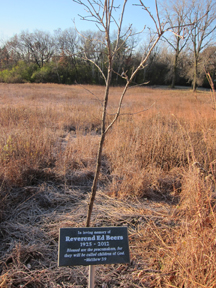 Jim's wife, Joan, remains an active member of our Sunday Assembly worship community, as well as a member of Benedict Society. Nea
r the end of October, we dedicated a couple of memorial trees in memory of Ed — a burr oak along the driveway after entering the monastery property and another burr oak near the parking lot of the Retreat and Guest House. Judy and her husband Richard's memories live on through the niche with their names on a plaque in the columbarium at Holy Wisdom Monastery.

These three also live on because so many donors have chosen to remember them through gifts to the Benedictine Life Foundation (BLF). Memorial gifts are tax-deductible to the extent provided by law, and can be a wonderful way for the spirit of the deceased to live on through the sisters' ministries and mission. Donors can choose a specific ministry to support, a certain value from the sisters' mission to support, or give an unrestricted gift for the sisters to use where it is most needed. So far, gifts in memory of loved ones have totaled $5,500 in 2012 from nearly a hundred donors.

Donors can also make tribute gifts in honor of a friend or loved one. This can make a wonderful holiday gift, and is a special way to share the Holy Wisdom Monastery values with an important person in your life. Gifts in honor of a friend or loved one have totaled $3,600 so far this calendar year to support the mission at the monastery. BLF can notify the person you are making a gift in honor of so that they will know of your generosity and of the ministry that you are supporting at the monastery.

Making gifts in memory of a loved one can be done on our website or by filling out this PDF form. BLF can notify the family, friend or loved one of your gift if you so desire. If you want to talk more about gifts in memory or in honor of a loved one, please contact me at 608-836-1631, x124 or mikesb@benedictinewomen.org.
---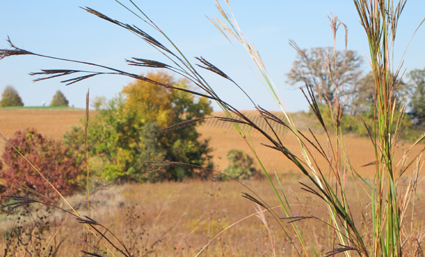 Calendar
Sunday Worship, 9:00 am
Monastery Assembly Room

Daily Prayer
Monastery Oratory
Morning Prayer, Sunday-Saturday, 8:00 am

Midday Prayer, Monday-Friday, 11:45 am

Evening Prayer, Sunday-Saturday, 4:30 pm
---
November 16
Taize Prayer, 7:30 pm in monastery oratory
November 18
Sunday Assembly
Children's and Youth Ministry, 9:00 am during worship
November 18
Sunday Assembly Fall Meeting, 10:00 am - 12:00 pm in dining room

November 18
Thanksgiving Sunday, recognition of Sunday Assembly volunteers

November 18
Holiday Fair and Angel Tea, 12:00 - 4:00 pm

November 25
Feast of the Fulfillment

November 30-December 2
The Advent Journey: Light Amid the Darkness

December 2
First Sunday of Advent

December 2
Sunday Assembly
Children's and Youth Ministry, 9:00 am during worship
December 2
Sunday Assembly Advent Potluck Brunch, 10:00 am - 12:00 pm in dining room

December 13
Holiday Concert, by the Middleton High School choir, 1:30 pm in assembly room followed by light refreshments

December 14
Taize Prayer, 7:30 pm in monastery oratory
December 16
Sunday Assembly
Children's and Youth Ministry, 9:00 am during worship
December 24
Christmas Eve Liturgy, 8:30 pm followed by refreshments/social

December 25
Christmas Day Liturgy, 9:00 am
January 6
Solemnity of Epiphany

January 13
Sunday Assembly Children's & Youth Ministry, 9:00 am during worship

January 18-25
Week of Prayer for Christian Unity

January 25
Taize Prayer, 7:30 pm in oratory

January 27
Sunday Assembly Children's & Youth Ministry, 9:00 am during worship

January 27
Anointing of the Sick, after 9:00 am worship in the oratory
Visit our calendar of events for upcoming events.