Continued this month
More pictures, less text, with links to full articles. Please let us know what you think of this format at news@benedictinewomen.org or by reply to this email.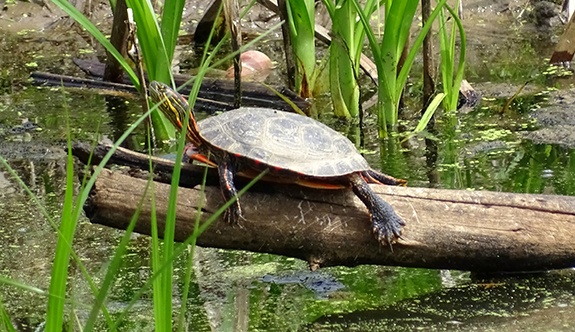 ---
---
Wild Rowing Into God
by Sister Gail Worcelo and Sister Gabriele Uhlein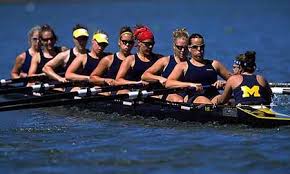 Rowing, it's a great art. It's the finest art there is. It's a symphony of motion. And when you are rowing well, why it's nearing perfection. And when you are nearing perfection, you're touching the Divine.
What is the spiritual value of rowing? …..The losing of the self entirely to the cooperative effort of the crew as a whole.
~George Yeoman Pocock
People around the world are gathering in hubs, circles, and contemplative networks, attempting to embody a new possibility for our emerging humanity. Words like R
esonant Fields,
D
ivinized Humanity,
G
lobal Communion
are arising in conversations everywhere. We are beginning to row together so that love's highest potential can be made manifest in this world.

The Wild Rowing into God is a metaphor for our emergent humanity, and our participation in that emergence.

The Wild Rowing suggests: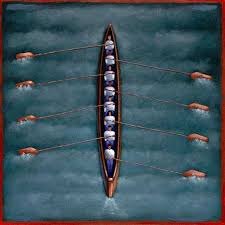 the journey from me to we

spiritual interdependency

relational courage

embodiment

collective awakening

willingness to venture into the unknown together

staying on the inside

strong, muscular action in the world

creative union
"

One of the first admonitions of a good rowing coach is,
'pull your own weight,'
and the rowers do just that when they realize that the boat goes better when each gives fully.

"
~George Yeoman Pocock

We will offer our Wild Rowing Into God program at Holy Wisdom Monastery on August 28-29, 2015. During our program we will be drawing on and forwarding the work of past and present evolutionary thinkers whose insights contribute to our theme of the Wild Rowing/Collective Emergence:
Teilhard de Chardin

Thomas Berry

Barbara Marx Hubbard

Beatrice Bruteau

Ilia Delio

Carter Phipps

and others.
We will explore a new model of spiritual engagement called W
e Mysticism
or a H
igher We
—moving from personal transformation to collective awakening, from separation consciousness to a consciousness of communion—creating a new possibility for the future of humanity and the total earth community.

We will engage in Mutual Awakening Practices that dissolve our hard wiring for separation; practices that deepen trust, spiritual interdependency, relational courage and mutuality in order to open up a field of higher possibility between us.
The program format will consist of lecture, contemplative sitting, body movement, dance, creative expression and shared exercises.

We are at an incredible moment of grace and there is so much potential waiting to be realized.

We hope you will join us in the Wild Rowing into God. Each person's gifts and energy, wisdom and willingness are needed to move the vessel of our humanity forward toward a more beautiful world our hearts know is possible.

Teilhard de Chardin predicted that a new kind of human would emerge on earth, one attracted to the future and in touch with the impulse to reach out, connect, go beyond. Are you open to what has never been before?

Is there a flame of expectation in your heart?

Are you yearning to join with others in the great collective work of unleashing the potential and possibility that lies deep within our sacred humanity? Join us.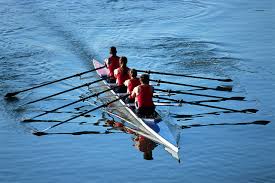 "According to the skill with which we set our sails to the breeze, it will either capsize our vessel or send it leaping ahead."
~Teilhard de Chardin
Attend Wild Rowing Into God on August 28-29, 2015. Register online at benedictinewomen.org/retreats/group-retreats/wild-rowing-into-god/by August 1, 2015.
---
Buddhists and Christian monastics share much in common
by Joanne Kollasch, co-
director of formation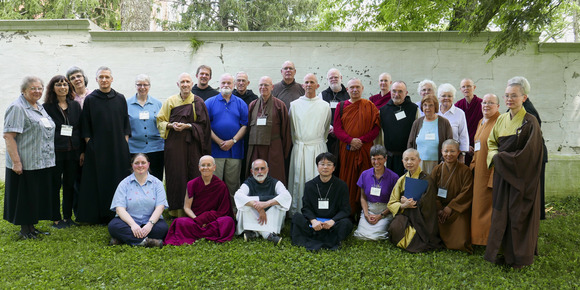 Mary David Walgenbach and Joanne Kollasch (back row, 4th and 5th from the right) joined members from a variety of Buddhist and Christian monastic traditions for Gethsemani Encounter IV at Gethsemani Abbey in Kentucky in May. Photo by Rev. Heng Sure.
Bells ringing in a Benedictine monastery throughout the day are an unmistakable call. They mark the time for the community and guests to gather for common prayer, the Liturgy of Hours. Saint Benedict in his Rule titles this prayer "The Work of God," and devotes several chapters to it.

For the monks and guests at Gethsemani Abbey in Kentucky, the bells ring seven times a day—the first bell at 3:15 am for Vigils. Sister Mary David and I experienced the ringing bells first-hand while in the Abbey guest house. (Most of them. One of us managed to not hear the first bell all week!)

We, along with others from a variety of Buddhist and Christian monastic traditions, were attending the North American Commission for Monastic Interreligious Dialogue's fourth Gethsemani Encounter, May 27-31, 2015 at the Abbey. The topic for dialogue was "Maturation in the Buddhist and Christian Monastic Traditions." A short description of the topic as understood by the leaders follows:

Spiritual maturation is the intentional process of being engaged in a religious tradition with its practices, teachings and communal support in order to reach a certain goal.

The Gethsemani Encounter included lectures discussion, meditation, ritual and fellowship. In addition to the distinctive practices of the various communities, we found much we shared in common. In one discussion on formation I learned that preparation for both Buddhist and Christian candidates extends over five to seven years before one makes a final commitment to the community.

The Abbey of Gethsemani was home to Thomas Merton from 1941 until his death in 1968. Merton was a prolific writer on contemplative life and prayer. In his later years he also wrote about race relations, violence, nuclear war and economic injustice, and he developed a deep ecumenical sensitivity. (Information about Thomas Merton appears on the Abbey of Gethsemani website.)

Before leaving the Abbey, I knelt at Thomas Merton's grave in prayer and reflection. The words from a "Letter to Religious" by Pope Francis (November 21, 2014) came to mind: …instances, some long-standing, of inter-monastic dialogue involving the Catholic Church and certain great religious traditions… [and] …to consider what further steps can be taken towards greater mutual understanding and greater cooperation in the many common areas of service to human life.

I concluded my reflection by thanking God for Thomas Merton and what Merton had begun over 50 years ago.
---
Sunday Assembly
Madonna della Sedia
by Lila Hemlin, Sunday Assembly member and oblate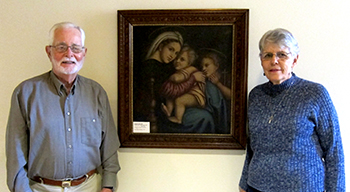 My husband Rich Hemlin and I are members of Sunday Assembly and the oblate community. We feel so blessed to have finally found our spiritual home at Holy Wisdom Monastery.

While visiting my family in Vermont over the years, we would go to worship and spend time at the Weston Priory, which has a wonderful music ministry. Rich asked the abbot, Fr. Leo Rudloff, OSB, who was an old German monk, if he knew Fr. Philip Fischer, OSB. He said he knew him and he was an exemplary monk. Since then, Fr. Leo has passed away and is buried beneath his favorite chapel window. Fr. Philip (1865-1933) was Rich's great uncle who spent much of his ministry planting Benedictine monasteries in the Pacific Northwest. Rich has told me many times about spending Sunday afternoons after Mass with his widowed grandmother, Katarina Fischer Hemlin, who would play the piano (she loved Mendelsohn) and served German potato salad and sausage. He remembered a painting of the Madonna and child, painted by Fr. Philip around 1920, hanging in the living room by the piano. His grandmother died while Rich was serving in Korea and the painting disappeared from his life until it resurfaced last year.

Rich's brother contacted us to see if we would be interested in donating this painting to Holy Wisdom as a permanent home. We discovered the painting is a rendition of the Madonna della Sedia by Raphael (1518). The original is in the Galleria Palatina in Florence. After talking to Sister Mary David Walgenbach, who accepted the painting, and Sister Joanne Kollasch, who found an appropriate spot to hang this painting, it now hangs in the meditation chapel of the oratory. We are not sure where it was all these years, but it now resides permanently in our Benedictine monastery, having come full circle.
All are welcome to join us for worship each Sunday at 9:00 am. For more information contact Lynn Lemberger at
llemberger@benedictinewomen.org
, 608-836-1631, x138.
---
Oblates
Stay
by Heather Lee Schmidt Albinger, oblate class of 2015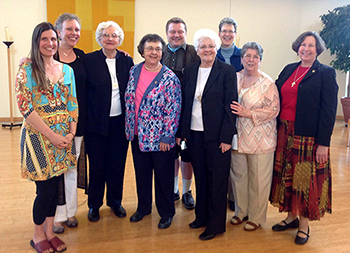 Heather Schmidt Albinger (left) becomes an Oblate of Holy Wisdom Monastery in April 2015. Pictured here with many of her 2015 oblate classmates and the sisters. Photo by Kathleen Wessels.
When Jesus turned and saw them following, he said to them, 'What are you looking for?' They said to him, 'Rabbi' (which translated means teacher), 'where are you staying?' He said to them, 'Come and see.' They came and saw where he was staying, and they remained with him that day. (John 1:38-39)

This Scripture was shared during my first oblate retreat. Stay is what I heard. Stay, stay, stay. How do we stay with Christ? We must come and see—follow to remain—follow to stay. Stay has emerged in my own rule as a means of conversion. Stay captures many elements of Benedict's Rule—statio (an intentional pause), stability and holy leisure. I also hear a call to patience, waiting, deepening in—and to spiritual practices that cultivate these gifts: meditation, walking, yoga, swimming, singing, retreat…what else?

The Psalms were the topic on my last oblate retreat, and I heard stay again. Are you familiar with the word, Selah that appears between verses in the Psalms? Selah is translated as "pause and listen." For me, it says, "stay, be in this moment. Let the fullness wash over you." Obedience to this kind of staying teaches, heals, and grows me.

This oblate formation year asked a rule of life from me, which emerged, little by little, from that first retreat to the last, and became a song—with a refrain that sings, "Listen, Stay, Obey"—sings Selah—pause here and stay. Perhaps my verse about stay (below) will sing to you as you stay today. Peace.
Stay means drop down to the still lake within





or nest in the treetops that dance in the wind.





Exhale, be patient—the wait won't be too long





Yoga, a swim, or a walk with the dog.





Follow through seasons with prayer, work, and play.




Listen, Stay, Obey.
Heather Lee Schmidt Albinger became an oblate at Holy Wisdom in April 2015. She is a spiritual author and songwriter. The rest of her rule, her songs, and her recently published book, This Moment of Retreat: Listening to the Birch, the Milkweed, and the Healing Song in all that is Now can be explored at www.heatherleeonline.com. Heather's book is also in all the bedrooms at Holy Wisdom Monastery for retreatants to read while they are here. She lives in Wauwatosa, WI with her husband, children, and dog.

Learn more online about Oblates at Holy Wisdom Monastery.
---
Spring with the Friends of Wisdom Prairie through a camera lens or two
By Carolyn McGinley, director of communications
This spring the Friends of Wisdom Prairie learned about wildflowers at Abraham's Woods near Albany, Wisconsin. The Friends also burned 85 acres of prairie, removed hedgerows to ready the land for an oak savanna, planted 10 acres of native prairie, searched for birds on the grounds of Holy Wisdom Monastery and were educated about Wisconsin wildlife by University of Wisconsin-Madison professor Scott Craven.

You are invited to join the Friends on one of their upcoming outings, dinner lectures, workdays and tours this summer. Help care for the earth at Holy Wisdom and learn about sustainable practices you can use where you live.

Enjoy the photos of these events taken by volunteers
Mary Kay Baum and
Michael Kienitz. Michael is a photojournalist who uses drones to take aerial photos for us and will document changes in the land as the restoration efforts move forward. Mary Kay's photos document these changes from the ground.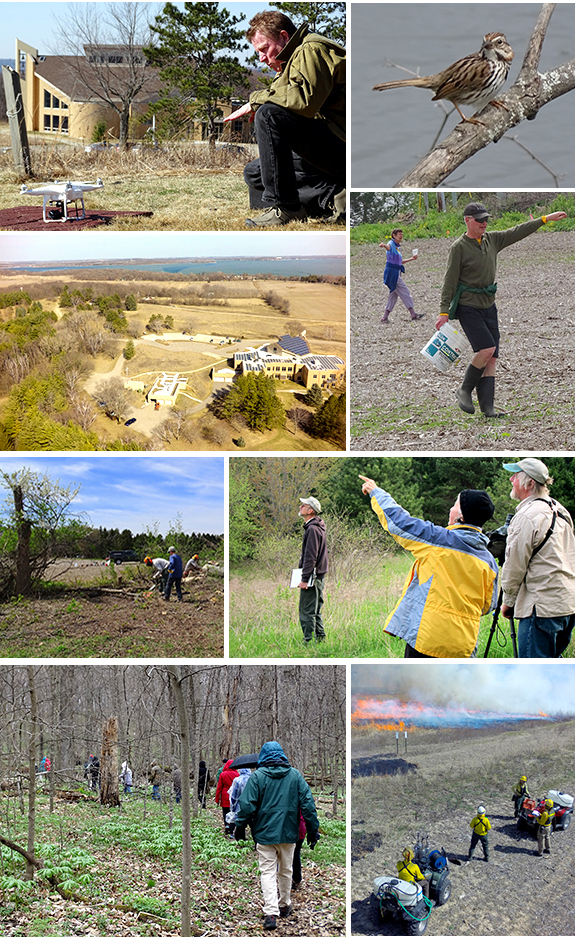 From top left clockwise: Michael Kienitz orients drone, photo by Mary Kay Baum; Tree sparrow seen on the grounds, photo by Mary Kay Baum; Volunteers plant 10 acres of new native prairie, photo by Mary Kay Baum; Paul Noeldner (right)
leads birding hike before a Wisdom Prairie Workday, staff photo; An aerial shot of the prairie burn from the drone—85 acres burned, photo by Michael Kienitz; Friends hike through spring wildflowers at Abraham's Woods, photo by Mary Kay Baum; Friends remove a hedgerow with chainsaws, photo by Mary Kay Baum; An aerial view of the Holy Wisdom Monastery grounds with Lake Mendota in the background, photo by Michael Kienitz.
---
Thank you for your support in 2014

Over 900 households, foundations, corporations and government municipalities supported our work in 2014! To read about the impact these donations had, please download the 2014 Benedictine Life Foundation annual report
http://benedictinewomen.org/
support-our-work/annual-
report/
. If you would like one mailed to you, contact Mike at 608-836-1631, x124 or mikesb@benedictinewomen.org. If you would like to support our work in 2015, you can make a donation online.
---
Volunteers are especially needed in the summer at Holy Wisdom Monastery with the prairies in full bloom, weddings on many weekends and more guests visiting to take advantage of the peaceful beauty at this time of year.

Volunteer at an upcoming Wisdom Prairie Workday from 9:00 am-noon, and help improve the ecological health of the land. Register online.
Wednesday, June 17, 2015

Saturday, July 11, 2015

Wednesday, July 22, 2015
Volunteer in the kitchen and assist the monastery chef with prepping food, setting tables, washing dishes and processing garden and orchard produce. Pick the day and shift that fits your schedule.
Tuesday, Wednesday, Thursday, Friday or Saturday — 10:00 am–2:00 pm

Tuesday, Wednesday, Thursday, Friday or Saturday —

2:00–7:00 pm

Occasional Sundays — 10:00 am-2:00 pm
Help as a housekeeper volunteer and assist the monastery housekeeper with
washing, drying and

folding sheets and towels from guest rooms.
Mondays, 9:00 am-12:00 pm
Volunteer at the reception desk in the monastery greeting visitors, signing for deliveries, doing tasks assigned by staff and other projects.
Thursdays, 10:00 am-1:00 pm
Volunteer for four hours and we provide lunch
Tuesday
–
Saturday
!
New on our website
Follow the links to see what's new on our website.
Events:
Merton Movie Night I
July 14, 2015; 7:00-9:00 pm
Honoring the 100th anniversary of Merton's birth, this evening showing of the DVD, Soul Searching: The Journey of Thomas Merton will be followed by time for dialogue with other Merton scholars, enthusiasts and admirers.

Centering Prayer I: The Basics of Meditation
Six-session series starting September 9, 2015; 3:30-5:00 pm
Based on the teachings of Thomas Keating and Cynthia Bourgeault, this series of six classes will look to Christian meditation as a means of transforming consciousness.

Music as a Pathway to Prayer
September 9, 2015; 7:00-8:30 pm
Plan to join us for this second annual contemplative evening of music and prayer.

Active Compassion: Buddhist-Christian Meditations for an Engaged Spirituality
October 3, 2015; 10:00 am-5:00 pm
Cathy Cornell and Paul Knitter will lead meditations on practices adapted from Tibetan Buddhism.

Centering Prayer II: Exploring the Dimensions
Six-session series starting November 4, 2015; 3:30-5:00 pm
Intended for those who have completed Centering Prayer I: The Basics of Meditation or who have an established meditation practice. This series will continue with teachings on Consenting to the Presence of God, Listening at the Level of Being, Evolution Towards Oneness, Awakening and Spiritual Transformation.
Nature Notes:
Summer 2015 by Greg Armstrong
Homilies:
Rev. Jerry Hancock's Homily, June 7, 2015
Jim Penczykowski's Homily, May 31, 2015
Paul Knitter's Homily, May 24, 2015
Library:
New books in the library, June 2015
---
Calendar
Sunday Worship, 9:00 am
Monastery Assembly Room

Daily Prayer
Monastery Oratory
Morning Prayer, Sunday-Saturday, 8:00 am
Midday Prayer, Monday-Friday, 11:45 am
Evening Prayer, Sunday-Saturday, 4:30 pm
---
Follow the links below to register for upcoming events
at Holy Wisdom Monastery

June 18
Prairie Rhapsody benefit concert, 5:30 pm
We are pleased to welcome a dynamic set of musicians from Bach Dancing & Dynamite Society for this year's concert which will benefit the Friends of Wisdom Prairie at Holy Wisdom Monastery.

Registration closed.



June 24-27
Placing Our Mind in Our Heart: Wisdom School Part A with Beth O'Brien
Silence, small group teachings, instruction in spiritual practices and group meditation will provide the framework to introduce retreatants to the Christian contemplative tradition.


Registration closed.



June 28
Hospitality Sunday and Carpool Sunday
Bring a food item to share, greet and meet others. Share a ride to worship.

July 10-12
Oblate Retreat with Camille Banks: Love and Other Difficulties
It seems that nearly everything in our lives rests on the sense of being loved and giving love, but this is not always easy. What gets in the way of the grace full movements of love? We will consider this and seek opportunities to know "God is love."

Oblates only—register by June 24, 2015.
July 11
Solemnity of Benedict & Scholastica
July 11
Wisdom Prairie Workday, 9:00 am-12:00 pm
Volunteer with the Friends of Wisdom Prairie and help improve the ecological health of the land. Snacks provided.

Register by July 8, 2015.
July 12
Sunday Assembly Potluck Brunch, celebrating the Feast of Benedict & Scholastica,
10:15 am – 12:00 pm, dining room
July 18
Friends of Wisdom Prairie Tour, 9:00 am-12:00 pm
A Bumble Bee Survey of Holy Wisdom Monastery with Susan Carpenter and Greg Armstrong. We will note which plants attract bees in mid-summer and how to document bees with photograhy.


No registration necessary, just show up.
July 21
Friends of Wisdom Prairie Dinner Lecture
Ecology of the Driftless Area
The southwestern quarter of Wisconsin was not covered with a glacier 10,000 years ago, and as a result its topography and associated flora and fauna are different from the other three-fourths of the state. Conservation biologist Darcy Kind shares her knowledge of this area with us.


Register by July 7, 2015.
July 22
Wisdom Prairie Workday, 9:00 am-12:00 pm
Volunteer with the Friends of Wisdom Prairie and help improve the ecological health of the land. Snacks provided.

Register by July 19, 2015.
July 26
Hospitality Sunday and Carpool Sunday
Bring a food item to share, greet and meet others. Share a ride to worship.
Visit our calendar for upcoming events.