Honoring our Volunteers

In this photo: RSVP Reading Buddies volunteers prepare to read to students at Red Bank Primary School.

April is National Volunteer Month, a month set aside to inspire, recognize and encourage individuals to seek out ways to engage in their community. What better time to acknowledge the legions of volunteers who give generously of their time and talent to support and sustain the important work of Family & Children's Service (FCS), and to motivate others to join them.

FCS was founded more than a century ago in the very spirit of volunteerism when a group of local businessmen took it upon themselves to bring hope and joy to children during the holiday season. Out of their original gift grew an agency that now serves thousands of individuals and families each year. Today, almost everything we do, from fostering literacy skills in young children, to providing much-needed goods and services through our Thrift Boutique, depends on the generosity and support of our volunteers.
As home to the county's Retired and Senior Volunteer Program (RSVP) we are privileged to work with some of the most enthusiastic and dedicated volunteers in Monmouth County. Last year, our 500 RSVP volunteers contributed more than 52,000 hours in the community, reading with children, assisting in hospitals, stocking food pantries and helping out at over 40 different non-profit organizations. Calculated in real dollars, their donated time adds up to more than $1.2 million dollars.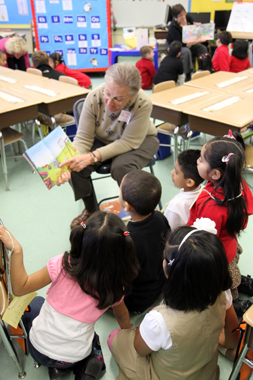 Every spring, our Volunteer Services Manager Samantha White organizes a special luncheon to honor our RSVP volunteers. This year the event will be held Monday, May 9 at Jumping Brook Country Club in Neptune. Invitees include volunteers like 87-year-old Walter Keyl, a volunteer with the State Health Insurance Assistance Program (SHIP) who travels the county, assisting clients with their Medicare questions; Mary Jane Sharpe, an RSVP volunteer at the CentraState Thrift Shop who, despite being legally blind, has given more than 4,600 hours to the shop; and Elaine Klein, a resident of the Bronx, New York, who travels by train every Friday to read aloud with children at Red Bank Primary School as part of our Reading Buddies program. These are everyday heroes who are making a real difference in their communities.


At FCS, we are committed to fostering the spirit of volunteerism in the next generation, which is why we established KIDS Corps -- to identify and create opportunities for young teens to put their talents to use in meaningful ways. Whether volunteering with the Monmouth County Court system, tutoring younger children after school or sharing their musical talents, our 195 KIDS Corps volunteers are building important leadership skills while learning the value of giving back.

Finally, I would be remiss if I did not also acknowledge the extraordinary contributions made by the 22 members of our Board of Directors, our Auxiliary and our many volunteer committees. Their reward is a sense of purpose that comes with service to others. As one of our most loyal volunteers put it, "I receive much more out of Family & Children's Service than I give. " That's the real benefit of volunteering.

Sincerely,
Vincent L. D'Elia
President & CEO

Contact us for more information about volunteering in your community!

Annual Prom Boutique Serves Countless Local Teens

In this photo: Middletown South high school senior Kaeleen Fallon models one of the hundreds of dresses on sale during this year's event.
When 17-year-old Kaeleen Fallon emerged from the dressing room of Family & Children's Service's Thrift Boutique wearing the stunning satin gown she saw hanging in the Boutique's front window, it was as if she had stepped onto the set of the popular television show, "Say Yes to the Dress."

"Do you like it? Is this THE DRESS?" volunteer Lorraine Weinberg asked her.

Turning to examine the back of the dress in the full-length mirror, the Middletown South high school senior smiled enthusiastically.

"Do you like it, Kaeleen?" her mother, Mary Lynn, repeated.

"Never mind that," her aunt Lori piped in. "Do you LOVE it?"

"Yes," Kaeleen exclaimed. "I love it!"

The experience was replicated throughout the day, Saturday, April 2 and into the following week by dozens of young women who visited the agency's Thrift Boutique during its annual Prom Boutique, "Countless Dresses, Countless Memories."

Read More
Gearing Up for our annual Fall Gala, "Under a Tuscan Moon"

In this photo: Co-Chairs of this year's Fall Gala, "Under a Tuscan Moon," Patty DeFabio (left) and Susan Sorokolit (right).




Several dozen women gathered at the Rumson home of Family & Children's Service Board Member Susan Sorokolit on Monday, April 11, for coffee and conversation. The women were guests of Susan and fellow FCS supporter Patty DeFabio, co-chairs of this year's Fall Gala, "Under a Tuscan Moon," set for Saturday, October 29 at Deal Golf & Country Club. FCS President & CEO Vincent D'Elia and FCS Board President, Dolores Klein were also on hand to provide a brief look at the agency's century-old history and describe its dozen outreach programs still in operation today.

The Fall Gala is the largest fundraiser of the year for FCS, and this year, the event will honor two long-standing Board members, Lee Weber and B.J. Thompson, who together have given more than 90 years of service to the agency. Also being honored this year -- Rumson Country Day School for its contributions to FCS's annual holiday giving drive, Operation Sleighbells. Several of the women in attendance were Rumson Country Day parents interested in becoming involved with the agency and the upcoming Gala.

Click here for photos from the coffee.

Join Us for the Navarumsunk Auxiliary Spring Luncheon


In this photo:

Navarumsunk Auxiliary members Cynthia Mathews (left) and Pam Tanis (center) met recently at the home of Maureen Kachinski (right) along with other Auxiliary members to put the final touches on plans for the annual Spring Luncheon.

The Navarumsunk Auxiliary to FCS cordially invites you to their 54th Annual Spring Luncheon on Wednesday, May 4, at Branches in West Long Branch.

Founded in 1957 by long time FCS Board member Olivia Dutcher, the Navarumsunk Auxiliary adopted its name from the Native American tribe that inhabited the Rumson- Fair Haven peninsula. Their premiere fundraising event in 1957, a small poolside Summer Fashion Show, raised $370. That event eventually evolved into the much anticipated annual Spring Luncheon and Fashion Show, attracting guests from all over Monmouth County and beyond. Over the past 54 years, this event, together with the auxiliary's annual Bridge Tournament, has raised hundreds of thousands of dollars for FCS, benefiting untold numbers of individuals and families in need.

The tradition continues on May 4, when the auxiliary will host its 2011 Spring Luncheon and Fashion Show at Branches in West Long Branch. Guests will enjoy a delicious lunch and fashion show, courtesy of Le Papillon of Rumson, as well as a chance auction and 50/50 raffle. All are welcome!

The auxiliary is always looking for new members and the luncheon is a great way to get acquainted with the organization and its dedicated volunteers. For more information contact Diane Gribbin at 732-222-9111 or by email at dgribbin@fcsmonmouth.org.


In this Issue
April is Volunteer Month

Annual Prom Boutique a Success

Fall Gala Planning Begins

Navarumsunk Auxiliary Spring Luncheon

The Thrift Boutique
FCS Staff Making A Difference


Congratulations to Adult Protective Services (APS) Manager Lisa Barnes and our entire APS staff for their outstanding work intervening on behalf of abused, neglected and exploited adults.
The New Jersey Division of Aging and Community Services

recently completed a thorough programmatic review of our APS Program and found it

100% compliant with all performance standards.

The report acknowledged the sharp increase in cases our staff experienced in 2009 and went on to say "...the APS Supervisor and staff are experienced and work well as a team protecting the vulnerable adults of Monmouth County in spite of increased case loads.. APS is a well managed service provider agency."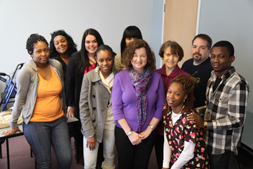 Congratulations also to our latest class of Certified Home Health Aides (CHHAs)
The graduates recently completed the twelve-day, 76-hour CHHA training course, preparing them for entry into the ranks of the nation's fastest growing occupation.

Learn more.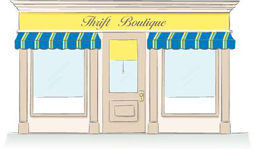 What's Happening
This Month
at The Thrift Boutique?
April 21- 23 - Come celebrate Earth Day with us! Reduce your carbon footprint
by buying previously used merchandise
and receive 50% off everything in the store!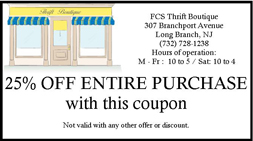 Print this e-mail and bring this coupon to the Thrift Boutique for 25% of your entire purchase. Not valid with any other offer or discount.

Don't Forget!
Follow us on Facebook!






Don't Forget to
Save The Date
for the Annual FCS Golf Classic
Monday, June 20, 2011,
Deal Golf & Country Club