---
In This Issue

______________________
Note from the Director of Member Services

Upcoming DelARF Meetings

Link to the Governor's Recommended Budget

DelARF 2011 Annual Meeting

Chimes Delaware: Governor Markell's Visit to the Newark Employment and Vocational Center

Chimes Delaware's Second Annual "Stride for Awareness" event

ResCare: Legislative visit with Representative Dennis E. Williams

Brandywine Counseling & Community Services: Launches new adult drug & alcohol prevention campaign.

Education & Training:

Division of Substance Abuse and Mental Health's "Summer Institute" training program

DelTech's new Direct Support Professional certificate program

In the News:
Reseach & Articles

Sue Humphrey's letter to the editor of the Delaware News Journal

Goodwill Staffing Services:
Employment Opportunities

---
---
Behavioral Health Commission Meeting
June 8th, 2011

Time: 10:00am

DelARF Offices

Wilmington, Delaware

RSVP: kjennings@delarf.org
Direct Support Professional Event Committee
June 13th, 2011
Time 1:00 - 3:00
Easter Seals
61 Corporate Circle
New Castle, Delaware
RSVP:
kjennings@delarf.org
Developmental Disabilities Commission Meeting
June 14th, 2011
Time: 1:00pm
Easter Seals Corporate Circle New Castle, Delaware
RSVP: kjennings@delarf.org
Download the DelARF Commission Meetings
Calendar
---
DelARF
BOARD OF DIRECTORS

---


Scott Evans
Immediate Past President
Rosanne Faust
Vice President
Colleen Morrone
Secretary
Dennis Dapolito
Treasurer
Lynn Fahey
Bylaws Chair
Commission Chairpersons
James Bratt
Behavioral Health
John Mahon
Business Services
Karen Reiss
Developmental Disabilities
Kim Siegel
Government Relations
Tom Barlow
Physical Disabilities
Regina Jones
Vocational Services
Connie Hughes
DelARF Executive Director

---
---
32 W. Lockerman Street
Suite 108A
Dover, DE 19904
(302) 674-1181

www.ahedd.org

The Arc of Delaware
1016 Centre Road
Suite 1
Wilmington, DE 19805
(302) 996-9400



www.arcde.org

Autism Delaware
924 Old Harmony Road Suite 201
Newark, DE 19713
(302) 224-6020



www.delautism.org

Bancroft
2300 Pennsylvania Avenue
Lower Level 1 & 2
Wilmington, DE 19806
(302) 428-8992

www.bancroft.org

Benedictine Delaware
5620 Kirkwood Highway
Wilmington, DE 19808
302-998-1620



www.benschool.org

Brandywine Counseling
2713 Lancaster Avenue
Wilmington, DE 19805
(302) 656-2348

www.brandywinecounseling.org

Center for Disabilities Studies
University of Delaware 461 Wyoming Road Newark, DE 19716
(302) 831-6974



www.udel.edu/cds

Chimes Delaware
514 Interchange Blvd. Newark, DE 19711
(302) 452-3400



www.chimes.org

Choices for Community Living
1030 Forrest Ave
Suite 125
Dover, DE 19904
(302) 677-1375



www.ccldelaware.org

Cleanworks Janitorial
Services 1148 Pulaski Highway
Suite 107
Bear, DE 19701
(302) 777-6250

Client Assistance Program
254 East Camden-Wyoming Avenue
Camden, DE 19934
(302) 698-9336



www.ucp.org

Community Integrated Services
18 W Main Street Middletown, DE 19709
(302) 376-8259



www.cisworks.org

Community Interactions, Inc.
740 S. Chester Road
Swarthmore, PA 19081
( 610) 328-9008

www.ciinc.org

Connections CSP, Inc.
500 West 10th Street Wilmington, DE 19801
(302) 984-3380

www.connectionscsp.org


Delaware Council on Gambling Problems
100 West 10th Street Suite 303

Wilmington, DE 19801
(302) 655-3261

www.dcgp.org

Delaware Mentor Healthcare
132 East Market Street Georgetown, DE 19947
(302) 853-2145

w

ww.thementornetwork.com



Delmarva Community Services, Inc.
P.O. Box 637
Cambridge, MD 21613
(410) 221-1900

www.dcsdct.org

Dove Pointe
1225 Mt. Herman Road Salisbury, MD 21802
(410) 341-4472



www.dovepointe.com



Easter Seals of DE and MD''s Eastern Shore
61 Corporate Circle New Castle, DE 19720
(302) 324-4444

www.de.easterseals.com



Elwyn Delaware


321 East 11th Street
Wilmington, DE 19801
(302) 658-8860



www.elwyn.org

Fellowship Health Resources, Inc.
12649 N Dupont Blvd. Ellendale DE 19941
(302) 422-1530

www.fellowshiphr.org

Freedom Center for Independent Living
400 North Broad St
Middletown, DE 19709
(302) 376-4399



www.fcilde.org

Gaudenzia, Inc.
604 W. 10th Street
Wilmington, DE 19801
(302) 737-4100

www.gaudenzia.org

Goodwill Delaware
300 East Lea Boulevard Wilmington, DE 19802
(302) 761-4640

www.goodwillde.org

Homeless Planning Council of Delaware
100 West 10th Street Suite 611
Wilmington DE, 19801
(302)654-0126

www.hpcdelaware.org

Horizon House Delaware
1902A Maryland Ave
Wilmington DE 19805
(302) 655-7108



www.hhinc.org



Independent Resources, Inc

.
6 Denny Road
Suite 101
Wilmington, DE 19801
(302) 765-0191

www.iri-de.org

KenCrest Services
1113 South Governor''s
Avenue
Dover, DE 19904
(302) 734-3800



www.kencrest.org

Kent Sussex County Counseling Services
1241 College Park
Dover, DE 19901
(302) 735-7790



www.kscs.org



Keystone Services MidAtlantic
4100 Dawnbrook Dr Unit 6
Wilmington DE 19804
(302) 373-6394

www.keystonehumanservices.org



Kent-Sussex Industries, Inc.




301 N. Rehoboth Blvd.


Milford, DE 19963
(302) 422-4014

www.ksiinc.org

MOSAIC Delaware
260 Chapman Road
Suite 104A
Newark, DE 19702
(302) 456-5995

www.mosaicinfo.org

NHS Human Services
906 Bethleham Pike
Erdenheim, PA 19038
(215) 836-3167

www.nhsonline.org

Open Door, Inc.
254 East Main Street Newark, DE 19711
(302) 731-1504



www.holcombbhs.org



Opportunity Center, Inc.
3030 Bowers Street Wilmington, DE 19899
(302) 762-1220

www.ourpeoplework.org

Psychotherapeutic Services
630 West Division Street
Suite F
Dover, DE 19904
(302) 674-3366

www.psychotherapeuticservices.com

Salvation Army
P.O. Box 1304
559 E. DuPont Highway
Millsboro, DE 19966
(302) 934-3730

www.salvationarmyphiladelphia.org

ResCare/VOCA
200 Biddle Ave
Newark, DE 19702
(302) 834-7221



www.rescare.com
---
---
Executive Director
Connie Hughes
---
Director of Business Services
Terry Cipolla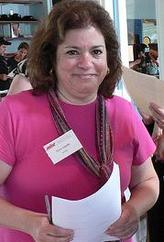 ---
Billing Clerk and Administrative Assistant
Tina Moncrief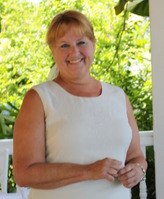 ---
Director of Member Services
Karen Jennings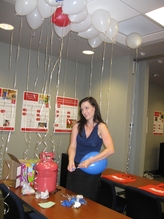 ---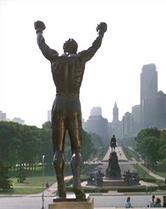 What's so crazy about standing
toe to toe
with someone saying "I am"?
-Rocky Balboa

---
---
Advocacy Letter Writing Campaign

---
Sue Humphreys's letter to the editor made the June 8th News Journal Opinion Page!

Sue Humphreys has a child who receives services from Community Interactions.
Letter:
People who serve others need a bigger paycheck
In response to the recent article regarding the 2 percent increase to the people who provide services for the disabled, it will not be enough. I thank the legislators for their support, but these agencies are operating on budget costs that have not kept pace with our cost of living. The staff that work with my son have not had a raise in four years and their health care costs continue to increase. I cannot care for him on a daily basis. He must be watched constantly due to his life-threatening condition. The programs that care for our disabled must be continued.
We do not want our loved ones put back into institutions. Please reconsider this increase.
I have a 37-year-old autistic, severely mentally challenged son. He also has pica, a condition in which he eats nonedible objects. He has almost died three times. He lives in a group home in Newark run by Community Interactions, a nonprofit. They have been operating in Delaware for over four years and mostly on a deficit budget. Other nonprofit agencies caring for our vulnerable citizens are in the same situation.
Susan Humphreys, Bear
---
---
Scientists warn of chemical-autism
link
Cognitive behavioral therapy may benefit patients in residential substance abuse treatment programs
Higher return to prison for women without drug abuse
programs
---
Share your News!
If you have news, announcements or upcoming events that you would like to share and promote, please contact me to submit information for our monthly newsletter. If you need any help, or have questions, please email me. I will assist you in anyway I can.
kjennings@delarf.org
---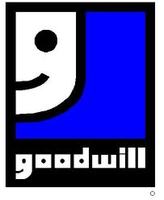 Goodwill Staffing Services Manager Paul Beane with DelARF Staffers Tina Moncrief and
Karen Jennings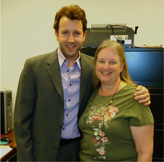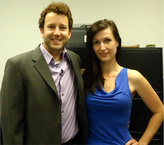 ---
---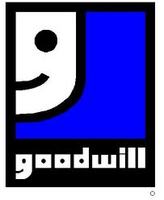 Goodwill Staffing Services
Goodwill Staffing Services is currently accepting applications for a full-time Administrative Coordinator to assist with the Wilmington office's daily operations. Must have advanced administrative and clerical skills. Please direct all applicants to www.goodwillde.org/jobs to complete the application process or contact Marlin McCoy at 302-761-4640 or email mmccoy@goodwillde.org





Delaware Association of Rehabilitation Facilities


_________________________________________________________


Mission
DelARF supports members working to enhance the quality of life for people with disabilities.
Vision
To change business, political, and social environments, increasing opportunities for all people to live, learn, and work in the community.

Executive Director Connie Hughes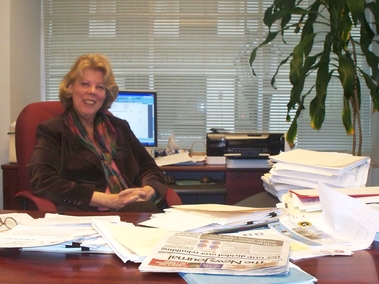 chughes@delarf.org
---
A Note from the Director of Member Services

Dear DelARF Members:
DelARF's Executive Director Connie Hughes is attending the Joint Finance Committee's mark up meetings everyday at Legislative Hall in Dover advocating for our members. While we await Connie's legislative update, I would like to take this opportunity to thank everyone who participated in the DelARF advocacy letter writing campaign.

Hundreds of letters were sent to legislators from your staff, the people you serve and their families and caregivers. These letters advocating for an increase in the state's reimbursement rate for community based behavioral health and developmental disabilities service providers made a significant impact with members of the Joint Finance Committee. For example, Senator McBride and Representative George referenced your letters while asking fellow JFC members to support an increase for providers during the May 19th mark up meeting.


I would also like to thank each of our members who invited me to their agencies to host an Advocacy Letter Writing Workshop for their staff, family/caregivers and consumers: Connections CSP, Inc., Horizon House Delaware, NHS Human Services, Benedictine Delaware, Chimes Delaware, and Community Interactions. It was an honor to spend time with such dedicated professionals and passionate self-advocates.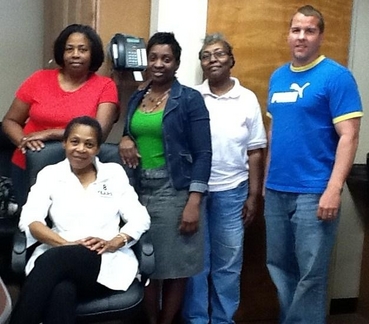 Pictured above: Benedictine OCP Staff members who participated in DelARF's Advocacy Letter Writing Workshop: Julia Morgan, Assistant Director; Gwen Stanley, Direct Support Professional; Nataki Oliver, Direct Support Professional; Carrie McKnight, Direct Support Professional; Max Drzymalski, Vocational Coordinator.
Karen Jennings
Director of Member Services

kjennings@delarf.org
Governor's Recommended Budget FY2012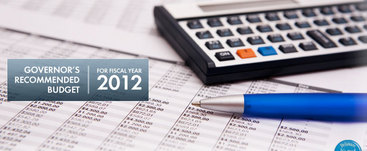 ---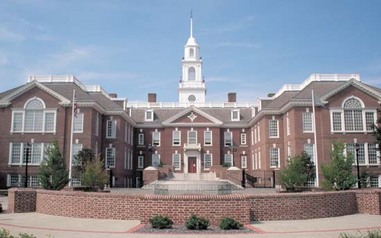 Find your Delaware State Senator by District and County
Find your Delaware State Representative

by District and County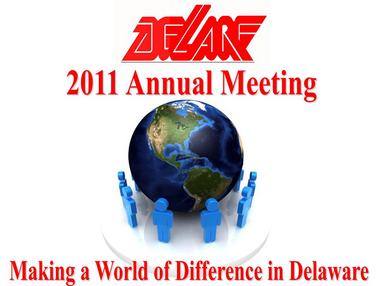 Election of DelARF Officers
Class of 2012

Rosanne Faust, Horizon House - President
Dennis Dapolito, OCI - Vice President
Kim Siegel, Autism Delaware- Secretary
Pamela Daisey, Fellowship Health - Treasurer
Colleen Morrone, Goodwill - By-Laws
Gary Cassedy, Easter Seals - Past President


2009 - 2011 DelARF Commission Chairs
Certificates of Appreciation

Pictured above: John Mahon, Chimes, Business Commission Chair; Gary Cassedy, Easter Seals, DelARF President 2009-2011; Kim Siegel, Autism Delaware, Government Relations Commission Chair; Tom Barlow, Easter Seals, Physical Disabilities Chair; James Bratt, PSI, Behavioral Health Commission Chair; Karen Reiss, Bancroft, Developmental Disabilities Commission Chair.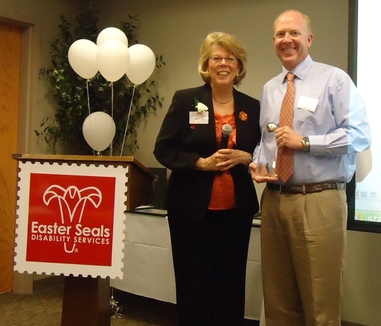 Pictured above from left to right: Connie Hughes, DelARF and Scott Evans, Benedictine OCP, DelARF Executive Committee 2004-2011. Pictured below Connie Hughes, DelARF; Gary Cassedy, Easter Seals; and Rosanne Faust, Horizon House, DelARF Vice President 2009-2011.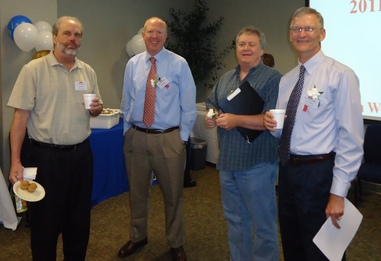 Pictured above: Bill Adami, Easter Seals; Scott Evans, Benedictine OCP; John Mahon, Chimes; Gary Cassedy, Easter Seals.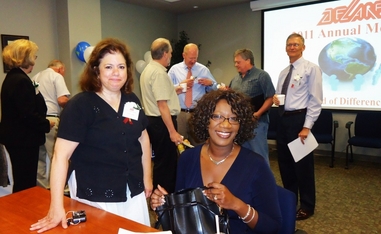 Pictured above: Terry Cipolla, Delarf and Kendra Johnson, Elwyn Delaware
.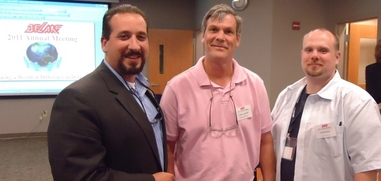 Pictured above: Chris DiSanto, Clinton Gangloff and Chris Devaney of Connections CSP, Inc.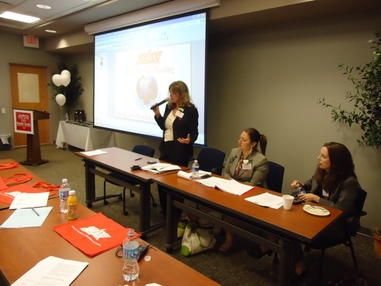 DelARF's Affordable Health Care Act Expert Panel from left to right: Bettina Tweardy Riveros, Governor Markell's Health Care Advisor, Delaware Health Care Commission Chair, DHSS; Amanda Moninghoff, US Senator Chris Coons's Health Care Advisor; Theresa Morgan, Legislative Assistant, Powers, Pyles, Sutter and Verville, P.C.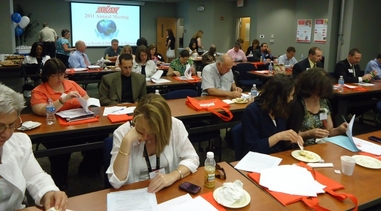 Pictured above: Jamie Wolfe, Center for Disabilities Studies; Cindy Sterling, OCI; Beth Caraccio, NHS Human Services; Sheryl Reinstrom, Community Interactions.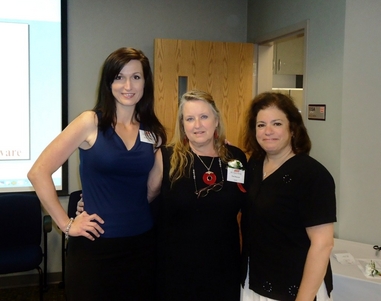 Pictured above: DelARF staffers Karen Jennings, Tina Moncrief and Terry Cipolla.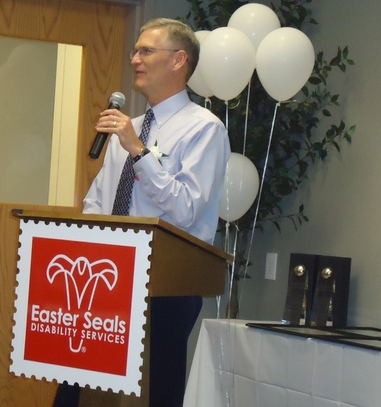 Pictured above: Gary Cassedy, Easter Seals.
Special Thank you to our event venue Easter Seals, and event catering A & G
Steak Shop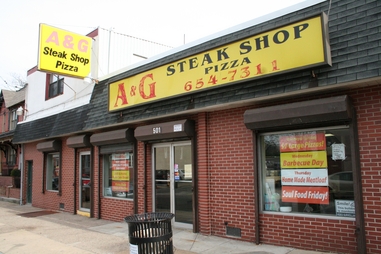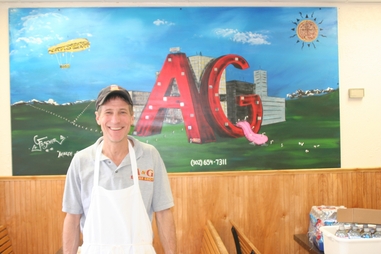 Pictured above: Rich Coon, A & G's Manager
Rich Coon
began his career as A & G's manager after participating in the Connections Community Support Program "Connect to Work". Through the Connect to Work program, Mr. Coon completed job training and certification program which helped him prepare for his new role
as manager of A&G Steak Shop in Wilmington's West Center City neighborhood.

A & G also catered the recent DelARF PM46 training. Our class participants raved about the salads, wrap sandwiches and lasagna (which I was told was "to die for, a must try").

A & G Steak Shop
501 West 9th Street
Wilmington, Delaware 19801
302-654-7311
Hours:
Monday - Saturday 8-9pm
Sunday 12-6pm
*Daily specials! They also serve breakfast all day!
Check out their menu and Facebook page



---
---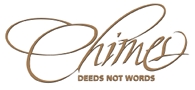 Governor Jack Markell Visits
the
Chimes Newark Employment and Vocational Center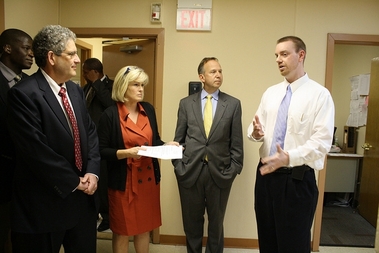 Pictured above: Marty Lampner, President and CEO of Chimes; Michele Mirabella, Coordinator Sales and Marketing, Chimes; Delaware Governor Jack Markell; Dave Black, Coordinator of Vocational Services, Chimes.
Governor Jack Markell and several of his staff toured the Chimes Delaware Newark facility on May 19th, 2011. The purpose of his visit was to see first hand the employment opportunities that have been created in the Chimes Industries Manufacturing Support Program. The Governor's mantra since taking office has been "Jobs for ALL Delawareans". The Chimes Industries program currently employs over 130 individuals with disabilities in production solutions for Chimes business partners across the state. The Governor learned that over 100 Direct Support Professionals work directly with the Chimes program participants in community employment programs throughout the state.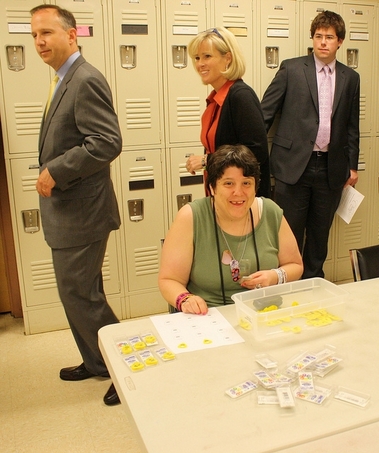 Pictured above: Delaware Governor Jack Markell; Michele Mirabella, Chimes and Jeanie McGlaughlin, Chimes consumer.
Governor Markell saw first hand how the Chimes program participants are engaged in the assembly, labeling and packaging of the various contracts provided by the Delaware business community.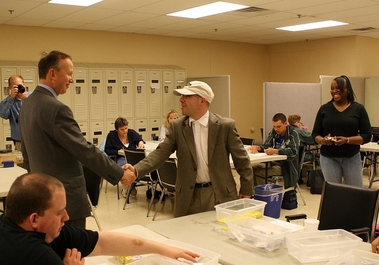 Pictured above: Delaware Governor Jack Markell; Ryan Bell, Chimes consumer; Artisha Hall, Job Coach, Chimes.
Governor Markell was accompanied on his tour by Dave Black, Coordinator of NCC Vocational Programs; Irv Levin, Chairman of the Chimes Delaware Board of Directors; Michele Mirabella, Coordinator of Sales Marketing and Placement Programs; and Marty Lampner, President and CEO of Chimes International.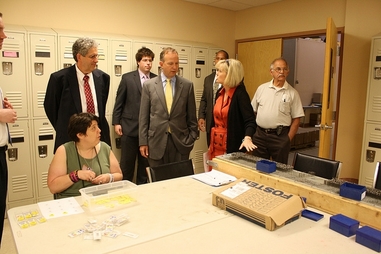 Pictuerd above: Marty Lampner, President and CEO Chimes, Jeanie McGlaughlin, Chimes consumer; Delaware Governor Jack Markell, Michele Mirabella, Coordinator Sales and Marketing, Chimes; Irv Levine, Chimes Delaware Board Chair.
At the end of the tour, Governor Markell acknowledged the great work of the Direct Support Professionals and the work of the people that they support.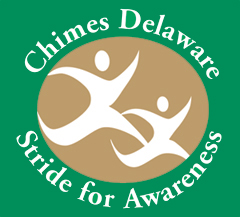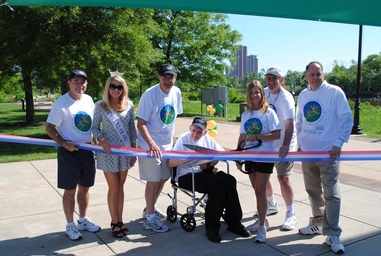 The 2nd Annual Chimes Delaware "Stride For Awareness" 5-21-11 a great Success!
Chimes puts best foot forward by raising over $15,000 to enhance programs and services for people with disabilities! Pictured above left to right: Cutting the ribbon to officially kick off the Stride for Awareness! Pat Bagley, Chairman of the Board of Chimes International, Miss Delaware Kayla Martell, Nick Eppinger of AAA Mid-Atlantic Insurance, Paul Mclafferty of Chimes Kristen Duda of PSA Financial, Marty Lampner, President and CEO of Chimes, Paul Clark, New Castle County Executive.
For more information, please contact:
James Kristof
Public Relations
Chimes Delaware
514 Interchange Blvd
Newark, DE 19711
Phone (302) 367-5698
Fax (302) 452-3407
---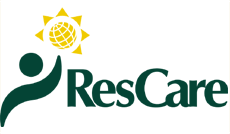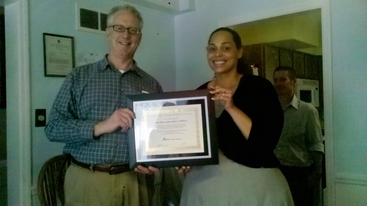 Executive Director, Crystal Officer presents State Representative Dennis E. Williams with a certificate of appreciation after his visit to ResCare VOCA DE's Devon Neighborhood Home on May 26th.
---

BCCS to Run Adult Drug & Alcohol Prevention Campaign
BCCS has been awarded a grant from the State of Delaware for $400,000 a year, to create a statewide campaign designed to prevent alcohol and drug abuse before any signs of a problem occur. We are building an exciting movement that will change attitudes about drugs and alcohol, and reduce the consequences and costs of harmful behaviors.
Front and Center is the name of our campaign targeting adult alcohol and other drug abuse. We will deliver an evidence-based curriculum called Prime for Life in a multi-session ongoing small class format. Also, keep your eye out for several job fairs we are using to introduce Prime for Life to participants, create enthusiasm, and recruit participants for the full program. Social media, traditional print media, and special events will promote the educational classes, while creating prevention dialogue and promoting tested messages.
Achieving changed individual attitudes that prevent the onset of behaviors which are costly to personal health, community health, and Delaware is an important step towards a healthier future. BCCS will create dialogue about the shared responsibility we have to safeguard ourselves and our loved ones from alcohol/substance abuse.
For more information, please contact:
Matt Friedman
2713 Lancaster Ave
Wilmington DE 19805
(302) 472-0385
mfriedman@brandywinecounseling.org
www.brandywinecounseling.org
---
Education and Training Opportunities
---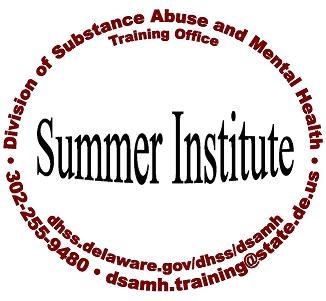 What do hope, empowerment, partnerships, integration, reform, research, and recovery have in common? They have all been themes in the rich history of Summer Institute. In its 40th year the Institute continues to support innovative practices to produce outcomes that support the recovery of individuals with substance use conditions and mental illness.
The Delaware Health and Social Services, Division of Substance Abuse and Mental Health, invites you to attend the
40th Summer Institute on Substance Abuse and Mental Health, "The In's (Innovations) and Out's (Outcomes) of Recovery" to be held July 25 – July 29, 2011 at Embassy Suites in Newark, Delaware.
The 40th Summer Institute will focus on several of Substance Abuse Mental Health Serivces Admininstration's eight strategic initiatives including prevention of substance abuse and mental illness, trauma and justice, public awareness and support, as well as, the meaningful use of data and outcomes. Workshops topics will include, the famous ACE study, homelessness and trauma, suicide prevention strategies, the work of peer specialists, neurochemistry, treating sexual offenders, substance abuse prevention, trauma informed care and numerous others.
There is an entire week of workshops dedicated to the ethics when working in prevention, with trauma, about self-disclosure, working with offenders and making decisions. Each evening there is also a two-hour workshop opportunity that is free to attend and open to everyone.
For more information go to: www.dhss.delaware.gov/si11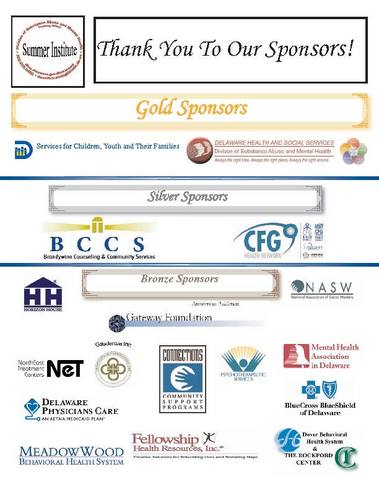 ---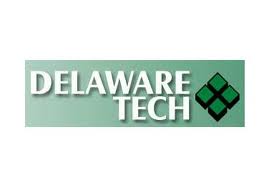 Delaware Technical & Community College
Enroll now for Delaware Tech's direct support professional certificate program at www.dtcc.edu/admissions.
For more information on the program, contact one of our campus representatives:
Thomas Mumford
Owens Campus
Route 18/Seashore Highway
Georgetown, DE 19947
302 855-5937
tmumford@dtcc.edu
Andrew Williams
Terry Campus
100 Campus Dr.
Dover, DE 19904
302 857-1781
awillia5@dtcc.edu
Catherine Kavanagh
Wilmington Campus
333 Shipley Street
Wilmington, DE 19801
302 434-5547
ckavana1@dtcc.edu
Direct Support Professional Certificate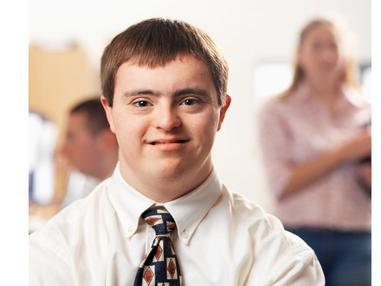 Competencies acquired in this program can be applied to residential programs, day programs, or any combination of services that may be appropriate for the clients.

If you like working with people and have a desire to help individuals with disabilities, consider enrolling in the Direct Support Professional Certificate program If you are already working within the developmental disabilities community or are interested in this rewarding profession, Delaware Tech's new Direct Support Certificate Program is designed for you!

This certification program prepares those entering the field as well as strengthens the knowledge and skills of those currently working in the community. Students in the program will learn how to provide individuals with disabilities support in daily living tasks, community living, health and wellness awareness, vocational experiences, and social integration.

The skills and knowledge learned can be applied to residential programs, day programs, or any combination of services appropriate for the client. Students will earn 12 credit hours from a combination of classroom instruction and field work. Courses will include face-to-face and online instruction. Upon successful completion, students will receive a Direct Support Professional Certificate. Labor market studies in Delaware indicate new job openings in the field within the next five years, and employers of direct support professionals are strongly encouraging certification. For those individuals who pursue additional education beyond credentialing, there is a career ladder within the disabilities and human services fields.

The graduate will be able to:

1. Create and maintain effective and professional documents relevant to agencies working with people who have a disability.

2. Identify and communicate clients' strengths, needs, and resources to contribute to planning appropriate support services in a variety of settings.

3. Provide effective direct support services to clients with varying levels of ability by utilizing ethical and professional principles and practices.

4. Apply basic management and leadership skills in professional environments, including time management, organization, and the ability to follow directions.

5. Establish effective working relationships within the direct support arena.

6. Utilize feedback to assess the outcomes and opportunities created for clients and make adjustments accordingly.

Courses include:

HMS 120 – Introduction to Direct Support Services and Community Service
HMS 124 – Community Living Skills and Supports
HMS 125 – Assessment and Communication
HMS 126 – Design, Implementation, and Evaluation of Direct Support Services/Programs
Several local agencies and organizations are supporting the Direct Support Professional certificate by making scholarships available to qualifying students who select this emerging career program.
Delaware Tech faculty and staff are committed to your success!
Learn more about Delaware Tech by visiting www.dtcc.edu or check out our social networking sites at www.dtcc.edu/socialweb.
---