Cyber Monday sale: 19 Year Cheddar. Kringle. Pumpkin Gouda & more!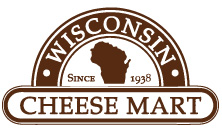 Cheese
Sausage
Gifts
Recipes
Catalog
Clubs

Aging is the only difference between
mild and sharp Cheddar
This 19 Year Old Cheddar isn't just cheese - its a work of art. This limited edition cheese is not to be missed. It's smooth, sharp and bursting with flavor. Spread throughout is crystallization that can only be found in a fine aged cheese. Without a doubt, this is a cheese to savor.
Limited quantities are available now.

We offer three varieties of Kringle: Raspberry, Almond, and a Pecan Kringle featuring pecans that are blended with a smooth brown sugar and cinnamon filling.

These crowd-pleasing pastries the perfect brunch dessert, hosting gift, and a great treat to bring to the tailgate party. Order online or visit our store on Old World Third Street to try this Wisconsin favorite.

Corporate Gifts | Sharp Cheddars | Cheese Gifts | Cheese Curds
The Wisconsin Cheese Mart
215 W. Highland Avenue
Milwaukee, WI 53202

1-888-482-7700 | sales@wisconsincheesemart.com | M-F 10am-5pm CST