CALL TO ACTION
FEDERAL HISTORIC TAX CREDIT
CUT IN PROPOSED TAX REFORM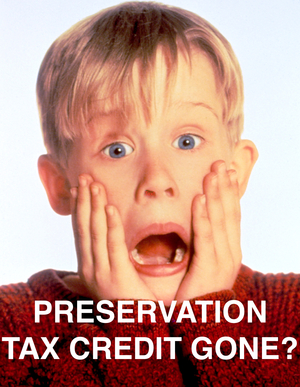 Oh no!
The Ways & Means Committee released the proposed tax plan today and they have eliminated the federal historic preservation tax credit!

Time for the preservation community to stand up and explain why losing this tool is a terrible mistake.
Click and act now to return the historic tax credit (HTC).
The historic tax credit complements, rather than hinders, Congress's goal of pro-growth tax reform.

In 1986, the last major reform of the tax code, Congress made the historic tax credit permanent. Tax reform can again be accomplished while leaving the historic tax credit in place.

Pennsylvanians -- we need you to take action and urge your legislators to ensure the historic tax credit is incorporated into both the House and Senate tax reform bills.
House Ways and Means Committee Chairman Brady aims to pass the bill out of committee next week and then send the bill to the floor for a full House vote the following week, giving House members only a few days to amend. The Senate Finance Committee is expected to release its tax reform bill in the next two weeks and will attempt to pass the legislation out of committee before the Thanksgiving holiday.
Act Now! Requested Actions
Pennsylvania Proof
Resources
Thank you!