Your generosity is making a difference -- building durable housing in Jeannette
Post-Hurricane fundraising brings quality housing to rural southwest region of Haiti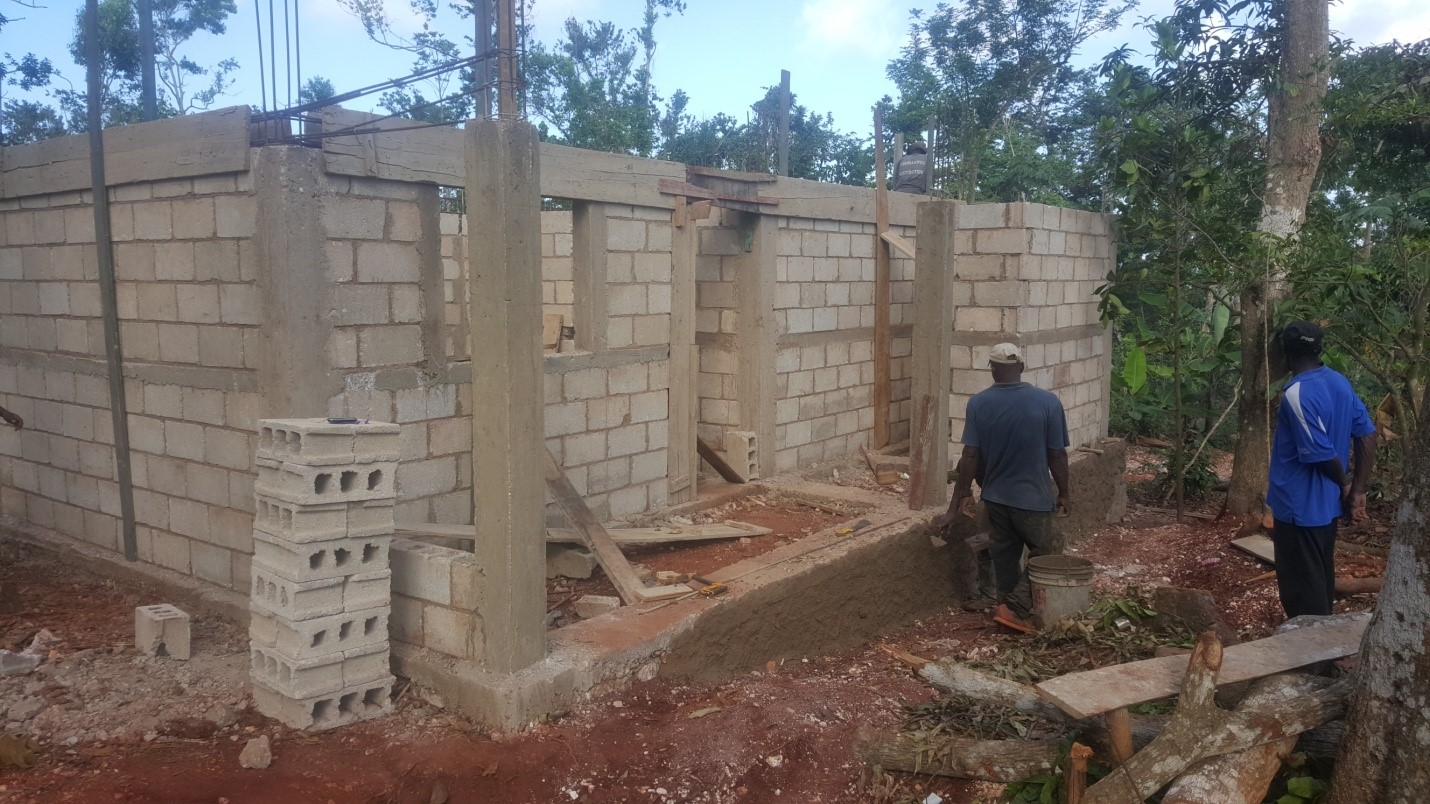 We thank Bishop Steven Miller, the Episcopal Diocese of Milwaukee Churches, the Episcopal Diocese of Eau Claire Churches and the hundreds of individuals across the United States who donated to Hurricane Relief efforts in Jeannette, Haiti.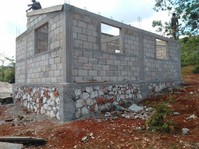 The St. Marc's Hurricane Relief Committee of Jeannette, Haiti, comprised of leaders in the community, met with representatives of the Haiti Project Steering Committee three weeks after the Hurricane. Local leaders determined the bulk of relief funds would be devoted to building homes with higher quality standards to protect vulnerable people against future hurricanes.
Eleven local men are employed in this engineer-led project to learn higher quality standards of building including:
high standard cement block
cement to water ratios
depth of foundation
cement to fieldstone ratio of foundation
amount of rebar used for reinforcement
quality and amount of roofing materials
hooked rebar to connect roof to structure
There will be a home built in each of the five zones around Jeannette.
Home in Jeannette built with your donations to the Haiti Project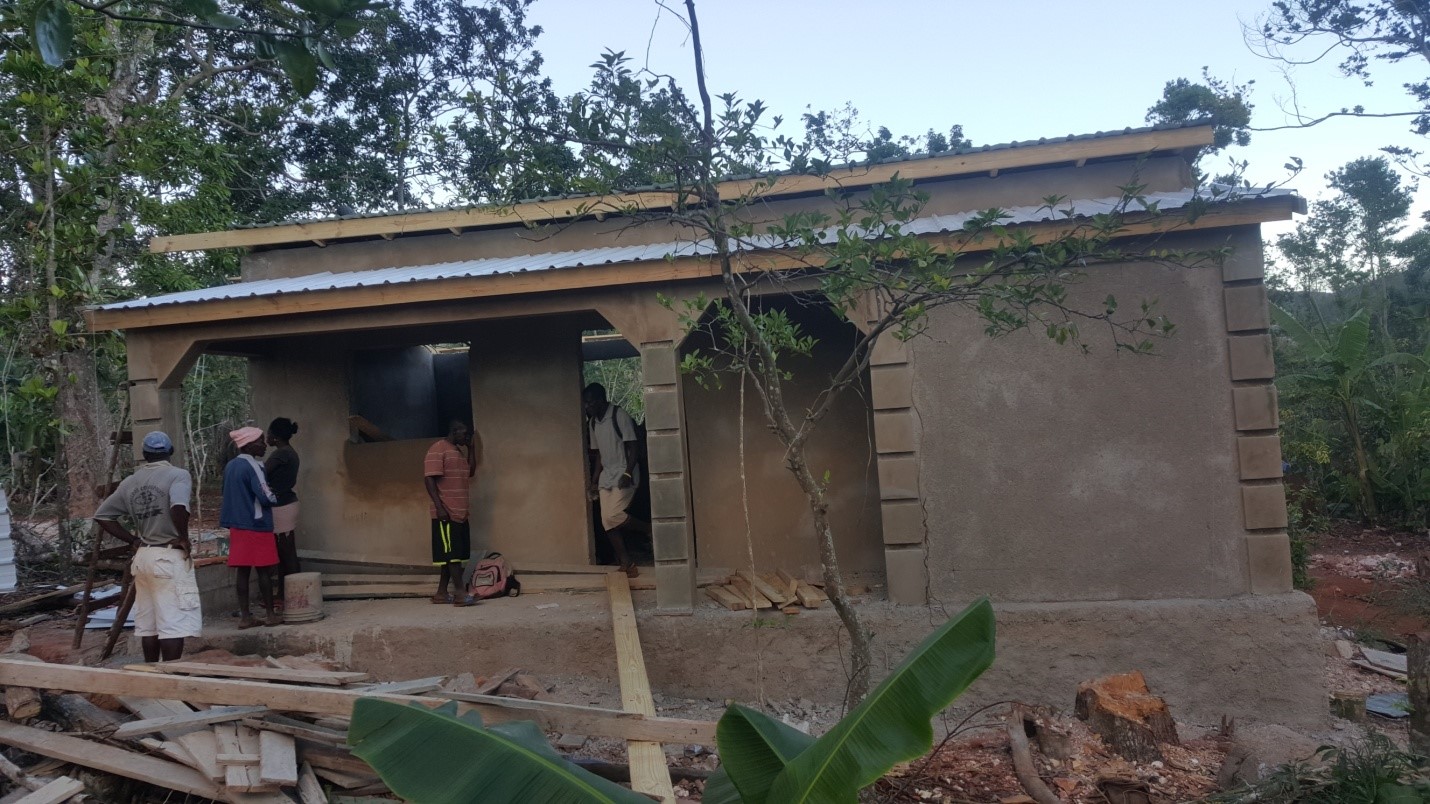 Non-profit, Food for the Poor, built homes in Jeannette in December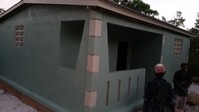 Last year, Burt Purrington donated funds from Laurie's Fund, a memorial to his daughter, to cover the cost of legal fees for residents of Jeannette to demonstrate land ownership. Other donors, Rameen Zahed, John Stampen and Tracey Hokanson supported this worthy cause. In the aftermath of Hurricane Matthew, with the legal documentation in place, Food for the Poor built ten homes in Jeannette with their work team in December. Thanks be to God!
Before Hurricane Matthew, campus improvement projects were underway...
An assessment of the campus last year determined old latrines were due for upgrades and 120 kindergarten students were in need of a restroom facility. This Fall, the Haiti Project Steering Committee fundraised for these projects. Thanks to generous donors, $8,000 was raised for new kindergarten toilets with hand wash stations near the kindergarten building. Thanks to fundraising efforts in the Episcopal Diocese of Milwaukee, $4,000 was raised for the upgrades on the primary and secondary facilities. A local work crew under the supervision of Engineer, Jean Anthony Jean, created proper venting, rebuilt the stool, installed toilet seats and hung metal doors for privacy. A handwash station was also built to serve the school community. In addition, the roof of the kindergarten building was resurfaced and resealed to keep out rain water and the resulting mold.
Special thanks to the following donors for making this project possible:
Andrea Stomberg, Episcopal Diocese of North Dakota
Jeff and Cindy Gault, Christ Episcopal Church WFB
Denis Higgs, St. Chrysostom's
St. Chrysostom's, Delafield
Zion Episcopal, Oconomowoc
The Rev. Charles and Dr. Jennifer Henery
The Haiti Project extends appreciation to these consultants on the project:
Geologist, Andrea Stomberg, Episcopal Diocese of North Dakota
Engineer, Alex Cain, St. Mark's Episcopal Church, Milwaukee
Builder, Tom Cramer, St. Anskar's Episcopal Church, Hartland
Accountant, Jon Cushman, St. Matthew's Episcopal Church, Kenosha
Before upgrades...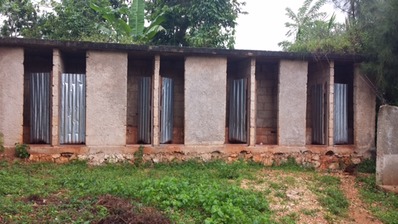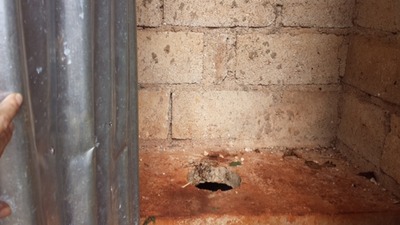 A doctor in the village making house calls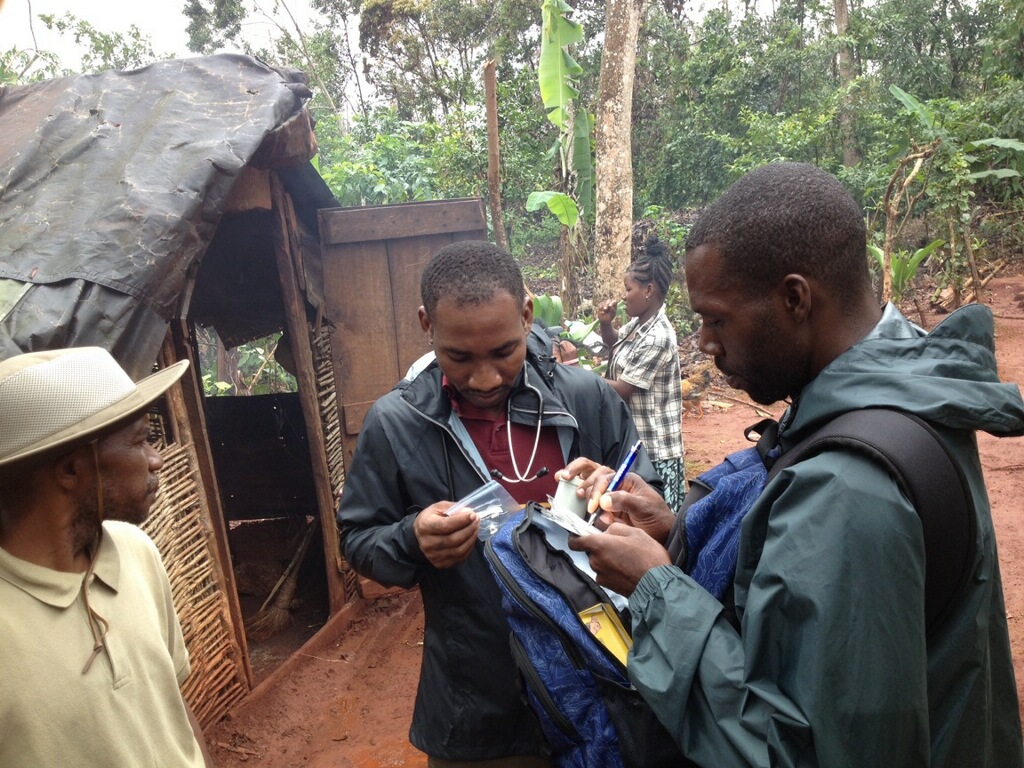 Thanks to the hard work of the Haiti Project Health Subcommittee, under the leadership of Ellen Allison, Kristin Rubenzer and John Meacham of the Diocese of Eau Claire, the village of Jeannette has a doctor serving the clinic five days a month. In addition, Becca Hennen, an emergency room nurse at St. Mary's Hospital in Madison, also secured a grant from St. Andrew's Madison for $2,100 for investments in medication and supplies at the clinic. Dr. Elie St. Martin is the doctor currently serving five days a month. The Haiti Project is actively fundraising to raise $495 a month for the doctor's pay and transportation costs. Please contact Heidi Ropa at info@haitiproject.org if you have a passion for access to health care in Haiti and can help us reach this goal.
Dr. Elie St. Martin caring for a young patient
---
Terri Longo, Haiti Project Interim Chair, Departs to focus on PhD studies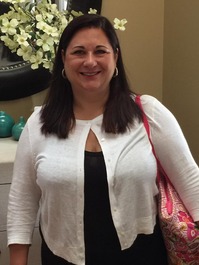 The Haiti Project is grateful for the leadership of Terri Longo in her tenure as Interim Chair of the Haiti Project. During her tenure, the Haiti Project began the process of organizing working subcommittees; created by-laws; and benefitted from Terri's business and financial training with attention to financial details. Terri's dedication and hard work assisted our partnership renewals this year with more accurate data to help us share accurate costs of education, lunch and access to health care for 550 students. We thank Terri for her hard work and dedication to the people of Jeannette. We wish her well in her PhD studies in Chicago.
November Haiti Project Trip participants listened to local leadership in meetings, consulted on community building projects, led art activities and engaged in relationship building.
Pictured above left to right: Jenjenio Conserve (Gift of Water and translator), Tom Cramer (St. Anskar's), Beccan Hennen (St. Andrew's Madison), Dr. Elie St. Martin (St. Marc's Clinic Physician), Andrea Stomberg (Episcopal Diocese of North Dakota), Azuri Broussard (St. Mary's Dousman), Mary Alice Eschweiler (St. Mary's Dousman), Pere Jean Lenord Quatorze (Priest in Charge of St. Marc's Parish), Gail Heiting (Holy Cross, Wisconsin Dells), Rebecca Bardwell, Heidi Ropa (St. Andrew's Madison), Jacsonn Leger (Local leader and translator), Cathy Parrill (Creative Exchanges Initiatives), Nelisse Edmund and wife (translator). Not pictured: Alex Cain, St. Mark's Episcopal Church Milwaukee and Jon Cushman, St. Matthew's Episcopal Church, Kenosha. Next Haiti Project Trip is a Health Care Team traveling May 6. A summer trip is almost filled for Educators and Youth departing June 16.
Haiti Project November Trip Meeting with the Haitian Government's Regional Minister of Education, Jean Marc Govain. (a graduate of St. Marc's School, Jeannette)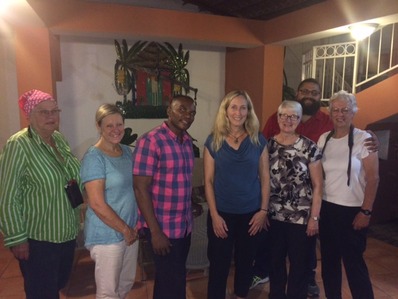 Green School Initiative - February 2017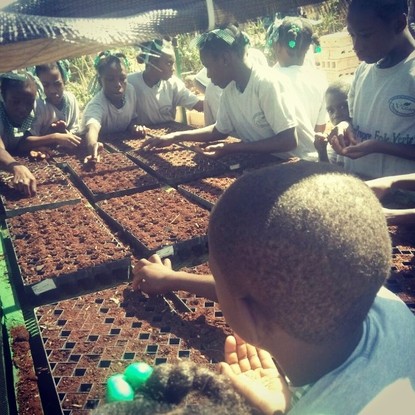 Arol Ilerand, holds a Masters in Agronomy from
L'université Jean Monnet Saint-Etienne

, France. As a graduate of St. Marc's School he envisioned school-based gardening.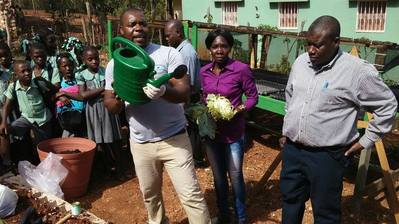 Submitted by Jon Cushman, St. Matthew's Kenosha:
Eighteen months ago I asked Heidi Ropa how my church, St. Matthew's, could support Jeannette and St. Marc's School in a unique, focused way. She told me about a wonderful educational proposal that a Haitian agronomist was putting together for schools in that region of Haiti to incorporate sustainable gardening into the curriculum: The Green School Program. Responding to a detailed program description and budget from Agronomist Arol Ilerand, St. Matthews together with the Diocese of Milwaukee Commission on Global Reconciliation, helped to fund the pilot program at St. Marc's School. Last November, I witnessed the very early stages of construction of the garden space. Raised beds emerged from old tires and scrap cement block. Shade tables were constructed with lumber purchased from the grant. Over my week in Jeannette, an outdoor classroom took shape, enabling whole classes of students to work through an entire growing process from germination to gathering crops. Using seed purchased with grant money and composting techniques learned in the program, the students of St. Marc's have turned what was once a hard scrabble plot of land into a produce producing educational experience.

Haiti Project Trips for 2017
October to be announced soon
Special thanks to The Ven. Chuck Zellermayer, our accountant, for countless hours of donation entries after a season of generous giving following Hurricane Matthew.


ERD Microfinance loans reissued after Hurricane Matthew
Episcopal Relief and Development and the Haiti Project, combined resources to reissue the 30 loans to women initially distributed in August. 2016. Heidi Ropa will provide an update of the program in the March E-News.
Our education partnership program renewal letters were mailed in December.
Thank you to those of you who renewed your annual donation to support education and health at St. Marc's School.
If you did not send in your partnership gift, but intend to do so, your donation can be made online or mailed into the Diocesan office.