Wow! What a start for 2014. It has been exciting to see God at work in the lives of those we serve. Besides helping people medically and helping with classroom needs, we have seen God heal the spiritually broken as well. When I say that, this includes both Dominicans and Americans. These trips have been life changing for all involved. We would like to thank those who went and those who gave so others could go. We also want to say "thank you" to those who regularly provide support for a number of programs we work with. God is using these programs to minister to people and lead them to Him.
Before we talk about the trips, there are several upcoming trips we would like to let you know about:
Our Teacher's Training Trip is set for July 2 – 10, 2015. This is an opportunity for teachers here to share the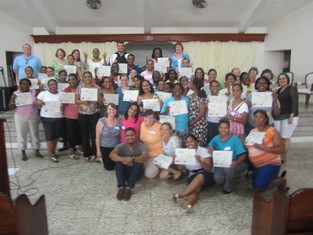 ir skills and education with teachers from some of the Dominican schools we work with. We will be doing 2 - two day seminars in 2 separate locations in the Dominican Republic. More information about this trip can be found by
clicking here.
Here is a link to a
video sharing some details
about last year's trip.
We also have a work trip scheduled for November 1-9, 2014. This trip is open to anyone wishing to join this team. Current plans are to work in El Toro on a classroom project there. We would also like to do some programing for the children in that community (VBS, puppet program, etc.). Please
contact us
for more information.
There are also some medical people interested in forming a team to do some day clinics this fall or early next year. We need medical and non-medical people for this team. If you are interested, please
contact us
for more information on this team.
HHU has hosted three teams so far this year in the Dominican Republic.
We started the New Year with our first visit to Betseyda Home for Girls, a girl's orphanage in the west part of Santo Domingo. Over the past several years we have been developing a friendship with this orphanage that has 40 girls ranging from 1 ½ to 19 years of age. Most of the girls attend a local Christian school and attend a local church. With the generous help of our supporters, in conjunction with the help of the Christian Community Church in Santo Domingo (pastored by Cristobal Cordoza), HHU provided the funding for a traditional Dominican family Chris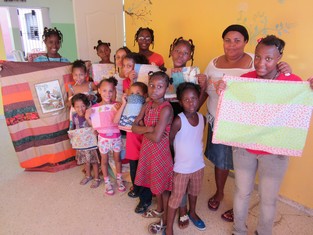 tmas dinner for the girls. They had a great time celebrating the birth of Christ with their "family". We will be sharing a new opportunity to help this orphanage in the very near future.
We also delivered more blankets to the orphanage made by ladies from the Berne, IN Evangelical Church and a very good used laptop computer donated by some friends in Florida. The orphanage is very grateful for your help and prayers for them.
The first team of the year was a medical team from Highland Community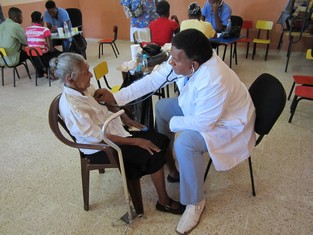 Church from Wausau, WI. Their group teamed up with several Dominican doctors to provide medical exams and medicine to poor people in barrios and bateys near La Romana and Higuey. They saw 900 patients in 5 days and 50 people made decisions to accept Christ.
The second team was a surgical and construction team that came from the Wausua, WI area. The surgical part of the team worked in the Good Samaritan Hospital in La Romana. They did 32 free surgeries for the poor. We are grateful for the help of our friends at the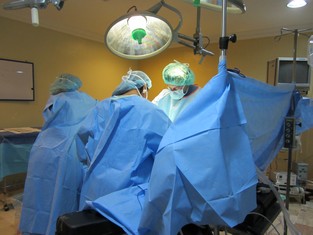 Good Samaritan Hospital. The construction part of the team worked on painting the Christian school next to the guesthouse. During that week, we also made use of special funds given to HHU to install a sidewalk in front of the new school building. As a result of the work done that week, the Dominican government approved the school for a government funded vocational program in the new building.
The final group was from Northern Michigan. There were 9 Rotary club members (from Gaylord and Manistee) and 10 students from several schools around Manistee, MI. Their work for the week included pouring footers and laying block wall for a new Christian school in El Toro (about 30 minutes NW of Boca Chica). We are very gra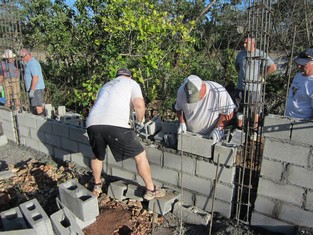 teful to the Rotary members for their contribution that allowed us to purchase 150 plastic water bottles for the water plant at the Villa Hermosa School. Besides providing clean affordable drinking water for the community, proceeds from the water plant go to help operate the Villa Hermosa School.
In between the groups, I spent time visiting old friends and making new ones. I had some meetings with national public health officials, conducted some business and enjoyed the beautiful weather with Carol (my wife) in between some of the groups. One of the special visits was with our Dominican granddaughter and her family. Some of the friends we caught up with included our friends at the Voice of the Light radio and Christian cable TV station in Higuey. HHU continues to work with the station. They have an exciting broadcast ministry that reaches into homes on the east side of the Dominican Republic.
With one of the teams, we had the privilege of distributing some handmade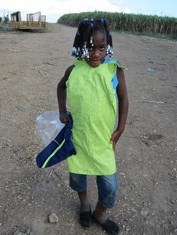 clothing to children in a very poor batey north of La Romana. We want to give a very special thank you to Elvera and Debbie for their hard work. The new clothing was appreciated.

Go - Set - Ready. No, we are not dyslexic but sometimes there is so much excitement that some things get started before we have everything in place. We have gradually been putting things in place for the Pastor Training Program in Belladere, Haiti. The program surprisingly started in early March. The one thing we had not set was a budget for the training but that did not stop it from starting. Some of the expenses include gasoline for the trainer to drive to the locations and a noon meal for the participants. At this point, we still do not have a budget set, but we could use some help to offset the expenses for operating the training program. If you are interested in helping, please

click here

. Or you can mail your contribution and designate it for the Pastor Training Fund.

We receive occasional updates from all of the schools we work with. All of the schools are grateful to all of you sponsoring children in their schools. Sponsoring a child really does make a difference in the lives of children in the Dominican Republic and we have plenty of kids on our website that need sponsors. Please tell others about this need.

We are very excited about the prospects of some new programs and opportunities that God has brought to us. Behind the scenes, work is being done and we will introduce those new things to you in our next newsletter.

Whether big or small, the programs we are doing are making a difference in people's lives. The nice part about being a small organization is that it is easy to quickly respond to some of the smaller needs that others overlook. The difficult part lies in not always having the resources to be able to help. We have to heavily rely on the Holy Spirit to give us wisdom for these decisions. We also have to rely on the Holy Spirit to work in the hearts of donors to help fund these programs. We are grateful for all of you that have helped in some way. For those of you who have not gone or given, you don't know the blessings you are missing. We hope you will consider how you can become involved with one of our ministries that help people in need as we share God's love with them. May God bless you!

Serving others in Jesus' name,