Dear Friends,
In this edition of our newsletter I would like to share a recent
Our Daily Bread
devotional that tells a story
about Alaska. I will share how that relates to our work in the Dominican Republic in a moment.
The administrators of the high school in Barrow, Alaska, were tired of seeing students get into trouble and drop out at a rate of 50 percent. To keep students interested, they started a football team, which offered them a chance to develop personal skills, teamwork, and learn life lessons. The problem with football in Barrow, which is farther north than Iceland, is that it's hard to plant a grass field. So they competed on a gravel and dirt field.
Four thousand miles away in Florida, a woman named Cathy Parker heard about the football team and their dangerous field. Feeling that God was prompting her to help, and impressed by the positive changes she saw in the students, she went to work. About a year later, they dedicated their new field, complete with a beautiful artificial-turf playing surface. She had raised thousands of dollars to help some kids she didn't even know.
This is not about football—or money. It is about remembering "to do good and to share" (Heb. 13:16). The apostle James reminds us that we demonstrate our faith by our actions (James 2:18). The needs in our world are varied and overwhelming but when we love our neighbor as ourselves, as Jesus said (Mark 12:31), we reach people with God's love.
—Dave Branon (Our Daily Bread – Radio Bible Class)
We have truly been blessed to have people like you that "desire to do good and share" and we enjoy sharing God's love with others. You may have shared your time by going on one of our trips and serving those in need. It may have been through financially giving to a project or program. It may be you have prayed for the ministries we work with. Or maybe you are sponsoring a child in one of the schools we work with. Whatever way you have shared, we are grateful for your help.
We are not planning to put in an artificial grass football field in the Dominican Republic (at least not until God calls us to), but we do have some good projects and programs worth considering.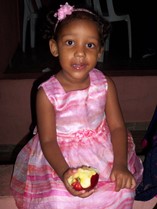 I would like to give you an update on a few of them. –

We sent out a special newsletter in August, telling you about the
need for school uniforms for 40 girls at the Bethsayda Home for Girls. We needed 1,600 dollars quickly to get the uniforms so the girls could go to school. Praise the Lord! With the help of a number of you, we raised that money in 4 days and the girls were able to start school on time. The Home and the girls are very grateful for your help.

The needs at the Home for Girls continues. We are constantly trying to raise monthly support to help purchase food for the girls. We recently shared this need with some Dominican leaders and that resulted in some monthly food donations from the Dominican government. That helps but it only covered a portion of their monthly needs. You can make a contribution by clicking here or by sending a check designated "Girl's Home Food".

There is another need at the Home for Girls. Christmas time is coming. Last year, with your help, we were able to provide funds to provide a special Christmas meal and gifts for the girls. Gifts we receive will be used to purchase

food and gifts. Last year we were able to provide funds to purchase the food and gifts and the ICC church in Santo Domingo took care of doing the shopping and preparing the food. This really blessed the girls. We are ready to do the same thing this year. No donation is too small to help these girls have a good Christmas.
Please consider a gift to the

Girl's Home Christmas Fund by clicking the blue button or designate a check. Money raised above what is needed will go into the monthly food fund for the girls. By the way, the ICC church is doing other things with the girls, such as sending them to church camp and having special pool days for the girls. We are blessed to be partnered with this church.
You may remember we talked about Yinet Cabral, the young lady some of
you met at the guesthouse in La Romana. She is now in a suburb of Santo Domingo after her family moved there. We have shared her story before, so we are going to jump to the present; We have been able to get her into the Russell Van Vleet School, a very prestigious Christian school not too far from her home. You may recall, we talked about she was not a citizen on any country. After researching how she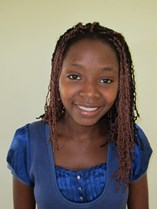 could get her legal status, we have been able to point her in the right direction and help her get her birth certificate (and other papers) that declare she is a citizen of the Dominican Republic. That will open many doors for her and her future education.
Yinet has 2 ½ years to go to complete high school. The cost of sending her to this school is greater than if she were attending one of the schools we work with. That was not an option because those schools are located on the other side of the city of 3 million people and they do not go through high school. The Russell Van Vleet School offers her a very good, high quality education. Another benefit is she receives breakfast and lunch each school day. That is the good news. The bad news is it costs more to send her to school. We could use 2 sponsors for her that are willing to commit to providing $35 per month for the next 2 ½ years. If you are interested in helping her, please call me at 765-730-3618 or send me an email at
rmeyerhhu@gmail.com
The El Toro School construction project is continuing to move forward. We have not had any teams there since last February but we have been able to use local volunteers and occasionally hire some skilled labor to keep the project moving. The walls are now all up for the classrooms and bathrooms. We hope to install the roof just after the first of the year. We still would like to take some teams there to continue the work. We could also use help financially to keep this project moving forward. Please consider how you can help.
We recently notified student sponsors we were increasing the monthly sponsorship fee to 31 dollars per month. Out of that 31 dollars, 28 of that goes directly to the school and 3 dollars helps defray the cost of operating the program here. That does not cover all of the expenses. We rely on contributions to our General Fund to make up the difference. This increase was overdue. Our 26 dollar fee was calculated in
2003. The price of everything has gone up in those 11 years. This increase will directly help the

schools meet some of those needs. If you sponsor and child, you should have received a letter with details of the increase. In that mailing was a post card for your response. Thank you to everyone who has responded. If you have not responded, we ask that you drop that card in the mail soon

.
Our Board of Directors recently set a new challenge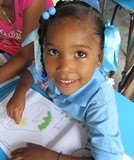 for us. That is to sponsor more children. And they set a goal of having 500 children sponsored by the end of 2015. Very soon we will be putting out more information about this challenge and ways you can help. We will have a running total on our website

so you can stay updated on our progress. In the meantime, it is easy to sponsor a child. You can click the red button to see children needing sponsors.
The dates have been set for our Teachers 2 Teachers Trip. These are trips designed for US teachers to conduct teaching seminars for Dominican teachers. This is our third year for this program. We are planning 2 back to back trips next summer. The dates are July 2-9 and July 8-16. Teachers can join us for either or both trips. We recently found out that these trips can

be used for continuing education credit. Please tell teachers you know about this opportunity. Click the teal button for more information.
We are grateful for the recent contribution of medicines from the Perrigo Corporation in Allegan, MI. These meds will be taken to the Dominican Republic and eastern Kentucky to help the poor there. We are also grateful for the contr
ibution of some homemade dresses and blankets. They will be delivered in December to Como Quiera, a batey in the Dominican Republic. We are grateful for these contributions.

We are also very thankful to all of you who understand the importance of being involved and act on the biblical command "to do good and share". We appreciate your help. The people we serve appreciate your help. We know that God will bless you for how you have responded to helping those in need.

Of course we don't want to forget those of you setting on the sidelines; It is time to get involved! You can go on a trip, you can sponsor a child, or you can find other ways to participate. The choice is yours. We don't want you to

miss out on the blessings of helping others. Please consider what you can do this Christmas season. Please give us a call and we can share more ways you can be involved.
I need to share one other short story that recently touched my heart. As we think about Christmas, we all have experienced children making list of things they would like for Christmas. We think that is normal and every place I have been children are the same; they know what they want for Christmas. Occasionally, in casual conversation I asked what some of our "adopted" Dominican children want for Christmas and I always hear something comparable to what you would expect to hear. However, there was one response that brought me back to the reality that not all children have that opportunity. While I was chatting with one of these children, I asked what they wanted for Christmas. That person hesitated and I asked a second time. They shared they did not want anything. When I asked why, that 20 year-old young person answered by telling me she had never received a Christmas gift her entire life. That is hard for us to understand that there are children around the world that will not receive a gift this Christmas, no matter how small that may be. I hope that many of you participated in Operation Christmas Child in your church. They do an excellent job of not only delivering the gifts to needy children but also sharing the greatest gift of all; the love of Jesus with every child. I have had the opportunity to see OCC gifts being distributed in the Dominican Republic. It is a great ministry. Back to the 20 year old, she has accepted the greatest gift of Salvation in Jesus Christ. That is the greatest thing we can offer. That continues to be the focus of Helping Hands Unlimited as we help Christian schools and orphanages impact these young lives. Thank you for helping us do that. I hope this short story helps each of us to take time and remember what Christmas is all about.
From our Board of Directors, those we work with and from Carol and I, we want to wish you a warm, blessed Christmas! We hope God blesses you and your family this Christmas season!
Serving others in Jesus' name,
Rod Meyer
Executive Director