Remember the first paragraph (at least the first phrases) of the book
Tale of Two Cities
?
It was the best of times, it was the worst of times, it was the age of wisdom, it was the age of foolishness, it was the epoch of belief, it was the epoch of incredulity, it was the season of Light, it was the season of Darkness, it was the spring of hope, it was the winter of despair, we had everything before us, we had nothing before us, we were all going direct to Heaven, we were all going direct the other way – in short, the period was so far like the present period, that some of its noisiest authorities insisted on its being received, for good or for evil, in the superlative degree of comparison only.
In part, that seems like a good description of our recent trip to the Dominican Republic. We had a very wonderful trip with the Teacher Training Team. We trained just over 100 teachers from about 20 schools in La Romana and Santo Domingo. Besides the training, we also handed every Dominican teacher a bag of school supplies and things they can use in their classrooms.
One of the things that impressed us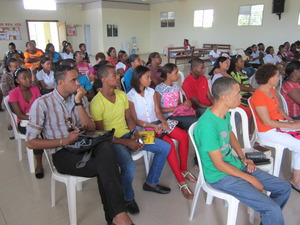 (both last year and this year) is that the Dominican teachers really engaged the American teachers and they soaked this training up like a sponge. This year we covered more subjects (like math and science). One very special moment was the presentation on Special Education. Another was the presentation on sharing God's plan of Salvation with their students. One of the American teachers demonstrated a simple way to do that. That led us to do something else new; We had a number of teachers from public and private non-Christian schools in the training. That led us to make it more personal and ask if there was anyone there that wanted to accept Christ that day. No one took up our invitation but there were several people asking good questions after that presentation. We feel the seed was planted. Now it is up to God to get that seed to grow.
We closed out our sessions in both cities by having everyone fill out a survey and handing out certificates for those that participated. We also announced we would be back in 2015 with more seminars. The dates for that trip will be July 1 – 9, 2015. We are considering adding a second training trip. One other little secret we found out is our US trainers can use these training trips for Continuous Education Credit. That is a nice incentive to encourage teachers to go and train teachers.
Click here for more information
on the 2015 Teacher Training Trip.
We would like to thank all of you for praying for this team. Besides the great work they did, everyone remained healthy the entire trip and no one came home with Chikungunya.
Now for the worst of times.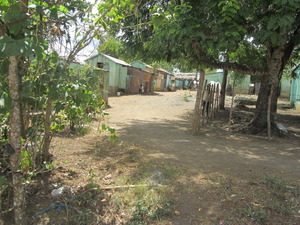 These are the burdens we returned home with. During the trip, we took the team to Como Quiera, a Haitian batey near La Romana. Bateys are small villages of Haitian sugar cane workers and their families. During our visit, we distributed bags of rice, beans and oil to families in that community. We also distributed handmade dresses to young girls. The dresses were made by two very special ladies in Wisconsin. We blessed many people even if it were only providing food for a day. Those gathered did hear a brief message that God loves them. This town is the first burden God placed on my (and our) heart(s) on this trip. HHU is developing a plan and will be returning there with more teams in the future.
Burden number two is the Betsayda ​Home for Girls in Santo Domingo. We visited there with the team and took more blankets made by ladies of the
Berne, IN Evangelical Church and some more homemade dresses made by another special lady from Berne.
Burden number 3 that God placed on my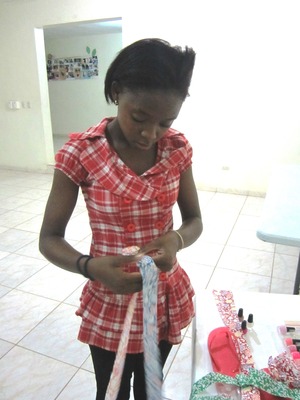 heart……a young Haitian lady that groups has come to know and love. Her name is Yinet Gabral. Yinet works at the La Romana guesthouse when groups are there. She is 20 years old and she is currently a sophomore in high school. She was born in a batey and the batey she grew up in did not have a school. She did not have an opportunity to go to school until her family moved to the city. That move came out of necessity because her father had left the family. They had to move just to try to find a way to make a little money to feed their family. This is really a long story but there are two separate points to this; First, Yinet was born to Haitian parents in the DR, however, the Dominican and Haitian governments refused to issue a birth certificate for her. That is a big problem for many people (similar to Yinet). Right now, she is not a citizen of either country and she has no rights. She is a non-person. The Dominican government recently provided a path for Haitian children born in the DR to get a birth certificate. Unfortunately it is not easy and it is not free. HHU will be helping Yinet through this process.
Yinet also wants to become a doctor. That is a few years down the road and again, we would like to help her get through school. We will keep you informed about both issues. In the meantime, please keep Yinet in your prayers.
Burden number 4; There is a Christian man I know in Boca Chica, who I run across every time I take teams to the downtown souvenir shops. We were catching up on things, when he brought up a big problem in that city; prostitution. He provided great insight into the subject. There are very few ways for people to make money to feed their families. Many times what happens comes from necessity; families will force their daughters into the streets to make money for the family. In Raymond's case, he has a 14 year old daughter. He is a Christian and he has not done that despite repeated pressure from extended family and friends to send his daughter into the streets. Please pray for Raymond and his family. Several months ago, I ran across an organization that specializes in a ministry to keep girls out of prostitution. We are starting a conversation on what can be done to help this situation.
Burden number 5…..comes in the form of a request for HHU to work with a 12 year old Dominican boy. He was born with Cerebral Palsy. He has had one surgery that was not effective and he is in desperate need of some major orthopedic surgery. We are sure that will need to happen in the US. We need to find surgeons, hospitals, and housing to make this possible. We are still gathering more information but we do want to get the word out now to try to get the process going. Please let us know if you know of a place we could start a discussion to see if this can be done for this child.
Burden number 6…….HHU has been working for the last 4 years to get our legal status in the Dominican Republic. Having that status would make our work in the DR much easier and in some cases less expensive by eliminating taxes and allowing us to have a bank account in the country (which will allow us to transfer money without all of the transfer fees). For some reason, there have been many roadblocks and delays in the process. I would like to ask everyone to pray that God would clear the way for us to get this status quickly.
We had some other blessings and disappointments during this trip but we think you get the idea of what we experienced.
So it is the best of times and the worst of times. The burdens are heavy but in the context of the ministry of Helping Hands Unlimited, God has opened wide so many needs and He has opened the door wide to share God's love with people we are serving. We don't know where all of the help will come from but we do know God has a plan and all we need to do is be faithful in doing the work He has called us to do. It is our hope that more people will accept Christ as a result of our efforts. Thank you for supporting this work and thank you for helping us touch the lives of so many in the Dominican Republic.
One more heavy burden we need to share is our General Fund. It is really not "heavy" at all because of the lack money it has in it. As a matter of fact, our closing balance at the beginning of this month was zero. That is a reason for concern because we have obligations we need to meet in order for this ministry to continue. Please pray with us that God would touch some hearts and open doors for monthly support for this ministry.
Okay, let's get into some lighter things.
Our website has some new features. We hope you will visit it to see what is new.
Click here to go to our website.
We still have room for more help on our Fall Work Team to El Toro. You can
click here for more information
. In the next several weeks we will be posting information on 2015 trips. Please call us if your group would like to schedule a trip.
We would also like to tell you of a new partnership we have with Amazon.com. They have a giving program that will give a percentage of your Amazon purchases to HHU. All you need to do is go to smile.amazon.com, select Helping Hands Unlimited as the charity of your choice and shop. This site is still Amazon and it still has all the same products at the very same prices as Amazon.com but it allows Amazon to give back to charities. We hope you will give them a try.
Click here to go to Amazon Smile.
We would also like to thank Delta Airlines for waiving the baggage fees for our Teacher Training Trip. That helped us deliver around 1,000 pounds of school supplies, blankets and clothing.
We hope you will look for our display at Swiss Days in Berne, IN, the Fellowship of Evangelical Churches convention in Peoria, IL and the Fulton County Fair in Wauseon, OH. Please stop by and wake me up. I would love to visit with you.
We also want to thank all of you for your support and pr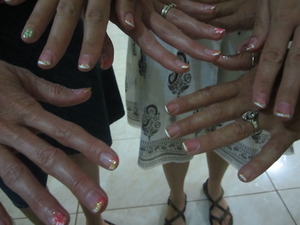 ayers. HHU is nothing more than a name. It takes many hands to accomplish this work. As it is written, "How beautiful are the feet of those who bring good news!" (Romans 10:15). That also applies to the beautiful hands that are part of Helping Hands Unlimited (by the way, that photo is of the hands of some of our teachers after getting their nails done during the trip). Thank you for your help and support. May God bless you!

Serving others in Jesus' name,