Meet Our Humana Hero - Athlete of the Month!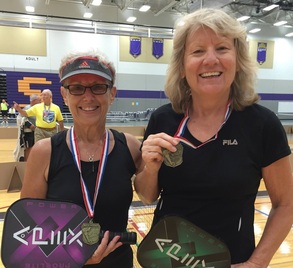 Jean on left with partner Phyllis Hubatch
For those who have played racquet sports, it is a well known fact that having mastered one will give you a definite advantage in endeavoring to learn another.
Jean Landgraf is a perfect example of how easily that transition can occur. This 69 year old grandmother from West Bend first developed a passion for tennis. Due to a shoulder injury, she was told by her doctor to retire her tennis racquet. After being diagnosed with diabetes, she was looking for a way to increase her exercise regime, when she happened upon the game of Pickleball. Played on a smaller court than tennis, this sport is not nearly as hard on the body. Her local YMCA incorporated pickleball courts in 2014 and soon Jean was exercising daily for up to an hour and a half. Along the way, she lost 25 pounds and discovered a new sports passion.
"Retirement is more enjoyable when you are physically fit," states Landgraf. She currently plays pickleball five days a week, and describes the sport as a social activity and exercise all wrapped into one. In addition to that, it is a fun family activity for all generations.The cabin that the family owns in Northern Wisconsin has two pickleball courts that see frequent use.
Her results at the Wisconsin Senior Olympics reflect all the time she has put into training. In 2017, she won doubles and singles and placed second in mixed doubles. She has been a participant in the National Senior Games twice and highly recommends the experience not only for the competition, but also for all the wonderful athletes she has met.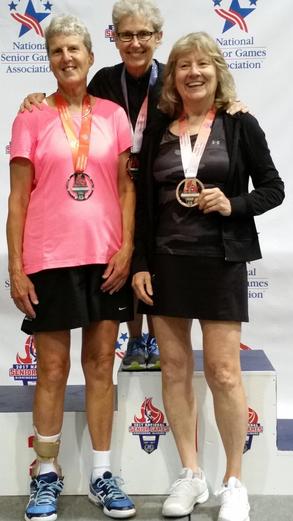 In Birmingham this year, the National Senior Games Pickleball event was competitive. Jean and her partner Phyllis Hubatch won the Bronze Medal in Women's Doubles 65-69. They are pictured in the photo along with Karen Jerg who won the Silver Medal in the same event - making Wisconsin look great! (Phyllis in the back).
As pickleball continues to explode in popularity, Jean touts it as being a year-round activity that is very affordable. She urges seniors to "get active and stay active." After her success at pickleball, she once again picked up another racquet sport at the 2017 Wisconsin Senior Olympics-badminton. Finishing in first place in badminton doubles makes her a two sport gold medal winner.
Thank you Phyllis for sharing your story!