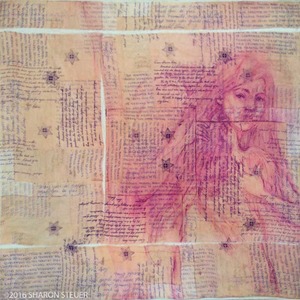 I Will Fly Away (Piecing it together again…#1)
"Letters from my father"& ;series
Fabric Collage from Traditional & Digital Collage with Watercolor Pencil
NOTE: If you don't see artwork click to view this email in a browser.
April 12, 2016
This past year I've made progress integrating the myriad aspects of my creative life. The image above is an example of one of my latest explorations into creating unique works that combine elements of traditional and digital painting, drawing, printmaking, and collage. This fabric collage I Will Fly Away (Piecing it together again…#1) recently sold at auction and you can read about the process of creating it in

Art Exhibits

below.

Read on to also find out about my latest CreativePro article, SOS San Francisco: A Case Study for Collective Visual Brainstorming, which details how I was able to meld my love of collaborating with other artists with my desire to bring about social change through art.

Below the double line you can al
so get details on
where
to see my artwork, and
when
you can meet up with me (Spoiler Alert:
Meet me THIS Sat/Sun noon to 6pm for MAU Open Studios!
). Also see
how
to find out more about my
working process, online, in books, and in person at the upcoming CreativePro Conference for Photoshop & Illustrator Users (register with the promo code CPSTEUER to get $100 off a multi-day pass).
---
---
Art Exhibits, Juried Auction, Open Studios
Open Studios (Spring MAU Open Studios 2016)
THIS Saturday April 16 / Sunday April 17, noon to 6pm
Workspace Limited, 2150 Folsom St, between 17th/18th


Artists throughout the Mission will be hosting Open Studios this weekend on Saturday and Sunday from noon to 6pm I'll be in Studio 1, at Workspace Limited. San Francisco is rapidly losing its large studio buildings, so don't miss this opportunity to visit many Mission artists in one afternoon, including more than a dozen of the professional artists at Workspace.



Valencia Street Exhibit


THIS Saturday April 16, 11–6 / Sunday April 17, 12–6
Back to the Picture, 934 Valencia Street, SF
One of my Buddha Contemplating Revenge custom prints on fabric will be included in "MAU NOW 2016" show of Mission Artist United (MAU) artists, curated by Miles Epstein.
Earlier this month my new piece was juried into the prestigious ArtSpan Auction, where it sold to a new collector.

I began I Will Fly Away (Piecing it together again…#1) by digitally collaging three square patterns from letters with InDesign. Printing out the patterns in sections, I then physically reassembled the pattern and collaged the prints onto cradled boards. Hanging the three 30" square boards vertically, I drew on top of the collage surface with watercolor pencil. A year later the drawing faded away completely (the pencil hadn't been as permanent as I was led to believe!). I next I applied a UV coating and had the new 30"x90" drawing I Will Fly Away (triptych #2) digitally photographed in high resolution. I
n Photoshop, I adjusted the image had it printed onto fabric in a number of different color shifts and scales. For this version, I tore a smaller-sized fabric print into pieces, and then I physically collaged the pieces imperfectly back to together onto a 20" cradled board. This weekend you can see me working on more unique variations
in the series during Open Studios (see more info on Spring MAU Open Studios above).
---
Presentations, Articles, Videos, Books
Presentation at CreativePro conference


After many years of regularly contributing to the professional digital graphics website CreativePro, I'm honored to be invited to present two sessions at the innaugural CreativePro: The Essential Event for Photoshop & Illustrator Users.

The conference is from July 10–13 in Minneapolis, MN. I'll be showing some of my favorite Illustrator WOW!
techniques, and sharing
Creative Thinking in Photoshop
workflow tips. Register with the promo code
CPSTEUER to get $100 off a multi-day conference pass.
Articles, Videos & Books


In my latest CreativePro article, you can read about how I collaborated with a bunch of artists and activists. Together we created the graphics for the SOS San Francisco series of events planned to highlight the out-of-control tech boom that's forcing the displacement of so many San Francisco artists.
Click
here
to read an interview with me for a
CreativePro
conference speaker spotlight (see the
Presentation
section above for more on this conference).
In terms of books, I'm sorry to report that my publisher, Peachpit Press, appears to be folding! We don't know yet what this means in terms of keeping my books in print and distribution. For now you can still get

The Adobe Illustrator WOW! Book for CS6 and CC

,

and at 35% off retail plus free U.S. shipping from Peachpit (enter the code

ILLWOW

at checkout). This 14th edition in the series was created in collaboration with my fabulous WOW! team. It covers a wide range of techniques generously shared by dozens of the world's top Illustrator artists, and of course it includes a number of my techniques as well. Contact me to request an educational or review copy.
Finally, please tell me if you have ideas that might help reverse the trend of disappearing studios, culture, and diversity in our cities. (Stay in the loop with
Cultural Space Coalition
.)
As always, sending my best,
Sharon Steuer

P.S. You didn't miss my presentation at Adobe SanFrancisco—it's on indefinite hold due to extensive theater renovations.


www.SharonSteuer.com
www.facebook.com/SharonSteuer
www.twitter.com/SharonSteuer
www.lynda.com/trial/SharonSteuer
www.lynda.com/SharonSteuer
www.sharonsteuer.com/lynda