A last look at Sharon's Studio at Workspace Limited
If you don't see artwork
click to view in a browser
.
Instagram
•
Facebook
•
Twitter
Sadly, this update announces that my studio building is CLOSING! Unfortunately the remaining 20+ artists at Workspace are being displaced for higher paying tenants. Please join the final dozen artists as we host a
Closing Studios
and art sale, next Friday night and Saturday afternoon (please see below for details). On a hopeful note, I am working hard to develop a new group studio space somewhere in the city. Please let me know if you can offer organizational or granting skills that could help make this happen.
In the good news department, my
RISE UP!
poster is displayed in the
Our Summer of Love and Resistance
exhibit at the Avenue12 Gallery, San Francsico. The opening/artist reception is tomorrow, Saturday, from 5–8pm (the show runs through August 27).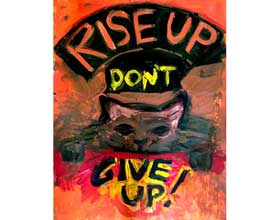 RISE UP!
poster
Our Summer of Love and Resistance
Avenue12 Gallery
1101

Lake Street at 12th Ave,

San Francsico
When you get a chance, I'd love it if you checked out recent updates to my website. In addition to posting some new work, I've also added an Activist Art page with a few of my kinetic sculptures, and a number of works from the archives.

As always, scroll down to find the details on
how you can meet up with me and where you can find my artwork, articles and books.
---
---
"Summer of Love and Resistance"
Avenue 12 Gallery
Opening Reception Tomorrow,
Saturday, July 15, 5–8pm
The exhibit runs through Sunday August 27
Avenue 12 Gallery, 1101 Lake Street, SF
"
A group exhibition of Bay Area artists… a
s part of San Francisco's 50th year commemoration of the Summer of Love, Avenue 12 Gallery is proud to provide a place where Bay Area artists can connect with the community by showing their work in response to the current political environment. As was true of the 60's, it is our belief that now is the time for art to provide an emotional release, the energy to move dialogue forward, and provide a sense of meaning to hope and struggle. Original artwork in a variety of mediums, as well as fine art prints, will be available." —Avenue 12 Gallery
Workpsace Limited—CLOSING Studios & Sale!
NEXT
Friday, July 21 6–9pm & Saturday, July 22, 12–6pm
THIS IS THE LAST time you'll be able to visit artists at Workspace!
2150 Folsom Street (between 17th/18th), SF
Next weekend is this last opportunity to visit Workspace artists in this fabulous old industrial building. Don't miss this opportunity to bring that favorite piece of art into your home. Art supplies and furniture will also be for sale.
---
Articles, Books, & Videos
Ongoing Column on CreativePro: "The Digital Art Studio"
In addition to recent posts, I've added some of my quick fix techniques to photos. See previous CreativePro posts from me and my
WOW!
team from
creativepro.com/author/ssteuer/
.
The best way to find out about the latest art and news is via Facebook Twitter, and Instagram. Even if you're social-network averse, you should be able to see the latest art and musings without having to sign in.

Hopefully the next email you get from me will be a celebratory one announcing a new studio.
Sending my best,
Sharon Steuer



www.SharonSteuer.com
www.instagram.com/SharonSteuer
www.facebook.com/SharonSteuer
www.twitter.com/SharonSteuer
www.lynda.com/trial/SharonSteuer
www.lynda.com/SharonSteuer
www.sharonsteuer.com/lynda