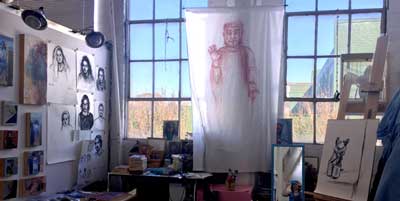 Photo of the east windows in Sharon's Studio
If you don't see artwork
click to view in a browser
.
Instagram
•
Facebook
•
Twitter
World events have been quite distracting this past few months. While I prepare to dive back into a few exciting long-term creative projects, my studio time has recently focused on drawing, fabric collage on board, and an occasional poster for local or national
Resistance
(
click to download and print Rise Up for personal use
).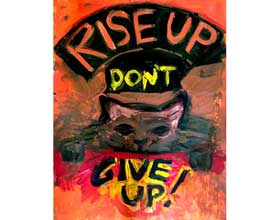 This weekend is
Spring Mission Artists Open Studios
in San Francisco. If you're in town please visit me in Studio #1 at Workspace Limited, Saturday April 1 and Sunday April 2, 12–6p. For those of you who can't visit in person, I'll be posting more studio snapshots on
Instagram
,
Facebook
, and
Twitter
.
Please scroll down for details on where you can see my artwork, find articles and books, and
how you can meet me virtually and in person
.
---
---
Open Studios & Art Exhibit
Spring Mission Artists Open Studios 2017
Workspace Limited, 2150 Folsom St, between 17th/18th, SF
This
Sat April 1 and Sun April 2, 12–6p
Visit my studio building where you'll find a number of artists working in a wide range of creative disciplines. At Workspace you can also pick up a map so you continue on to visit more Mission Artists within easy walking distance.
Valencia Street Art Exhibit
This
Friday Opening Reception March 31, 7–9p
The exhibit runs through Sunday April 16 (Mon–Fri 10a–6p/Sun 12–5p)
Back to the Picture, 934 Valencia Street, SF
This second annual show is of selected artists participating in
Mission Artists Spring Open Studios
, is curated by
Miles Epstein
. My digital and traditional collage, "Giraffes Might Be Interested," is included in the exhibit.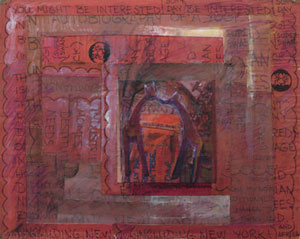 "Giraffes Might Be Interested"


(Letters from My Father series)
11"x17" digital & traditional collage on cradled board
To keep up-to-date with my art and postings, please check in via Facebook Twitter, and Instagram. Even if you're social-network averse, you should be able to see the latest art and musings without having to sign in.
If you're one of the generous studio visitors who wants to sit for your risk-free portrait (sitters receive a digital copy and have the opportunity to purchase the original and/or high-resolution digital) please do get in touch so we can schedule your appointment.
As always sending my best,
Sharon Steuer



www.SharonSteuer.com
www.instagram.com/SharonSteuer
www.facebook.com/SharonSteuer
www.twitter.com/SharonSteuer
www.lynda.com/trial/SharonSteuer
www.lynda.com/SharonSteuer
www.sharonsteuer.com/lynda