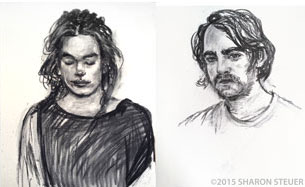 Charcoal portraits of Charlotte and Josh
NOTE: If you don't see artwork,
click to view this email in a browser
Over the winter I moved my studio to a new location within the same Workspace Limited building that I've worked in for seven years. Throughout San Francisco, many studio buildings like mine have been losing spaces and closing, so I'm grateful to be able to join the remaining Workspace and Mission Artists United artists this weekend in hosting Open Studios. Please read on for more details about where you can see my art in person and virtually, and catch up on the latest news about

WOW!

books and videos on lynda.
Colored Pencil Society (international online juried mixed-media art exhibit)

OpenStudios: Sat April 18/ Sun April 19,
2–6pm,

Workspace Limited (new studio 1)
---
---
Art Exhibits and Open Studios:


Wherever you are, I'm delighted to let you know that you can see one of my traditional and digital collages with watercolor pencil selected for the international juried Colored Pencil Society "Explore This!" exhibit.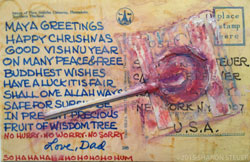 Organic Lollipop on Postcard from My Father
Although I'm behind the curve keeping my website updated with new work, you can see a batch of recent work from www.facebook.com/SharonSteuer
(even if you don't use Facebook).
If you'll be in San Francisco this Saturday April 18, or Sunday April 19, from 2 to 6PM I'll be joining other Mission Artist United artists in hosting Spring Open Studios. I'll be in my new studio, which is still in the great old industrial Workspace Limited building, showing portrait drawings, collages, and new original digital works printed on fabric. (Please be aware that all Workspace artist studios are now up a long flight of stairs on the second floor.)

If you're interested in helping to try to preserve studios and creative spaces in San Francisco, please ask me about the new Cultural Space Coalition.
---
---
Books & Videos:




Videos: 10-day FREE trial on lynda


For the first time you can now use my lynda code (lynda.com/trial/sharonsteuer) to sign up for 10 free days of access the entire lynda library. Once you have access to the lynda library, I'd be thrilled if you play my "Artistic Painting in Illustrator" courses to see unusual ways to paint with digital tools (lynda.com/sharonsteuer).
Even without a lynda membership you can see a batch of the free movies from the course from sharonsteuer.com/lynda.
---
Books


The Adobe Illustrator

WOW!

Book for CS6 and CC is the most recent edition of the Illustrator
WOW!
series, and it's available as a full-color printed book, and eBook (includes PDF/ePub/MOBI versions). This edition is an expansion of the CS6 edition, adding lots of new tips, tricks and techniques, and showcases a a batch of new CC-created artwork.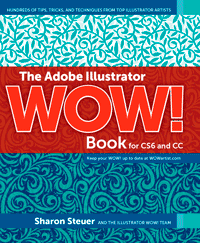 You can order the book at 35% discount (with free U.S. shipping) directly from Peachpit.com (use the code

ILLWOW

at checkout). or purchase the book from Amazon. (Please contact me to request an education or review copy.) Register your purchase at www.peacphit.com/register to download the art files and be notified about updates.
---
From SharonSteuer.com you can check out my different portfolios, and find info on books, articles, and resources such as discount codes for my books SharonSteuer.com/books). To sign up for this newsletters, subscribe to my blog, glance at recent twitter and Facebook posts, and send me an email use SharonSteuer.com/contact.

You can almost always find up-to-date postings about art and life via www.facebook.com/SharonSteuer
(even if you don't use Facebook) and from @SharonSteuer (twitter).
Finally, please let me know if you have any suggestions about how to get the word out about my books and courses to teachers, art departments, and art schools.
As always, sending my best,
Sharon Steuer