Ready to LOVE Longfellow Books?
By now, many of you have heard about the
terrible water damage Longfellow Books suffered
during last weekend's snowstorm. The MWPA has been flooded (pun intended) with an outpouring of support for this important community hub. The phone calls, emails, and Facebook postings have been both overwhelming and heartwarming. And now it's time to help Longfellow Books.
Supporting the bookstore is as easy as 1, 2, 3!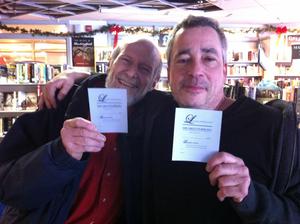 1. Be part of a cash mob at the store on Saturday, March 2

2. Attend FLOODED: An Outpouring of Literary Conversation in Support of Longfellow Books on Sunday, March 3 at SPACE Gallery

3. Simply making a direct donation to Longfellow Books via the MWPA

Here are the full details:

1. CASH MOB
Saturday, March 2 from 9:00AM to 6:00PM
One of best ways to help Longfellow Books is, believe it or not, simply buying books from them! But let's stop and think about our book buying for a moment…let's plan ahead!
GIFTS. Check your calendar: Will you have birthday gifts to buy for friends and family over the next six months? Why not by them all Longfellow Books gift certificates right now and be done with your shopping?

BOOK CLUB PLEDGE. Can you get your book club members to all pledge to buy the books they read for group from Longfellow Books for one year? Yes, you can! And if you do this, and let us know at the MWPA, we'll list your club's name and member's first names on our website—"Marty, Jamie, Jean, Craig, Nick, and Frank from Greater Portland, meeting since 1997" have already made the pledge!

TREAT YOURSELF. Didn't get a book you wanted for the holidays? Been waiting, saying "I'll get that later"? Don't wait any longer, buy it now!

2. FLOODED: An Outpouring of Literary Conversation in Support of Longfellow
Sunday, March 3 at SPACE Gallery in Portland |Doors at 7PM, Event at 7:30PM
A Conversation on Memoir with Richard Russo & Monica Wood
Moderated by Moira Driscoll

A Conversation on Fiction with Ron Currie Jr. & Bill Roorbach
Moderated by Brock Clarke

Tickets available in advance via SPACE Gallery by clicking
HERE
.
(Sales will begin on Feb 14 at 12PM)
*
This event is likely to sell out, so we encourage you to buy tickets ahead of time.*100% of ticket sales go to Longfellow Books
3. DONATE
If you'd prefer to simply make a cash donation to Longfellow Books via either check or credit card, the MWPA is helping facilitate this. We'll collect all of the donations on behalf of the bookstore UNTIL MARCH 15, 2013 and then give them all of the money in one lump sum. This leaves the staff of Longfellow Books free to do what they do best: serve the community of readers! This is a NON-tax-deductible donation.
Credit Card
If you'd like to donate online with your credit card, you can so in a few easy steps:
1) Click the "Pay Now" button
HERE
.
2) In the field marked "Enter description" please type LONGFELLOW BOOKS
3) In the field below that labeled "Item price" please enter the amount you would like to donate.
4) Fill in your basic billing information (contact and credit card #), and you're done.
Checks
If you'd like to donate online with your credit card, you can so in three easy steps:
1) Make your check out to the MWPA
2) Write LONGFELLOW BOOKS in the check's memo line
3) Mail the check to: MWPA, 314 Forest Avenue #318, Portland ME 04101