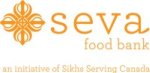 ---
---
3413 Wolfedale Rd, Unit 10
---
---
Operating Hours:
Wednesdays: 6:30 to 8:30pm
Sundays: 12:00pm to 2:00pm and 3:00pm to 5:00pm

---
The Seva Food Bank provides safe, nutritious and culturally-appropriate food to low- income families in Mississauga. An initiative of Sikhs Serving Canada, a registered not-for-profit organization, our mission is to positively impact local communities by acting on the basic Sikh tenets of sarbat da bhalla (the well being of all) and seva (selfless service).
---
Most Needed Food Items
---
---
Welcome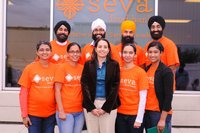 Its been a busy month for the Seva Food Bank, In nine months, since we first opened our doors, we've been blessed with the opportunity to serve over 450 client families and distribute over 110,000 pounds of food and supplies.
This month's newsletter is your chance to learn more about what we're doing and how you can get involved. Please read and forward on to your contacts!
---
Join The Emergency Food Email List

The Seva Food Bank relies entirely on food donations. Sometimes, we end up running short on specific food items like milk, juice, veggies, and baby items. Sign up for our Emergency Food Email List and we'll let you know when we need something. You never know - you could be in the right place at the right time to drop off a much needed donation!

Click here to sign-up.
---
Welcoming Our First Employee

We are delighted to announce that we have hired our first employee. Michael Brito joins our team as a part-time Operations Manager. Michael brings over 10 years of experience in working with individuals and communities experiencing poverty. He approaches his work with compassion and a commitment to social justice.

In his role, Michael will have responsibility for supervising the daily operations of Seva Food Bank. He will have oversight of the front reception area, client-intake process as well as food delivery, sorting, storage, distribution and storage.

Please join us in welcoming Michael to the Seva Food Bank!

---
Grow A Row! Donate Your Fresh Garden Produce
Despite the uncooperative weather, we hope that your garden is flourishing. Please consider dedicating a row for hungry families served by the Seva Food Bank.
Produce can be prohibitively expensive for families with limited incomes, but is essential for a healthy diet. Fresh veggies and fruits are highly prized items at the Seva Food Bank and are quickly distributed to families in need. Produce provided from home gardens is so much fresher than any other produce we receive. It is always distributed very quickly.
There is no such thing as too much produce at the food bank.
We welcome all donations of fresh fruits and vegetables.
Click
here
to watch a video and learn more.
---
The Next Generation of Sikh Institutions
In conjunction with the Sikh Research Institute, Kulvir Singh Gill presented the Liv Webinar "Creating the Next Generation of Sikh Institutions." The webinar traced the inception of the Seva Food Bank and told the story of the group of young Sikh-Canadians who set out to create a permanent institution to bring together the local community, and to put the Sikh ideals of
seva
and
sarbat da bhalla
into service.
Using the story of the Food Bank, Kulvir talked about service and institution-building as critical aspects of forging better relationships between the Sikh and non-Sikh communities and creating a positive image of Sikhs for the general public.
Click here to
check out the recording
.
---
Volunteers Needed For Summer Shifts

As we head into the summer we all have lots going on the home front. Between vacations, weddings, and barbecues, please consider picking up an extra shift at the food bank. Unfortunately, there isn't a down time at a food bank and we continue to see high demand for food from our clients. Its only a few hours of your time but it makes a huge difference to the families we serve.

Email us here to volunteer for a shift.


---

Video - Poverty and Hunger in Mississauga


The Mississauga Food Bank has produced a fantastic new video that highlights poverty in Mississauga and how the network of local food banks serves the needs of the local community.

Click

here

to watch the video.