Public Review of Operations Report Card Waste and Water Modules Open
CHPS, in partnership with Global Green USA, is updating the Operations Report Card to include new modules for Waste Reduction and Water Conservation. We invite the public to comment on the document available here. It includes the data that will be collected from schools, the mechanisms to collect that data, and the scoring rubric to create a score based on the result of the investigation. The public review is intended for the CHPS community to provide feedback on this document. The public review is open until January 15, 2012.
Green School Makeover Winner Announced
CHPS was thrilled to get to help choose a winner for the Green School Makeover Competition, hosted by Global Green. The Texas School for the Deaf (TSD) in Austin was named the winner this year, and will take home $65,000 to improve energy and water efficiency, and implement waste and recycling education programs. Congratulations TSD!

Read more about the competition»






Save 20% on your Green Schools National Conference Registration

February 27-29, 2012
Denver, Colorado

Don't miss the Green Schools National Conference, the only national gathering of K-12 leaders and educators coming together to make their schools and districts green and healthy centers of academic excellence. Arne Duncan, US Secretary of Education, and proponent of the US Green Ribbon Schools Awards Program (see our second story in this issues), has just been announced as the keynote speaker. CHPS is a proud supporter of this unique conference, and we have a special discount for our community members: get a 20% discount just for being a part of the CHPS community. Simply enter "chps" in the discount code field.

Register today»
CHPS Members: Become a part of the CHPS National Technical Committee
CHPS is seeking experts from around the country to join the new CHPS National Technical Committee. The National Technical Committee serves as the major technical advisory arm to the CHPS organization and board of directors. We are particularly seeking experts for site, water and materials subcommittees. To apply send, a letter of interest and resume to techcomm@chps.net. You must be a member in good standing. Not a member yet? Join today!

Free Wednesday Webinars
Get schooled on high performance school basics Wednesdays at 11 AM PST, 2 PM EST:

12/14/11: Make Your Existing School a High Performance School

1/4/12: Introduction to CHPS

1/18/12: Introduction to CHPS Verified

Attend a free training»
Six Books for the High Performance Schooler in Your Life
Green someone's holiday or expand your own library with CHPS picks for holiday book buying
By Bill Orr, CHPS Executive Director

The holiday season is a great time to spread the green word to the important people in your life and catch up on reading you haven't gotten to earlier in the year. Here are some ideas for your end-of-year book list:

For the architectural history buff:


In The Life of Reason, George Santayana wrote, "Progress, far from consisting in change, depends on retentiveness... Those who cannot remember the past are condemned to repeat it." Part architectural history and part applied lesson for school design today, R. Thomas Hill's Modern Schools: A Century of Design for Education focuses on the underlying design and building features that enhance learning and, in the process, create a meaningful architectural expression. K-12 school design as a recognizable building type is a relatively recent phenomenon that parallels the development of the modern educational system. Only in the past century has the relationship between education and design of contemporary learning environments been fully realized. The book features the case studies of more than 60 architects worldwide, including twentieth century masters Frank Lloyd Wright, Le Corbusier, Eliel and Eero Saarinen; notable mid-century modern architect Richard Neutra's outside-in classrooms at Corona Avenue and UCLA University Elementary; as well as contemporaries such as Perkins and Will's Capital High School, the Circumstantial schools of Patukau Architects in British Columbia, and Morphosis' Alexander Science Center School, which is affiliated with the Los Angeles Unified School District. Many design principles embedded in the schools of the first half of the twentieth century are resurfacing in the high performance schools of today. In many ways, today's notions of high performance buildings and 21st century learning environments are not new, we simply don't see as many applications of them

For someone who finds new value in the old: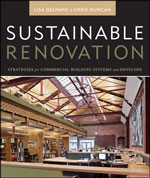 "Because the vast majority of the building to be occupied during the next thirty years are already constructed, existing buildings are the most important places to realize big changes now." Having addressed sustainable schools from the ground up in her first book, Lisa Gelfand and co-author Chris Duncan are now taking on the challenge of how we improve the 800-pound gorilla in the green building movement: existing buildings. In Sustainable Renovation, the authors start with the big – Whole Building Design, as it relates system integration and energy modeling – and work their way through facilities upgrades, building envelope, and finally, down to the materials used in existing buildings. Each chapter is organized by building age, including systems that one might see in pre-war, mid-century and late modern buildings. Most intriguing are the practical strategies to reduce energy use by 50%, 80% or more in existing buildings. You will get glimpse of the content as Lisa presents the Lighting and Building Envelope modules at the upcoming CHPS Modernization Bootcamp on January 12, 2012 in Downey, CA . Bring along your copy and we are sure that Lisa will autograph it for you!

For someone who likes to play in the dirt: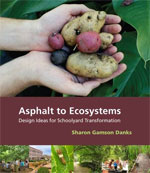 "How did vital natural systems get so marginalized? What can we do, on an individual and community-wide level, to change the ways we impact the surrounding environment?" These are the questions Sharon Gamson Dinks addresses in "Asphalt to Ecosystems: Design Ideas for Schoolyard Transformation." Dinks sees the schoolyard as the perfect place to start engaging children with their environment. School gardens are an extension of the "school as a teaching tool," a microcosm for the potential that schools in general have to impart environmental awareness and stewardship on future leaders. Dinks' book builds looks at the big picture for making a case for school gardens, but then moves into the practical with how to design, build and maintain school gardens on an ongoing basis.

For the consummate designer: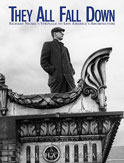 Richard Nickel was a Chicago native, fine art photographer, and ultimately, a martyr in a personal crusade to catalogue, preserve, chronicle, and salvage remnants of the architecture of Louis Sullivan. Louis Sullivan was an early pioneer of the skyscraper, intricate organic architectural ornamentation, Frank Lloyd Wright's mentor, and notable for the phrase "Form follows Function," integral to the design of high performance schools today. Richard Cahan's They All Fall Down: Richard Nickel's Struggle to Save America's Architecture is the

biography of Richard Nickel and the special relationship he developed with architecture amid the turbulent backdrop of urban renewal of the late 1950s, 60s, and early 70s, that eventually cost him his life after the partial collapse of Sullivan's Chicago Stock Exchange Building during a salvage effort. Richard Nickel's Chicago is Nickel's photo portfolio that documents the demolition of a number of architectural master works. Most poignant are the before and after views of the demolition of Chicago's Garrick Theatre Proscenium complete with bulldozer. The Complete Architecture of Adler &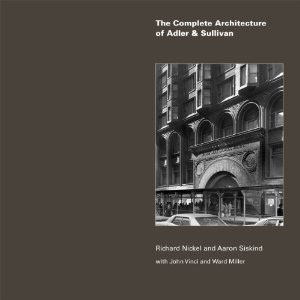 Sullivan is the culmination of Richard Nickel's life's work, which started in 1952 as a graduate project but was not published until almost 40 years after his death. This definitive coffee table and reference book on the works of Dankmar Adler and Louis Sullivan finally began to coalesce beginning five years before its publication in 2010 thanks to a public awakening to the works of Sullivan and the unyielding efforts of Aaron Suskind, John Vinci and Ward Miller.
How Your CHPS School Can Be a Green Ribbon School
Thirty-three states and the District of Columbia have signed up to participate in the pilot year of the US Department of Education's (ED) Green Ribbon Schools Awards Program. Modeled loosely after the Blue Ribbon Schools program for academic performance, the Green Ribbon School will recognize exemplary efforts in three pillar areas:
I) Environmental Impact and Energy Efficiency
II) Healthy School Environments
III) Environmental and Sustainability Education
States may nominate up to four schools and the Education Department plans to make about 50 awards. Schools in participating states covered by a CHPS Criteria -- California, Colorado, New York, Rhode Island, Virginia, and Washington or CHPS Prefab -- will get credit towards a Green Ribbon for receiving CHPS Verified or CHPS Designed recognition. Schools in any of the Green Ribbon states that have conducted the Operations Report Card (ORC) will also receive credit. Additional points will be received by schools for meeting certain CHPS state prerequisites and/or credits.
Read the rest of the story on CHPS' Green Ribbon Awards Program page here»