PEAKS on the air with Ithaca Community Radio!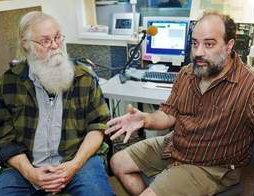 I was thrilled to get a ring from Jim Murphy (pictured on left), who discovered PEAKS through one of our Changemakers, Sustainable Neighborhoods Nicaragua (SNN). Jim is a Changemaker in his own right, working enthusiastically to resurrect Ithaca Community Radio (88.1 FM), starting with his weekday morning show from 7:00 - 8:00 a.m.

I arrived at the station this morning
with a mug of tea and a nervous grin -
the day was still pitch black. This was only my second time on the air,
and
Ithaca Community Radio had given us the exciting opportunity to showcase just one of our local Changemakers
.
Today,
Kai Keene (Team Leader at
SNN)
joined us
to share SNN's recent
success fundraising on PEAKS. In just eight days, forty-five students have Championed SNN, raising almost $4,500 to support their
work with Nicaraguan communities
to build sturdier, safer homes
made with locally available materials.
Stay tuned to Ithaca Community Radio at 88.1 FM! PEAKS just might start a regular Changemaker series!