---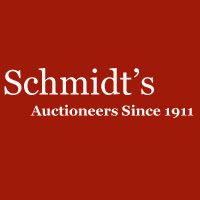 ---

Established 1911

"Quality That Will Last a Lifetime........Again"
Auctioneers
Fine Antiques

Appraisers
We are currently accepting select consignments for our Cataloged Fine Arts Auctions
and future
"Friday Night" sales


WANTED:

Paintings and Fine Art,
Sterling Silver,
Fine Furniture,
Art Deco,

Art Glass and Art Pottery,

Clocks and Watches,

Decorative Arts,
Native American Arts,
Antique Firearms,
Mid Century Modern,
Asian Antiques,
Vintage Automobiles,

Specialized Collections
---


---
Schmidt's Friday Nights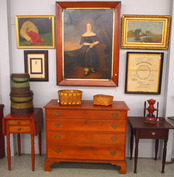 Americana Auction


Friday Evening January 25th at 6:30 p.m.

Continuing our series of auctions we call "Schmidt's Friday Nights" This is a wonderful source to buy and sell reasonably priced antiques and collectibles. A monthly auction where anyone can sell or buy, with NO BUYER'S PREMIUM, no catalogs, no shipping the stuff across the country, no negotiating, no hassle, no headache, just lots of fun! Including many items from Estates and Private Collections.
Partial Listing Includes:
Americana & Folk Art Feature: 19th c Painted Pine Noah's Ark w/Figures, Scrimshaw Whale Bone Basket, 12 pane 2 pc. Cherry Corner Cupboard, Pantry Shelves Boxes, Firkins, Painted Pewter Cupboards, Bucket Benches, Several Painted Game Boards, 19th c Sampler Collection, Painted Trinket Boxes, Whirly Gig, Early Decorated Canteen, Painted 19th c Blanket Boxes, Theorem on Velvet, Toleware Teapot, Trays & Boxes, Painted Coffee grinder, Spool Cabinet, Glass storage jars, Splint & Picket Fence Baskets, 19th c Portrait of a girl, Yellowware & Redware, Southern Face jugs, Duluth Fish Decoys by David Perkins, Mason & Great Lakes Decoys, Painted Candlestand, Cast Iron Banks & Toys, Stoneware Crocks & Jugs, Rag Rugs, Early Lighting, Dry Sinks, Demilune & Drop Leaf Tables, Primitive paintings, Early Painted Rocking Chair, Spencerian Teacher's Drawing by Herbert Cole dated 1880, Small Burl bowl, Blind door corner cupboard, Iron Rooster Weathervane, Writing Slope, Folk Art Figures, "Falls City" Tackle Box, Orvis Minnow Trap, Tin Rolling Pin & Board, Tin candle box, Childs Settee, Pewter plates, Spice boxes, Painted "WILDWOOD" sign, Coverlets & Quilts, Sewing Boxes, Kitchen ware, and much, much more!
Antique Accessories: Early 20th c Oil Portrait of Mary Wollstonecraft Godwin, NW Coast Hupa Indian Basket w/ Cover, 1811 hand-colored Pinkerton map of Hindustan, 1860 hand-colored Dufour map of Europe, 19th c P. Taylor Oil on Canvas, Bronze Figure, Cased Diorama of SS North American Great Lakes Steamship, Livingston County Atlas, Oak Book Stand, Organ & Oil Lamps, Grenfell Hooked Mat, Sandburg Lincoln Volumes, Oil & Watercolor Paintings, Pocket Watch collection inc. Swiss 18K, Elgin 10 & 14K and others, Watch Fob Collection, Sterling & Rhinestone Jewelry, Stickpins & Costume Jewelry, 8-Tune Swiss Music Box, Tobacco Tin Collection, Chinese Carved Rosewood Buddha, Table Screen, Chinese Carved Soap Stone figures, Jade Brush Wash, Pr. Hat Stands, Asian Wood Carvings, Chinese & Japanese Porcelain, Cloisonne, 1875 Silk Embroidery, Large Japanese Bronze Lotus Bowl & Censor, Collection of Postcard Lots, Persian Kirman & Kashan Carpets, Barometer, Mason's Red Ironstone Transferware, Brass folding fireplace screen, 1950's Guinness Poster, Majolica vase, Silver Concho belt, and much, much more!
Antique Furniture: 18th c QA Curly Maple Highboy & 19th c Curly Canopy Bed, 11 pc Renaissance Revival Dining Set, Walnut Canterbury, 18th c Slant Front Desk, Chinese Provincial Chair & Rosewood Tables, Carved Mahogany Library Table & Corner Chair, Victorian Walnut Chaise Lounge, Marble Top Parlor Table, Cherry Chippendale Chest, Curly Maple Stand, 3 pc Maple bedroom set, Enamel Top table, Victorian dressers, Square Oak dining table, Art Deco dining table, and much, much more!
Preview starts at 3:00 p.m. on the day of sale. Credit Cards accepted without penalty.
Absentee bids accepted, until 5:00 p.m. on the sale day. Food available

Schmidt's Antiques Inc
Since 1911

5138 West Michigan Avenue
Ypsilanti, Michigan 48197
---
2 Day Estate Auction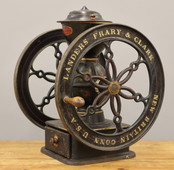 Bernie Beaton Estate
Auctions Friday March 29th and Saturday March 30th!
(Online Bidding on March 30th only)
Watch For Updates
Schmidt's Antiques Inc
Since 1911

5138 West Michigan Avenue
Ypsilanti, Michigan 48197
---
Michigan Art Gallery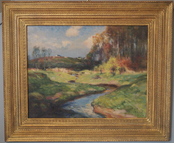 Now Open!
Devoted to Collectors and Students of Michigan Art, primarily of the 20th century From Hopkin to Teed, to Kamrowski, to Barlow, to Jerzy, to Harrison and many more from the "Golden Years" of Michigan Art.
Our Michigan Art Gallery will be open Saturday January 26th from 10:00 - 5:00
We plan on opening a couple of weekends each month with events and informative discussions for everyone interested in Michigan Art. We will also be accepting select consignments for this venue. Watch this spot for updates and please tell your friends! Follow us on facebook for opening times and additional information at:
Michigan Art facebook