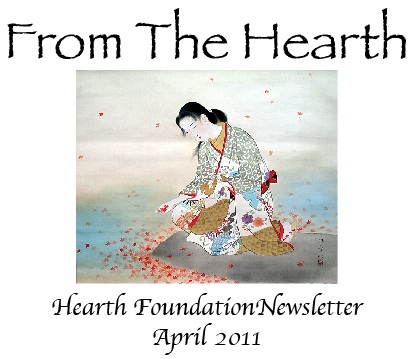 ---
---


The Hearth Foundation is dedicated to the spiritual growth and well-being of parents through study, practice and community building activities. While our core philosophy is Buddhist we draw on all Wisdom traditions to further positive parenting experience through everyday practice.
---
---

Oh Japan,
I love you
The whole world,
We're in this together
Time will be Japan's friend.
~Kenji

The Japanese ambassador to the US was being interviewed on PBS news shortly after the 9.0 earthquake, tsunami and nuclear reactor meltdown in his country this march. The newscaster asked about the nuclear reactors and how the clean up was going after what the Japanese are calling the worst disaster to hit Japan since WW11. Japan has had its share of challenges over its long history. Earthquakes, atomic bombs, famines and wars have tempered the people of this highly developed culture. It's easy to forget just how small this island is because of its powerful economy and copious cultural gifts. There was a gentle kindness about this ambassador. He had the voice of someone in a state of shock, someone deeply touched. At the end of the interview he asked if he could say one more thing to the listeners. He went on to thank the people of the United States for all their aid, support and good wishes during this time of crisis. His heart was full of sincere gratitude. Even in the midst of sorrow his heart had the generosity to look beyond its pain into the kindness being expressed. This level of generosity and relatedness during hardship is not unique for the Japanese people. A friend sent me a letter from his friend in Sendai, a coastal city that was devastated by the tsunami. The friend in Sendai wrote:
"The Japanese themselves are so wonderful. I come back to my shack to check on it each day and I find food and water left in my entranceway. I have no idea from whom, but it is there. Old men in green hats go from door to door checking to see if everyone is OK. People talk to complete strangers asking if they need help. I see no signs of fear. Resignation, yes, but fear or panic, no."

As I watch myself and other Californians rush out to buy potassium iodine to protect ourselves from stray radiation wafting over the seas I wonder if our fear might be stimulated by the awareness of unity with the Japanese. Could we be trying to protect ourselves from the fear of devastation, the fear of how very fragile we human beings really are, that one big wave could wash thousands of us away instantly, and the fear of intimacy as imagined boundaries between ourselves and the "other" thin? In uneventful times we rarely think about our brothers and sisters across the sea. Then, all of a sudden, we feel their pain, a sympathetic nerve has been touched. Unless our hearts are stretched out and well practiced in the art of oneness this intimacy may feel uncomfortable, unfamiliar yet warming.

As a student and practitioner of Zen I have been cultivating an attitude of acceptance of life's inevitable challenges. Zen does not try to create a perfect world. Rather, it sees the Tao in all things-the evening star and the dog shit. There is a koan that goes, "Thank you very much." Which is said to everything and everyone in our life. We have no control over our own demise, when it will happen or how it will happen. We have no control over natural events or the actions and reactions of other people. Good grief, we don't even have control over our own thoughts! And yet we like to pretend that we can protect ourselves from the vagaries of life. In an attempt to sooth ourselves we expend a lot of energy trying to make a perfect world for ourselves and our children. Earthquakes, tsunamis, and all manner of dangers show us that we don't have as much control as we'd like to think we have. Perhaps we can open our hearts to it all. Zen is very helpful in finding the bliss in midst of uncertainty. We can see the fruits of this as the country that gave us Zen reacts with grace to extreme chaos.

The day after 9/11 Le Monde's front page read, "We all are Americans". The world felt our pain as their own. We are all connected to one another even though it sometimes takes a powerful event like an earthquake and tsunami to remind us of our interconnectedness. But really, we all are Haitian, we all are Libyan, and today we remember that we all are Japanese. There will be darkness, that's part of life, but we are not alone in our dark places. Love is our natural bond. As I watch the intelligent and compassionate response to this crisis I am proud to be Japanese.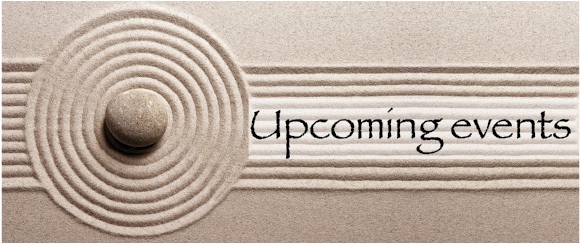 Join our families around the Hearth

After getting to know one another online it's great to be able to see the faces of other Hearth members and their families. We are rebuilding our families around the Hearth section of the Hearth website and would love to include a photo of you and your family. A Jpeg would be great, but we will work with whatever you give us. Join us around the Hearth!

Classes

If you would like to join a Hearth class contact Heather at heather@hearth-foundation.org We will put you on a list and let you know when a class is beginning. If you would like to move the process along you can fill the class up by having friends sign up for the same class.

Hearth Book Group
My name is Juliet Pailes and I coordinate the book group for The Hearth Foundation called The Hearth Book Group. It is housed on a private Facebook page for ease of communication and to create a relaxed, friendly atmosphere for sharing about the books we read. Messages are not seen by anyone outside the group. You will need a Facebook account in order to participate in this group.
The group focuses on books for one calendar month. During this time members share comments and discussion on the Facebook page about different aspects of the book. Discussion topics are based on group member interest. Any member is able to start discussion topics as well as comment on others' posts. It is a very relaxed discussion group but when appropriate the moderator, Juliet Pailes, posts questions and comments about the book to foster discussion.
Members of The Hearth Book Group do the following on a monthly basis
1) read a book
2) discuss the previous month's book
3) suggest, vote and acquire a third book to be read the following month.
Any member may choose to not participate at their leisure but still remain a member. Although we do appreciate everyone's participation, membership in this book group does not require constant interaction. You may read and participate when you have time.
The Hearth Book Group will be discussing A Path for Parents: What Buddhism Can Offer by Sarah Burns which was read in March 2011. This same month we will be reading Plant Seed, Pull Weed by Geri Larkin. Finally, we will also vote on the book we will read in May 2011. Books are chosen by group suggestion & vote. Attempts are made to choose books that are available in paperback or on loan at the library in order to keep the cost at a minimum for all members unless group consensus decides differently.
Please contact me at
juliet@hearthfoundation.org
for more information. If you just want to jump in and get started, please find us on Facebook as The Hearth Book Group and request to join. I hope to see many of you there!
Hearth Sanghas
We are currently working on ideas about forming Hearth sanghas for those who are interested in starting meditation and spiritual support groups in their communities. If this is of interest to you and you would like to be part of the discussion please contact Heather at: heather@hearth-foundation.org
---
---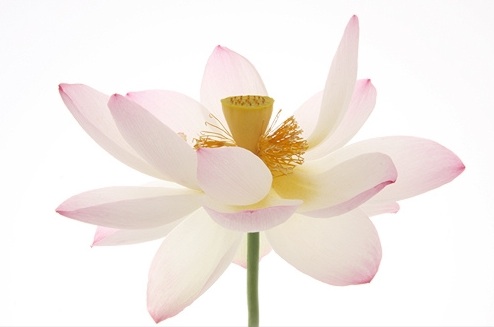 In our Buddhist tradition the teachings are considered priceless and so are given freely. There is a complimentary tradition for the recipients of these teachings to offer dana, or generosity, in gratitude for receiving the teachings. It is our pleasure to offer our newsletter and classes free of charge. We are able to do this thanks to a core of dedicated volunteers and your generosity.
You can send a donation through paypal. There is no need for you to have an account.
Or you can send your tax deductible check to: