The Spokesman
Spring 2012

It is a great pleasure to report to all of you who are partnering with the Pedal-with-Pete Foundation to make a real difference in the lives of those impacted by cerebral palsy (CP). 2011 was a year of significant success and progress for Pedal-with-Pete.
As donors, sponsors, and volunteers and participants in our events, you are the life-blood of the Pedal-with-Pete Foundation. With your help, our fund-raising events this year welcomed the greatest number of participants and received the highest level of donations ever. The Board of Directors is indebted to you for both your generosity and your desire to help others. We hope that our actions during the last year reflect the spirit of thankfulness and gratitude that you deserve.
I reported in our last newsletter that the Board of Directors began work in early 2010 to consolidate and move the operations of the Pedal-with-Pete Foundation from Kent, Ohio to Columbus, Ohio. In 2011, we continued to focus on improvements to better serve our constituents, grant recipients, contributors, and participants. Here are some of the accomplishments of this year:
Set new records with our largest ride event and largest fundraising year ever—the 2011 Pedal-with-Pete Columbus had more than 700 cyclists.

Implemented a new website (

http://pedal-with-pete.org

) that replaced the two previous websites maintained in Kent and Columbus. The new website was designed to be simpler and easier to use. The new website provides the convenience of online registration for our cycling events and online donations. More than 70 percent of the participants in the Pedal-with-Pete Columbus Ride registered online in 2011.

Searched for more research projects that have the greatest potential impact on helping individuals with CP. Please see the Research and Education Committee's update in this newsletter for more information.

Standardized the names/brands of our fundraising events for clarity and improved recognition to a more national audience. The names of our cycling events have been changed to: Pedal-with-Pete Kent, Oho; Pedal-with-Pete Columbus, Ohio; and Pedal-with-Pete Emmetsburg, Iowa.

Reviewed our needs and updated our coverage for insurance to better reflect the growth and changes in our fund-raising events.

Updated the Foundation's by-laws to better serve our mission (i.e., raising funds for research to improve the quality of life for persons with cerebral palsy).
I would also like to recognize Peter Zeidner, Founder and board member, for his vision and determination in laying the groundwork for everything that is being accomplished. His commitment and cheerful spirit and his faith in God continue to be an encouragement to me personally on how important and valuable each person is in spite of any disability. For more information on Peter's journey and contribution, please see the new video titled "Interview with Pete" on the front page of our website.
For our newsletter, we have gathered stories and information about the Pedal-with-Pete Foundation during
2011. Again, I most gratefully thank you for your continued involvement and support.
Ernie Larger
2012 President,
Pedal-with-Pete

---

2011 Pedal-with-Pete Ride
Columbus, Ohio
by Cathy Levy
The 10th Annual "Ride, for Pete's Sake", in Columbus, Ohio, on a sunny, glorious day, August 13th, 2011, was another fantastic ride and fund-raiser for cerebral palsy research, and we'd like to thank all the riders, volunteers, donors, and businesses who made it such a success!
With your help, we…
Sent 83% of funds raised from all sources to CP research (very similar to past years and an outstanding result for event-based fund-raising, thanks to the generous donations of time, talent, and resources from our all-volunteer team and from area businesses)
Our calculation of the fair market value of the purchased and donated materials we supplied for the ride day is $22.00. Therefore, if the riders pre-registered for $30, or registered on the day of the ride for $40, a portion of their registration fee and any dollars they donated above their registration fee would be tax deductible according to IRS guidelines.
Anecdotally, the positive energy was electric! Some of the rider comments included:
"Most wonderfully organized ride I've been on!"
"I do charity rides all over the state, and this ride is right up there in quality."
"I do this ride every year."
"It's my third year; I'll be back!"
"Love this ride!"
"Everything was great; thanks for what you do."
What made this 10th year stand out? Technology Improvements, People with Enthusiasm, Businesses in Partnership, and Donors Who Came Through.
Technology Improvements:
People with Enthusiasm:
Even more people impacted by CP rode the ride or came to cheer on the riders.

Where some of our key volunteers stepped down, other key volunteers rose up.
Businesses in Partnership: Several businesses stepped forward with just the right resource to help fill in the gaps we needed this year. For example:
Almost all our major financial and media sponsors (Fast Switch, Stock Consulting, Crunelle Insurance, Vortechs Group, Stolz-Mead Global, WBNS TV, Clearchannel, CD101) renewed or increased their sponsorship.
A balloon lady (Erica Carlson's Children's Entertainment) was arranged at the last minute, when we realized our kid-friendly entertainment was running thin, and she was a tremendous hit!
Donors Who Came Through: While some of our improvements to the ride (such as credit card processing) added conveniences for the riders, they moderately increased our overhead expense. We need not worry, though, because the overall funds raised still increased, thanks to our generous donors and an increased number of riders… YOU! Thank you so much. Every year we are all motivated more and more over the importance of the PWP research grants for providing help and hope to the people with CP and their families. We are also learning about the importance of the donations to providing help and hope to dedicated researchers, who want to make a positive impact on CP and are grateful for our "unbiased" granting perspective. Thank you so much, donors, for caring.
Riders, mark your calendar for this year's ride on Saturday, August 4, 2012. Watch our web site, www.pedal-with-pete.org, and your mail for more details. If you had fun in the past, please bring a friend this year, and help us grow this ride for this great cause!
Friends, if you would like to volunteer, either as an organizer during the months before the ride, or on the day of the ride, please contact Michelle Sotz, Volunteer Director, at michelle.sotz@gmail.com.
You too have the talent and drive to help grow this ride, renamed to "Pedal-with-Pete, Columbus, Ohio", and raise even more dollars to fund research that helps people and their families who deal with cerebral palsy.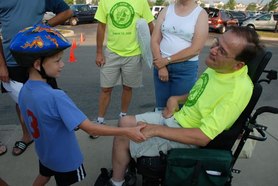 2011 Pedal-with-Pete Ride
Kent, Ohio
by Chris Hudecek and Pete Zeidner
This year's Pedal-with-Pete, Kent bike & hike event had several changes. We moved our event to a new site across from Kent State University. This gave us more room and allowed us to have a family friendly walking route and cycling route free of traffic. Those who went on these routes found Kent State University very interesting, going passed new sculptures and the May 4th Memorial.
Next year's changes will include new routes and we will be grilling burgers and brats outdoors. We also plan to have entertainment to enjoy while eating.
All participants will receive a door prize ticket and the first 100 will receive a t-shirt. Also, you will now be able to register online if you prefer to do so.
We look forward to seeing some of you on June 9th. Check out the Pedal-with-Pete web site for more details.
2011 Pedal-with-Pete Ride
Emmettsburg, Iowa
by Julie Naig
For the past twelve years the Palo Alto County 4-H County Council has been sponsoring a bike ride to raise money for the Pedal with Pete Foundation, a philanthropic organization dedicated to raising money for the prevention and cure of cerebral palsy. On Sunday, September 18, 2011 twenty-two riders dusted off their bikes and pedaled for a cure to raise approximately $717. Riders ranged in age from 13 to 61. A sincere thank you to all the riders who rode the route and to all the individuals who donated to this cause.
Participants who raised the most money were 1st place – Cindy Bruelman, 2nd place (tie) – Emily McMahon and Jacob Schmitt, and 3rdplace (tie) – Betsy Norland & Emily Bonnstetter. Winning the youngest rider award was Emily McMahon with the oldest rider award going to Judy Miller. Many door prizes were also handed out.
All donations were sent to the Pedal With Pete Foundation, a philanthropic organization dedicated to raising money for the prevention and cure of cerebral
plasy.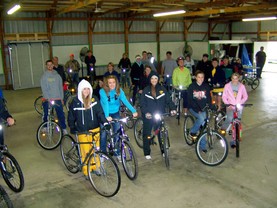 ---
Looking Ahead to Pedal-with-Pete in 2012
Mark your calendars for this year's ride dates:
Kent, OH – Saturday, June 9, 2012
Columbus, OH – Saturday, August 4, 2012
Emmetsburg, IA – Saturday, Sept. 16, 2012
It's not too late to plan and create a new ride in a new city for 2012!
Contact the board at pwp@pedalwithpete.org if you think you might be interested in doing so.
Thanks again for your support in 2011.
We'll see you in 2012!
---
A Family's search for the Perfect Bike... By Lauri Kaplan
As parents of two children, my husband and I have always looked for recreational activities that we can do together as a family. Through the years, we have enjoyed swimming, playing board games, building a treehouse in the backyard, attending sporting events as well as local concerts and festivals. The one activity that eluded us, was cycling; our sons' vision wouldn't allow him to see well enough to steer, and he didn't have the trunk control to sit on a bicycle without some major support. Our son Jake lives with cerebral palsy and is visually impaired.
Jake, now 22 is a student at Columbus State Community College who uses a wheelchair and operates his computer using Morse code. He has had more than a dozen surgeries since birth (including a feeding tube since 2 months of age) yet his outlook on life remains incredibly optimistic. He has changed many peoples' lives, just by being himself.
While looking for a way for our family to cycle, we stumbled upon a contraption called a Rhoades Car. The concept is a good one, and for a number of years we had some wonderful rides to picnics and concerts, while turning many heads. But there were drawbacks - this thing was a beast! Boat seats made for a comfy ride, but added a lot of weight to this bicycle-built-for-four. While my husband and I pedaled, the kids sat in back and enjoyed the ride. What's wrong with with this picture??
Flash forward about ten years to 2009. With the help of the Internet, and numerous phone calls we finally located a two-wheeled 'tag along' trailer bicycle with pedals; a design my husband had envisioned many years earlier. Jake and his dad took to a trip to Columbus Medical equipment to work with Carl Mulberry, President. Carl was able to retrofit Jake's bike, adding an actual wheelchair seat and back as well as a small front wheel used when the trailer is detached from the bicycle in front. This allows his bike to become his wheelchair when we arrive at shops or restaurants. Voila, our family was ready to ride!
This same summer, we learned about the Pedal-with-Pete ride in Columbus. Michelle Sotz, volunteer coordinator, overheard us talking about the new bicycle, and recruited us to help out on the day of the ride. We were thrilled to be able to volunteer and especially to ride together finally as a family.
TAASC Adapted Cycling Program for Individuals with Cerebral Palsy by Mimi Singh
Pedal-with-Pete would like to tell you about a very worthy project recently announced by TAASC, the non-profit Columbus adapted sports organization for individuals with disabilities in partnership with AMBUCS, a nationally known non-profit business service organization. We are hoping that you'll join us in helping to fund adapted bikes for a child (or 2 or more) and/or adult with CP.
AMBUCS is the national manufacturer/ distributor for AmTryke therapeutic bicycles. This program's goal is to provide people with disabilities the opportunity to ride bikes. As a non-profit organization, AMBUCS can provide at cost adapted bicycles for approximately $500-1200, roughly 1/3 of the average commercial price. An adapted bike fulfills the need of every child (no matter their physical disabilities) to have and enjoy a bike, just like their siblings & friends.
AmTrykes' many bicycle models are designed to look like bikes, not medical equipment and can be adapted in many ways including frame size, seat selection, trunk & leg support. This makes it ideal for children & adults with cerebral palsy. A therapeutic tricycle helps children improve motor skills, provide strength training, is fun to ride & offers the opportunity for inclusive play. For adults, a therapeutic bike can provide mobility, physical fitness through exercise & freedom to explore the community, sometimes for the first time in their lives.
While TAASC will sell at cost adapted bikes to families raising a child with cerebral palsy, the financial reality is that many families overburdened with the many additional costs of raising a special needs child cannot afford to do so. TAASC has asked Pedal-with-Pete to join them in raising funds for these children (and perhaps an adult), so that they are able to finally enjoy a bike. TAASC is compiling an adapted bicycle waiting list for Columbus area children in need living with cerebral palsy. TAASC has also begun a "bike lending" program which enables any child who's outgrown their bike to exchange it at TAASC for a larger adapted bike.
Pedal-with-Pete's mission is to raise and fund cerebral palsy medical research. We take our donors' wishes very seriously and award all dollars raised towards medical research with the goal of treating and someday curing cerebral palsy.
So here's where you come in: We're asking you to consider a tax deductible charitable donation towards the purchase of adapted bikes for Columbus area children in need living with cerebral palsy. All funds raised will purchase adapted bicycles for these children, whom you can meet as our special riders at next summer's Pedal-with-Pete annual Ride.
Checks should be made out to: TAASC & list Pedal-with-Pete on the check, so that TAASC marks these funds specifically to purchase adapted bikes (at cost from AMBUCS) for children living with CP. Checks can be mailed to us (we'll drop off the checks to TAASC) at:
Pedal-with-Pete
P.O. Box 1233
Worthington, OH 43085
Can you imagine how happy "our" children will be riding their first adaptive bikes? We thank you for all contributions no matter how small or large.
---
Nationwide Children's Hospital Making Progress
with Grant from Pedal-with-Pete by Lisa Brooks
In January 2011, the Pedal-with-Pete Foundation awarded Nationwide Children's Hospital a grant to fund the "Learn From Every Patient at Every Visit: a Pilot Program for Children with Cerebral Palsy." Since that time, data has been collected from over 620 children and will continue to be collected from each child that is seen in the CP clinic for a team evaluation.
The purpose of the initiative is two-fold:
1) To develop evidence-based clinical care guidelines that represent the best known care for the condition of CP.
2) To evaluate clinical research questions that can that can be answered by following a population of children with CP over time.
After diligently working with the electronic medical records and database architect personnel, NCH designed and implemented a system that will automatically extract data fields from a child's medical record and store them in usable form. Through this data collection and the input of each member of the comprehensive CP clinic, NCH has identified and will continue to identify questions to be answered, studies to be implemented, and ways to improve care of the children in the interdisciplinary CP clinic.
Outcomes seem promising already. Emergency department visits and hospital stays have declined since the implementation of the program. NCH is about to publish its second paper. Interest in the study is peaking in several other areas of the hospital, and Dr. Smoyer, head of translational medicine at NCH, is presenting data about this study to other pediatric institutions. Because the Comprehensive CP Program is a multidisciplinary clinic, the study will contribute to a variety of healthcare fields increasing the available research and information for individuals with CP.