The Spokesman
Spring 2013

In offering my reflections on 2012, I want to highlight several accomplishments that were only made possible by your involvement, commitment, and contributions to Pedal-with-Pete (PwP).
I attended and offered my assistance at both the Kent, Ohio and Columbus, Ohio PwP Rides.

Both were well planned and organized, and check-in was even quicker and more convenient than in previous years.

Riders received good route maps; water and food stops were provided along the routes; and plenty of food and refreshments were available at the end of the rides.

There was great camaraderie and support among the riders (and some walkers/runners), volunteers, and ride organizers!

It has been especially inspiring for me to see more individuals with Cerebral Palsy (CP) present and, in a number of cases, participating in the events.
A high point was collaborating with The Adaptive Adventure Sports Coalition (TAASC) to give specially adapted bicycles to three children with CP!

This was made possible because a generous donor specifically made monies available for this purpose.
• Pedal-with-Pete riders are taking advantage of recent PwP infrastructure improvements such as registering and paying online, online giving by riders and non-riders, and making PwP routes available for GPS. These improvements add convenience for our participants and allow our ride leaders to more effectively scale-up for an increasing number of participants.
• The PwP board's Research and Education Committee worked even harder in 2012 to identify, review, and select the most promising CP research projects for funding. The Committee pulled in additional help with expertise in public health, research, and medicine to assist in assessing all grant requests.
• Because of your participation and generosity in 2012, the PwP Foundation was able to fund three new and excellent CP research projects starting in early 2013.
• In 2012, PwP had the highest ever number of riders, and the highest ever dollars raised for CP.
I want to thank the small but dedicated PwP Team in Emmetsburg, Iowa for continuing to hold annual rides. The Pedal-with-Pete Foundation has an objective to start a new PwP Ride in another city during 2013 or 2014. If you have an interest in helping or have contacts in another city that may be able to help start a new ride, please email us at pwp@pedal-with-pete.org or write to:
Pedal-with-Pete Foundation
P.O. Box 1233
Worthington, OH 43085
Lastly, I personally want to thank each donor, sponsor, volunteer, and participant for your commitment and generosity in raising funds for CP research. I encourage all of us to make 2013 an even greater year for PwP!
Ernie Larger
2012 President,
Pedal-with-Pete
---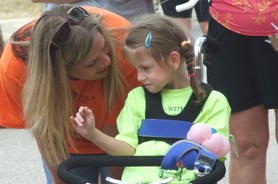 2012 Pedal-with-Pete Ride
Columbus, Ohio
by Cathy Levy
Number Eleven was ALMOST HEAVEN!
We are so grateful to the many hearts and souls who brought a little bit of heaven to earth through their generosity throughout the year to make the Pedal-with-Pete, Columbus, Ohio ride on Saturday, August 4, 2012 so successful in raising dollars for cerebral palsy research.
What made this Eleventh Year Almost Heaven?
The top reason has to be….THREE KIDS GOT NEW ADAPTIVE BIKES:
Thanks to our new partnership with TAASC (The Adaptive Adventure Sports Coalition), and some targeted donations solicited by the PwP Board, board member Lisa Brooks presented three special adaptive bikes to three children who have cerebral palsy. This presentation happened around noon on ride-day, so many of us were able to see the joy and excitement of these kids, Emma Dickman (Columbus), Mario Marotto (Columbus), Madelyn Williams (Kent), as they were fitted to and test rode their new bikes around the school. As cyclists, we can all relate to the joy of these kids, can't we?
Another reason: We broke fundraising records again!
Thanks to your time, talent, and treasure, your energy and enthusiasm, we broke records again! Thanks to all of you for a year's worth of donating, sponsoring, planning, promoting, making connections, making phone calls, doing errands, reading and sending emails, writing letters, attending meetings, moving materials, tweeting, posting, and a FULL DAY'S worth of smiling, encouraging, congratulating, serving, explaining, helping, and thanking. With your help, we…
Hosted exactly 900 riders (a growth of 25%)

Raised over $64,000 for CP research - that's after expenses (a growth of 43%)
Another reason: We kept improving, trying new things, and experimenting!
We tried a "pre-ride-packet-pick-up" at the three Columbus Bike Source shops the weekend before the ride.

Not many rider's participated, and it complicated our record-keeping, so we won't be repeating this, but it was worth a try!

We expanded the rider T-shirts sizes to include Women's sizing and a greater variety of sizes overall.

We added signage on the routes to indicate "ATTENTION: Route Split Point Ahead", which the riders really appreciated.

We added a food stop part way through the 7-mile route, adding to the fun for those riders.

We expanded the "footprint" of the day-of-ride registration and packet pickup into the school's cafeteria, which was very well-received by volunteers and riders alike.
And Another reason: People were loyal, People tried us for the first time!
While we have a huge percentage of VETERAN PwP riders, donors, sponsors and volunteers, we were also blessed with many FIRSTTIME

PwP riders, donors, sponsors, and volunteers. We got to have our cake and eat it too!

Why did this happen?

We like to think it's because we are intentional about this; we work to keep our great friends and spread this awesome opportunity to give while having fun to others! And, we have some great partners in the cycling and CP community for recruiting the newcomers to our cause. If you have suggestions about how we can meet either goal more effectively, please let us know, or please help us do this!
Riders, mark your calendar for this year's ride on Saturday, August 3, 2013.
Watch our web site, www.pedal-with-pete.org, and your mail for more details. If you had fun in the past, please bring a friend this year, and help us grow this ride for this great cause!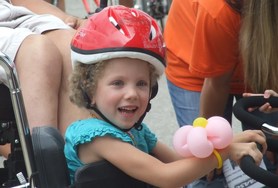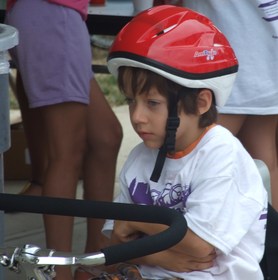 2012 Pedal-with-Pete Ride
Kent, Ohio
On a sunny warm spring day, more than 2 dozen volunteers including a bunch of Kent Lions gathered at Faith Lutheran Church in Kent, Ohio for the 18th Pedal-with-Pete ride. Having put up with rain and cold in many of the previous years, everyone was pleased with the weather as they were with the groundwork that had been done in preparation.
All was in place to aid about 90 riders in our annual Pedal-with-Pete bike-a-thon here in this northeastern Ohio city where it all began. Riders chose the 60, 40 or 15-mile ride - or could do a pretty walk around the KSU campus only across the street. Pete was on hand as he had been each of the previous 17 events. He was pleased with this event, even more pleased with the growth of the Foundation since its inception nearly 20 years ago – and the money that it has engendered for cerebral palsy research.
Upon their return from riding, participants were greeted by more food than they had seen in the past, and even entertainment. Kent Ride Chair Guy Russ had overseen the arrangements for a complete lunch, grilled burgers and brats, along with the traditional cookies and drinks. Tom Craven was there with a bag of magic tricks and Akron's Celli Band played Celtic music for the enjoyment of the crowd.
Were the riders achy from the effort? Holly Brunswick had a ready massage for those who requested it. Eddy's Bike Shop donated the bike that was auctioned off as all the riders returned. Eddy's had also provided tune-ups at the beginning. We benefited greatly from their generous aid.
Corporate sponsors included Thrivent Summit-Portage Chapter; Kent Lions; Ray's Place; Marhofer Chevrolet, Inc; Tires & More, Inc; Gregory A. Lis, DDS; City Bank Antiques; Hometown Bank; Gregory D. Lichten MD; and Paskey Tours of Kent. Once again we laud these contributors!
Volunteers stuck around afterward to finish up what everybody regarded a great effort.
Plans are underway for our 19th ride on June 1 – big 20 to come in 2014. Join us!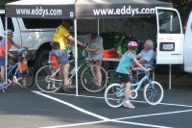 ---
Looking Ahead to Pedal-with-Pete in 2013
Mark your calendars for this year's ride dates:
Kent, OH – Saturday, June 1, 2013
Columbus, OH – Saturday, August 3, 2013
Emmetsburg, IA – Sunday, Sept. 15, 2013
It's not too late to plan and create a new ride in a new city for 2014!
Contact the board at pwp@pedalwithpete.org if you think you might be interested in doing so.
Thanks again for your support in 2012.
We'll see you in 2013!
---
---
30 Minutes with Dr. Michelle Miller
Section Chief, Department of Pediatric Physical Medicine and Rehabilitation,
Nationwide Childrens Hospital
by Chris Brooks
I recently had the opportunity to sit down with Dr. Michelle Miller, Section Chief of Physical Medicine and Rehabilitation at Nationwide Children's Hospital. After completing medical school at the University of Virginia, and fellowships at Medical College of Virginia and AI DuPont Institute & Children's Hospital, Dr. Miller moved into her current role at Nationwide Children's Hospital 15 years ago and has been helping children with cerebral palsy ever since. Dr. Miller pioneered the the section's baclofen pump and spasticity management programs. She is also trained in both pediatric and traumatic brain injury, including outcomes after acquired brain injury, rehab interventions and epidemiology and pathophysiology. Sitting in her modest office on the 6th floor at Nationwide Childrens Hospital a few weeks ago, I was impressed with Dr. Miller's passion for her work and her "kids".
How many kids do you see per year?
We have about 3,500 outpatient visits per year.
Wow, that's a lot kids! What significant breakthroughs in cerebral palsy treatments have you seen in your 15 years as a physician?
One of the most significant developments is the introduction of the multi-disciplinary team clinic. This clinic integrates complex care pediatricians to find complex resolutions that some of our CP kids have. The clinic also includes speech therapists that address our kids cognitive and language issues. Additionally, the clinic stores data that allows us to navigate through the Nationwide Children's Hospital system and helps us to keep in better contact with the school systems out there. Another significant breakthrough has been the development of the spasticity program at Nationwide Children's Hospital. Through the use of botox injections and the placement of baclofen pumps, we can better control the spasticity of our kids muscles. This was not used a lot before I came here.
What impact has the "Learn from Every Patient" protocol had on your practice? (Pedal-with-Pete helped fund this project as part of the 2012 grant process).
Number one, combining clinical data with research has been a huge learning process! We've learned how to use the data entered into the our EPIC electric medical data systems and then mine that same data out for better future results. This is of huge interest around the country because it can be applied to any medical condition. So that is one way "Learn from Every Patient" has helped. The second one is the preliminary data is finding way to streamline care and reducing costs.
What are some of the improvements in the quality of life for people affected by cerebral palsy?
Obviously, spasticity management has helped immensely as there used to be a lot more surgeries performed before this program. We have also recognized in the last five to ten years that some of our CP patients have dopamine responsive dystonia which is treated in an entirely different way and helped in the quality of their lives. And of course, technology. Communication devices, iPads, iPods, wheelchairs, and environmental controls which give cerebral palsy patients more access and the ability to communicate more effectively.
Are there any stories about your "kids" that make you especially proud?
There are so many it's hard to choose! One young boy with hemiplegia cerebral palsy just graduated high school and has gone on to participate on the Paralympic soccer team and is an amazing young man. Another young lady - who I knew was smart from the first time I met her - was tested by her school. After the results of the assessment test came back, the school called her grand-mother and told her that the grand-daughter must have cheated because "her test results were too high". It took some letters and phone calls from us to the school to explain the fact that because a child has CP doesn't mean there is a cognitive impairment. Now that young girl is an amazing young lady attending college and doing incredibly well.
What advice would you share with families and friends of those affected by cerebral palsy?
Learn about CP. Familiarize yourself with what CP is. Don't take another family members perception or the school or faculty's ideas of what CP means. The optimal goal is to have a happy, healthy child who is able to participate in life...however or whatever that may be. The hardest thing for a family member is to "throw out expectations". The family member shouldn't think that this child is not what I expected, but should think that the child is better than expected. Expectations are different, but they can be better.
How can Nationwide Children's Hospital and Pedal-with-Pete be better partners?
I loved the Pedal-with-Pete ride! I thought it was incredible! One of the things I loved about the ride is that it includes the CP population, the population it is raising money for. A lot of fundraisers forget about who they are raising money for and Pedal-with-Pete does a great job of raising awareness which is also a great learning and educational tool.
Will you be participating in the 2013 Pedal-with-Pete ride?
Oh, Absolutely!
Thanks, Michelle!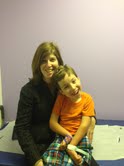 Dr. Michelle Miller with David Brooksk
_______________________________
Why Support the Pedal-with-Pete Foundation?
Why Support Cerebral Palsy Research?
What is Cerebral Palsy?
Cerebral Palsy is a static (not progressing) neuromuscular disorder that disrupts a person's ability to move, sit, stand, walk, talk and use their hands. The severity of the movement disorder and the type of movement difficulties can vary greatly. Some patients have only mild difficulties with balance, walking and fine motor skills; while patients at the other extreme are seemingly trapped in their own bodies, fighting rigid limbs, and unable to speak or swallow. Most people with CP have normal intelligence. Two famous individuals known to have lived with CP were Winston Churchill & Julius Caesar.
Cerebral Palsy is Increasing in the U.S.
Cerebral Palsy is one of the most common neuromuscular disabilities in the United States, affecting at least 800,000 children, adolescents, and adults. A study published in March of 2008 from the Centers for Disease Control and Prevention indicates that the rates of CP are rising and appear to have doubled since 1970s.
CP Research Funding is Too Low.
Fnding for cerebral palsy research remains low. National research funding is much less than funding for diseases that affect fewer people. Occurring in 3.6 per 1000 births, CP is the most common childhood physical disability. T
There is no cure for CP. Little research has been directed to discovering the kinds of brain injury that cause CP (which might lead to prevention) or long term treatments to help improve motor function for individuals with CP. Remember that CP not only affects the individual, but also their families. The funds you donate continue to be desperately needed!
You are Making a Difference by Funding Promising Research
Over the years, donors, riders, and sponsors of Pedal-with-Pete have funded promising clinical research through our grants to research centers across the country, including Nationwide Children's Hospital in Columbus, Ohio. The grants we made in January 2013 were made to three worthy projects. The first, awarded to a team at Cincinnati's Children's Hospital, studies the effects of electrical stimulation on one of the most common gait problems in children with CP (foot drop). The second, awarded to a team at NYU Langone Medical Center, studies osteoporosis in children with CP, and will include gene analysis. The third, awarded to a team of research doctors across the country, is a pilot study, and involves a portable device to evaluate reflex and non-reflex changes in CP. All this research you fund helps kick off ground-breaking work that can lead to treatments that improve the lives of the many children and adults with CP.
Pete Zeidner and others with CP Inspire Us.
Determined to show that handicaps are not always limiting, Pete Zeidner, dealing with many challenges of CP, rode a recumbent bicycle with joy and purpose. Pete started the Pedal-with-Pete Foundation in 1993 with the goal to raise $1,000,000 for CP research. Under his leadership, we're over ½ way there. Pete's perseverance and that of many others with CP inspires us to raise
these funds.
You are Supporting a Quality Ride.
Because of generous sponsors, volunteers, donors, and riders, we have 18 years of results and experience to share!
· Thanks to volunteer leadership and donations of supplies from businesses, our overhead is always VERY low.
· Anecdotally, the positive energy was electric! Some of the 2012 rider comments included:
What terrifically organized event, the volunteers were so nice…and lunch was perfect.

Congrats on a great event and noble cause...well run, awesome volunteers, nice routes,

food...everything!

We'll definitely look forward to doing the ride again next year and helping CP research.
Donations: Check to: Pedal-with-Pete Foundation
P.O. Box 1233
Worthington, Ohio, 43085
• www.pedal-with-pete.org • pwp@pedal-with-pete.org
• Like us on Facebook • Follow Twitter @PedalwithPete ent, OHIO
---


Replace this paragraph with your article text. You can also modify the link below to point to your website or place where additional information can be found.
Link to my website


Replace this paragraph with your article text. You can also modify the link below to point to your website or place where additional information can be found.
Link to my website