Timeline of Transition Activities
Provided by the Oklahoma Transition Council
This timeline is a recommended list of programs, services, and activities that you can use to begin helping your child prepare for the future. The items listed in each age group are considered "best time to start"; however, they are not the only time. You can always revisit something that you did not have an opportunity to do at an earlier time. Click on the link below for the timeline
Transition Timeline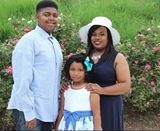 Health Care
First, I would like to wish everyone a Happy New Year. In the New Year arise new goals and aspirations to work towards. Goals and resolutions are challenging and rewarding depending on what you are striving to change in your lifestyle. Take the time to plan and prepare for the goal or resolution you are working towards, does it fit in my lifestyle or am I doing this for myself or am I be influenced by another source.
In the new year we are persuade by media, advertising, commercials on television to diet, exercise, and eat more healthy. Advertising companies have weight lose commercials airing television several times a day to entice a viewer into purchasing the supplements, shakes, meals and so much more. These products may have a side effect or may not be good for your body. I suggest watching less television and spending more time on organizing how you can lose weight and maintain a healthy weight. Whatever lifestyle goals you are striving to change in your life do some research and put the goal into perspective with your lifestyle.
I am excited about a fresh start to begin a new journey striving to improve goals for my family. Society can deceive us into attaining goals that are not in our time schedule or budget. I recommend setting a small goal for yourself and family. My goal is to read and write more in this year. I include my children in the life goals as well. We as a family plan to eat more fruits and vegetables with our meals. Goals can assist in keeping order in a family or in an individual's life.
I wish everyone a prosperous and healthy New Year. I hope that your heart desires will be fulfilled. Reach for the stars with your goals. Contribute to society by doing good deeds such as; spreading love, joy, peace, smiling, volunteering. Everyone has a gift walk in your purpose and you will make the world a better place. Until, next time wishing everyone joy and happiness as you walk into your new journey of life!
~ LaToya Alexander
---
USEFUL LINKS:
Family Voices
LifeCourse Tools
Self Care Plan

Infant Mental Health
Integrating a Child's Brain
As we have the last few newsletters, we will continue to look at some basic functions of the child brain from "The Whole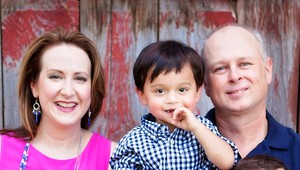 Brain Child," by Dr. Dan Siegal and Dr. Tina Payne Bryson. Everything that I share below has been taken from their book. My thoughts below are just summaries.
We have touched on how they liken the brain to an "upstairs/downstairs" brain. Quick refresher: the downstairs brain comes mostly wired at birth and is our survival monitor. It is constantly scanning the environment and people around us making sure we are safe. It makes sure our needs are met. If one, or all, of these things are not happening, the downstairs brain activate the fight-flight-freeze response. Our upstairs brain is our thinking brain, the more mature, sophisticated part. It controls empathy, logic, and reasoning.
Since the downstairs brain is developed and in tact at birth, your child has easy, immediate access to this part of the brain. The upstairs brain is under construction throughout childhood and adolescence. Because of this, the downstairs brain has the ability to hijack the upstairs brain at times, especially in emotionally charged situations. It's easy to think "My child knows better than to do this or that" in certain situations. But be aware that when the downstairs brain has hijacked the upstairs, your child no longer has access to the upstairs brain and most likely doesn't know better at that time! When looking at puzzling behaviors through this lens, sometimes their behaviors and reactions make a little more sense.
Obviously we want to make sure our children are building strong and sturdy staircases. So how does that happen? Drs. Siegal and Bryson give some ways parents can develop and integrate the upstairs/downstairs brain.
First is to "Engage, Don't Enrage." This is a lot easier said than done, especially when our kids have been activating (being disrespectful, talking back, etc.) our downstairs brain! So instead of saying "Because I said so!," try to engage the upstairs brain. Ask questions, ask for alternatives, maybe even let them negotiate. Get that upstairs brain involved.
Second, "Use It or Lose It." This can be done through "what if?" scenarios. Give them opportunities answer "I wonder what we should do when A or B happens?" Give them some difficult dilemmas to think through and try to avoid answering for them when they get stumped.
Third, "Move It or Lose It. When you child's upstairs brain has been hijacked, having him move his body can help him regain some balance. This could be going outside for a few minutes, jumping on a mini-trampoline, or doing some jumping jacks. Find something your child enjoys doing and be prepared to let them move their bodies when they need it.

~Stephanie Miller
---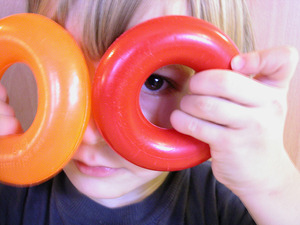 Between the winter cold snaps and flu season, there are many days that indoor play is the only available option for children. Here are four fun activities you can do with your kids without destroying the house or breaking the bank. ~ Miranda Steffen

Marble Art
What You'll Need: Marbles, Shoebox, Paper, Paint
Directions:
Place the paper in the shoebox. You or your child squeeze a few colors around the paper. Drop a few marbles into the box and begin to move it around. The marbles will leave tracks through the paint, making a fun abstract piece by your artist.
Alternative: if there is a fine motor challenge, follow the same directions, but instead have your child blow through a straw to move the paint across the paper. Don't forget to join in!

Family Fort
What You'll Need: blankets, pillows, Christmas lights, your imagination
Directions:
Take the blanket fort everyone knows, and put a twist on it! Your child's imagination leads this activity, but you can help them set up their creation. Make sure it is big enough for the whole family to enjoy – that's right, everyone needs a fort on a cold day! Still have Christmas lights nearby? String some inside for a festive feel. Play a board game, read together, listen to some music – the possibilities are endless! Pro Tip: A comfy, novel, space can lead to an easy bedtime!

Kid Tapas
What You'll Need: muffin tin, a variety of food
Directions:
Have a child with food aversions? This is the perfect opportunity to expose them to new food while still making their go-to's available. The key to this is "Bite-sized". Have your child pick out a few of their favorite foods. Get your muffin tin and place the food in each cup. With the cups you have left, add in some new foods for your child to be exposed to or to try.

Easy Bird Feeder
What You'll Need: pinecone, peanut butter (or nut-free alternative), birdseed, yarn
Directions:
Sure, it's cold outside, but we have some warm days around the corner! Start preparing by making this super easy bird feeder! Simply spread the peanut butter all over the pinecone, then roll through the bird seed. Alternatively, you can put the pinecone in a container, pour in some birdseed, close it, then have your child shake it until the birdseed is coated all over the pinecone. Tie a piece of yarn at the top and you and your child select a place for it to hang outside – be sure you can see it from a window! You'll be birdwatching in no time!
Family and Professional Partnerships are a big part of OFN. We are so grateful for the many parents who share their experience with other parents and professionals.

If you would like to be as Supporting Parent, we have several upcoming trainings. More more information on dates and locations, visit:
Oklahoma Family Network for details

Upcoming Events
March 2 Joining Forces Conference

March 6 Free Community Training

OFN, Downtown Legal Group and Mass Mutual OK present resources, supports and services for families raising children with disabilities/special health care needs



March 13 People with Disabilities Awareness Day at the Capitol http://www.okdrs.gov/pwdad/home
March 31

Tulsa's 1st Annual "Fly Day" event at the Tulsa Tech's Riverside Campus located at the R.L. Jones Airport
May 1-3 25th Annual Children's Behavioral Health Conference

April 25 Rare Disease Day at the Capitol
---
OFN SPOTLIGHT
Congratulations to Erica Herrera for winning the TARC Parent of the Year Award!
---
March of Dimes celebrates the launch of new brand!
As the March of Dimes approaches 80 years, we find ourselves in an ever-changing, digitally focused world. In order to stay relevant, appeal to new audiences and ensure we have the resources to fund our critical mission initiatives, change is needed. What you'll see goes beyond an exciting new look, colors and a few words—we've matched our champion spirit with fresh language, bold designs and innovative ideas that reflect who we are today and what moms and babies, and their families, need now.
We believe that every baby deserves the best possible start. Unfortunately, not all babies get one. That's why we're leading the charge to change that with advocacy, education, and research that has every family in mind. With renewed energy, we're pioneering change, empowering families and uniting communities to build a brighter future for us all. Because when a society supports every family, and when communities work together, even the toughest problems can be solved.
This year we celebrate the March of Dimes' 80
th
anniversary, so the timing couldn't be more perfect. You'll see a difference in the way we look, the stories we tell and our overall positive attitude about a world in which all moms and babies get to play by the same rules. We're not there yet. But we know we can get there together.
You'll see our brand change come to life at
MOD Give them Tomorrow
March forward with us to fight the urgent crisis facing moms and babies, no matter their age, socio-economic background, or demographics. At March of Dimes, we tackle the issues that threaten the health of every mom and every baby today and tomorrow, so the next generation doesn't have to face the same challenges. The future is already looking brighter.
---
Infant and Early Childhood Mental Health
"The way we talk to our children becomes their inter voice"- Peggy O'Mara
Being a parent is not always easy and there is no perfect parent, however as a parent you give your children the best possible start in life. Childhood experiences, both positive and negative impact their future, opportunities and lifelong health. Early experiences are an important public health issue and research in this area is referred to as Adverse Childhood Experiences (ACE's)
Adverse Childhood Experiences have been linked to
Risky health behaviors,

Chronic health conditions,

Low life potential and early death.