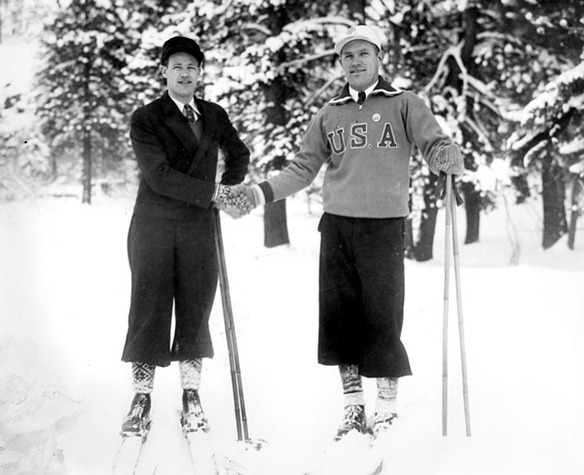 Sig Vettestad (L) & Roy Mikkelsen (R) An ASC Founding Member and Olympic Ski Jumper
Roy Mikkelsen, one of the founders of Auburn Ski Club, represented the United States in ski jumping at the 1932 Winter Olympics in Lake Placid, and at the 1936 Winter Olympics in Garmisch-Partenkirchen, Germany where he also served as Team Captain.
"Mikkelsen was poised to participate in a third Olympics in 1940 but the event was cancelled because of the outbreak of World War II. During the war, he would put his ski and snow experience to good use as a member of the Army's 10th Mountain Division, fighting from Normandy to Norway with the 99th Norwegian Battalion under General George Patton."
excerpt from Wendell Robie's "A Half Century of California Skiing"
He continued to compete after his Olympic career ended, and also became active in civic affairs. Mikkelsen served as Mayor of Auburn in 1952 and 1953, and worked with the Bid Committee that brought the 1960 Winter Olympics to Squaw Valley.
He is a member of the US Ski and Snowboard Hall of Fame. A striking statue of Mikkelsen overlooks ASC's main lodge area.



Russell, 26, was was born in Truckee and grew up Alpine racing before joining the ASC XC team. He moved to Canmore, Alberta in 2010 and has dual citizenship. After an amazing January - 5 podiums in one month on the Nor Am Circuit bringing home 2 gold and 3 silver medals - Russell was named to Canada's Olympic Cross Country squad.
Lily Murnane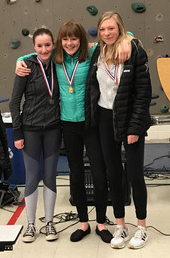 ASC Comp Team skier Lily Murnane, 14, is sitting atop the U16 Far West Nordic Junior Nationals Standings. After outstanding performances throughout the season and two podiums at the recent qualifiers in Bend, she has amassed 360 points, topping the U16 Girls category. Congrats Lily!
Lily (on left) is pictured here on the podium in Bend after the Classic Distance race.