August is a month of reflection before the High Holidays, a good time for the American Guild of Judaic Art to think of its past while looking ahead to the future. Sharing our passions as Jewish artists, craftsmen, writers, collectors, curators, educators, makes belonging to the AGJA especially fulfilling.
With the support of members like Mark Levin, who, with his wife Jill, helped to bring the AGJA into the 21st century with website strategies and new ways to communicate, the new Board of Directors has now instituted exciting initiatives to bring more value to our members while reaching out to communities across North America, Israel and the world. I am personally gratified that so many members have enthusiastically responded to requests to help, whether to chair a new committee, edit the newsletter, assist with invitational exhibitions and social media issues, or to help promote Jewish Arts Week.
As the AGJA celebrates its 20th anniversary in 2011, we are already thinking of wonderful ideas on how to document and celebrate this milestone. Many thanks to our exemplary administrator, Mary Linda Schwarzbart, whose patient guidance, advice and staff support have been invaluable to me personally, as well as to the entire AGJA. Wishing each of you and your families a sweet and good year, filled with blessings and peace. May you be inscribed in the Book of Life.
B'Shalom to everyone-
Flora
Flora Rosefsky
AGJA President
---
JEWISH ARTS WEEK
Feb. 26-March 4, 2011
Sponsored Annually by The American Guild of Judaic Art
General information about Jewish Arts Week www.jewishart.org
How it began and how a specific week was chosen?
On June 28, 1992, the American Guild of Judaic Art held its first annual meeting at the Abraham-Goodman House of the Elaine Kauffman Cultural Center, 129 West 67th Street, NYC. It was presided over by co-presidents Michael Berkovitz and Laura Kruger. The keynote speaker was Rabbi Avi Magid,spiritual leader of Woodlands Community Temple who called upon the Guild to sponsor a national Jewish Arts Week on Shabbat Vayakhe/ (Exodus35:1-38:20). In that portion, Moses explains how to build the mishkan, the traveling sanctuary, which accompanied the Children of Israel throughout their desert experience. Led by Betza'e and Oho'iav, the entire community participated in its construction. The results were a spectacular artistic achievement. Said Magid, "As a Rabbi, I am concerned not only with what makes us holy as Jews but what makes us wholly Jewish. Art is part of that experience."
The first observance of Jewish Arts Week was held March 14-20, 1993.
What is the purpose of Jewish Arts Week?
Jewish Arts Week is a calendar of events celebrating the rich diversity and quality of Judaic Art. Under its banner, a variety of arts events are scheduled during this week including exhibitions and programs in museums, galleries, libraries, synagogues, community centers and schools. The designated weekraises consciousness and fosters an appreciation of Jewish art and Jewish artists in our communities,
How does the AGJA help communities with celebrating Jewish Arts Week?
Note: The AGJA does not provide any specific program, but can suggest appropriate general program ideas forthose who request it.
To list an event or program on a special AGJA internet calendar info@jewishart.org
To request general program ideas for Jewish Arts Week info@jewishart.org
What can AGJA members do to help promote Jewish Arts Week in their communities?
To encourage a synagogue, JCC, library or other institution to plan a special Jewish Arts program during the week of Feb. 26-March 4, 2011.
To ask a community Jewish newspaper's editor (perhaps asking in Dec, or Jan.) to consider featuring an article about Jewish art or Jewish artists during Jewish Arts Week.
---
It's a great time to be a member of the AGJA
A special gift for one paid up member –Pay your dues by October 1. 2010 and have a chance to own the beautiful book, "Museums of The World: Masterpieces of Judaica" by Grace Cohen Grossman, Universe Pub., division of Rizzoli International. This is an opportunity for all AJGA members who are rejoining or for those who are joining for the first time.. A drawing will take place on October 1st with the "winner" announced through the AGJA member's Google Group Email exchange.
For membership information or to pay by credit card: www.jewishart.org
Invoices will be going out at the end of August with dues payable by October 1. You can pay on line with your credit card or mail a check to the address below. Annual dues remain at $65.
American Guild of Judaic Art, Inc.
c/o Mary Linda Schwarzbart, Administrator
5200 Buckhead Trail
Knoxville, TN 37919
marylinda@comcast.net
---
Share this article with a prospective member!

Why should YOU be a member
of the American Guild of Judaic Art?
by Bonnie Cohen
Ten years ago, I received an email that changed my life. It began like this, "I saw your work on the Guild of American Judaic Art website and I wondered if you would be interested in creating a piece of artwork for our Synagogue?"
That email and subsequent commissions from that first project, opened up a new direction to my Judaic art career. I have the AGJA to thank for that. I've enjoyed 10 years of steady commissions through word of mouth, good references and the help of many kind and generous people.
I believe that creating Jewish Art is a true labor of love based on traditions that go back thousands of years. I approach each project by asking myself " how can I instill the concept of Hiddur Mitzvah and holiness into my artwork?" The answers always come to me through interactions with other artists, clergy, lay leaders and other dedicated people who care deeply about enhancing Jewish life with art.
The people I have met, the friends I have made and the artwork I have installed all over the country have given me more joy than I could ever have imagined.
Membership in the Guild has offered me a sense of belonging to a community of other professional artists who generously share ideas and opportunities. I encourage all of the present members to renew their memberships and find other professionals with a love of Jewish Art to join as well. I believe the more you share your art, the more joy and success will come back to you.
And you never know…by being a member of Guild, you'll have the opportunity to receive that life changing email too!!
www.bonniecohen.com
blog.bonniecohen.com
---
don't wait! do this now!
By Laura Bolter
Social Media Chair
So much has changed over the last several years at lightening speed in the way we communicate with each other. It wasn't so long ago we were hearing about the "World Wide Web." We got used to dialing up and checking email, but now there are so many new options out there. Things come and go, but Facebook seems here to stay. And although it started out as a networking site for college students, if you think Facebook is just for you kids or grandkids, you're missing out on an excellent marketing opportunity.
Take a few minutes to set up a profile for yourself if you haven't already. It's very simple and, if privacy or lack of it is your concern, you can set the privacy settings very conservatively, and of course only put on your profile, information you are comfortable sharing. But, having a profile will open up new ways of marketing your art while keeping up with the news of your friends and family.
Once signed up, make sure you go to the AGJA fan page at www.facebook.com/americanguildofjudaicart . Click the "Like" button near the top right of page following the title. You'll join the growing group of people who are able to connect with others interested in promoting Jewish art. The news from the fan page will now show up on your Facebook news feed. Then share that information with your friends so that our group will continue to grow and flourish. That's what viral marketing is all about.
And, if you want to take it a step further, set up a Fan Page for your own art business! Facebook Fan Pages are public, unlike profile pages, which means that search engines can index the information and and your page will turn up in Google results, bringing more "traffic" to your page. You can track "metrics" on your page—things like page views, photo views, etc. You can also create events, so that you can invite your readers to things like gallery openings and festivals. Even non-Facebook members can view your page. In these tough economic times, we should take advantage of all the opportunities out there to grow our businesses. Facebook pages are just one of these new tools available for free!
As the new Social Media Chair for the AGJA, I will be exploring ways to share more information and resources with the AGJA members and ways to make our organization more visible and encourage membership growth. One of our first goals is to create a blog so that we can share more in depth information with our audience.
In addition, I'd like to know if you have questions or topics you'd like covered in regard to social networking and how you can put this technology to work for your art business.
Look for more information to come soon about the social media work the AGJA is doing through all of these venues—the Google group and email, and our new Facebook page. I hope you'll also "Friend" me on Facebook!
---
Member News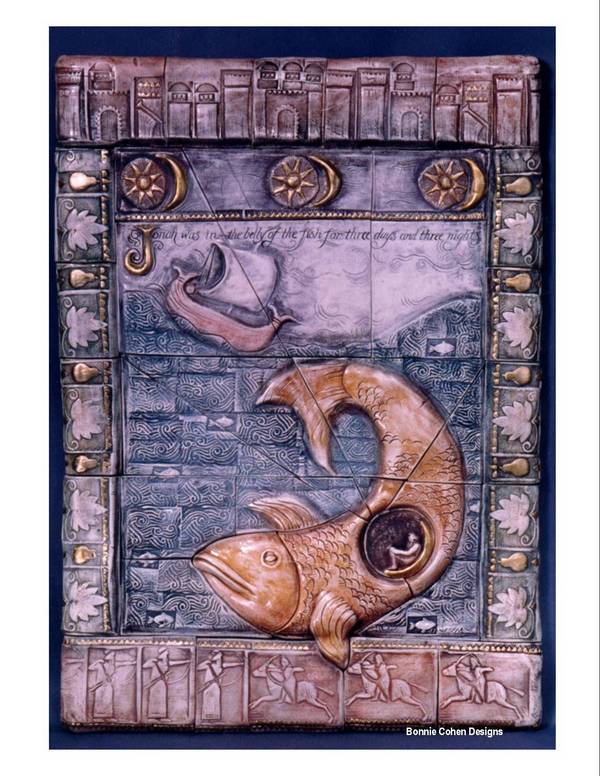 Bonnie Cohen's work, "Jonah," above, was selected as an image for the Rosh HaShanah cards published by Women of Reform Judaism. The original has been exhibited in several museums both Jewish and secular around the country as well.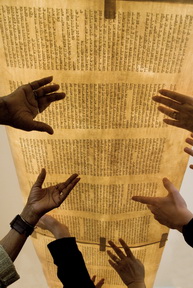 "Lifted by Unity and Joy," right, a photograph by Jeane Vogel, has been added to the permanent collection of Women of Reform Judaism in Manhattan. The image was the cover art for the 5769 Women of Reform Judaism Art Calendar, which featured six other works by Jeane. One of images from the calendar is still featured on WRJ New Year cards.
Send your member news, one or two short sentences, and jpg images to Jeane Vogel, Newsletter Editor, jeane@vogelpix.com. Include web links.
---
Competition Opportunity for AGJA members only!
What is the Jewish Arts Week POSTCARD & CONTEST RULES?
Competition Opportunity for AGJA members only.
Jewish Arts Week Postcard contest winning artist's work will be featured on the front cover of a postcard mailed to 6000+ synagogues, JCCs, schools and individuals. Name of artist will be credited by the work.
Winner receives a complimentary AGJA membership 2011-2012
Deadline for entering work, November 1, 2010.
Send no more than 2 images Attach lo-res file artwork to info@jewishart.org.
In subject line, please write Jewish Arts Week Postcard Contest 2010
In the Email, provide the caption with the artist's name, title, date, and medium..
Jurors: Dan Cohen-Creative Director Designer Art Director, DanCohenDesign
and Ellen Cohen-Senior Art Book Editor- Rizzoli Publications
Selected artist will be announced mid-November..
A professional graphic designer will incorporate the selected artwork into the Jewish Arts Week postcard layout for publication purposes and will add appropriate text. A high res professional quality photograph will be required from the postcard winning artist. Excellent high quality photography of one's work is critical, as this will be reproduced on thousands of postcards, plus the AGJA website, Facebook and other social media. Artist's credit will be included under or beside the artwork.
CONNECTIONS
An effort to share information with other Jewish arts groups, especially those with a regional, national or international component, where programs and events could be of interest to AGJA members. Note that AGJA is sharing our information with these organizations as well, giving the AGJA a way to connect what we do with others to make a positive impact on the world of contemporary Jewish art.
Women's Caucus of Art – Jewish Women's Artist Network (WCA-JWAN) Exhibition Opportunity www.nationalwca.org See JWAN Call for Artists.
Jewish Art Salon –Of special interest for professional artists living in the New York metropolitan area for programs and exhibition opportunities http://jewishartsalon.com
---
WebWise
Do I Really Need a Website?
by Nina Rubin
Q: Do I really need a website?
A: Yes, you really do. A website is your business card in cyberspace -- an absolute must-have tool for anyone who wants to market their business inexpensively and efficiently. When you're on the web, you're connected to the whole world. For artists, the web is a perfect visual medium to showcase who you are and what you do.

Q: Yeah, but I don't have time to build a site.
A: You don't have time NOT to. The good news is that simple blogging platforms like Wordpress and Joomla, offer nicely designed templates that can have you up and running in a day. These open source platforms are becoming the most popular way to build an attractive website that you can maintain yourself. No HTML coding skills are required! For more reasons why Wordpress is the way to go, read my friend Judi Knight's article http://www.newtricks.me/why-you-should-use-a-blog-platform-website/

Q: What are the essential elements of a good website?
A: Simplicity! Clarity! The proliferation of websites, blogs and social media platforms means that your website must get right to the point. People will no longer tolerate load-time for complex visuals or flash effects. You want to look clean and professional, but you must not overwhelm. Think of a homepage as a piece of real estate. Every inch, every pixel, is valuable. Information should remain "above the fold" – a graphic design concept that refers to the location of an important news story or on the upper half of the front page of a newspaper. Don't make people keep scrolling down.

Q: How can I make my site better?
A: Look at other sites with a critical eye. Find a site you like, that gets to the point quickly, and see if you can use it as a template for your own re-design.

Think like an outsider. What would you want to know about an artist If someone didn't know your name, how might they "find" you on the web. What key words and phrases might someone use in a Google search to find your art? Don't make anyone click more than once or twice to find essential information on your site.

Q: Should I ditch my current site, or just re-do it?
A: The power to manage your business and your "brand" is in your hands as never before. Take a deep breath and look at your site critically. Your children and grandchildren may have the skills to help you build a site using well-designed templates that will cost you nothing.
In addition, I am offering AGJA members a $50 custom website review, ($85 for non-members). I'll critique your site on the following criteria and make some basic recommendations about what you can do to improve it. • What is this site's single best feature • Things this site could do better • Home page content review • Site structure & navigation • Google page rank • Keyword density • Browser compatibility

Nina Rubin is a New York trained copywriter and marketing expert (now based in Atlanta) who is thrilled by the power of the Internet to inform, connect and motivate people. Her column, advising AGJA members on marketing and social media, will be a regular feature in this newsletter.

Send your questions to ninarubinatl@gmail.com