Open Tuesday through Friday, 10am-3pm
This holiday season pay a visit to our holiday gift shop and see some of the great gifts we have to offer!

Books



A Good In-Land Town by Stephen Roper.
Published by the Historical Society in 2001, this book is your essential guide to the history of the town through its structures and landscapes. Filled with detailed information and excellent photography by Gayton Osgood, this must-have book is now on sale for only $40 ($35 member price!) just in time for the holiday season.
Historical Sketches of Andover by S.L. Bailey. The perfect companion piece to A Good In-Land Town, the "Bailey Book" continues to serve as the starting place for any serious study of North Andover history. Own this beautiful 600+ page hardcover at a special price of just $30.

Salem Witchcraft Series--Volumes 1 and 2 by Enders A. Robinson. Volume 1 looks at the the family links between the Andover accused and afflicted. Volume 2 (New) explores Nathaniel Hawthorne's connection to the trials. Just $5 each.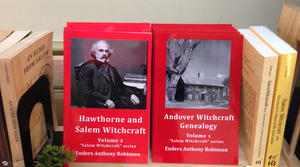 Great books for under $5!
The Parson Barnard House, a history - $2
Early Owners of the Parson Barnard House - $2
A Brief History of North Andover - $4

Maps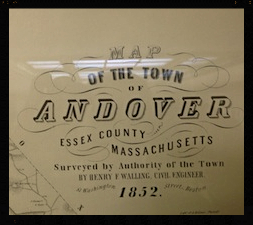 We have a great selection of maps, large and small! Each for only $6.50!
1692 Andover 1830 Andover 1852 Andover
1884 Old Center of NA 1884 Downtown NA 1906 North Andover
There are a limited number of maps printed on laid paper, suitable for framing, priced between $15 and $25.
Gifts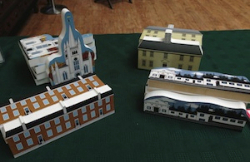 Cat's Meow Village!

Enjoy recreations of several historic locations from town, including Johnson Cottage, the Brick Store Building, the Parson Barnard House and the North Parish Church. Now only $14.95 each (members price $13.50)

Buy any 2 for $24
Any three for $36

Buy the whole set and save 25% - Four for just $45! (Members pay just $40

From our Textile Manufacturing Past:

Overshot Coverlet (full size)
Only one available. Woven on a vintage loom. $40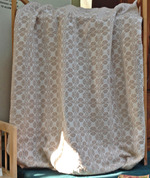 Spindles used in the Stevens Mills
Give a piece of North Andover History this Christmas!
$1 each
---
The Historical Society will be closed for our annual winter shutdown from December 24 through January 1st.