September means fall leaves, maple syrup, apple harvests, and, not least, Sooner football! I have yet to experience this phenomenon but I eagerly anticipate the chaos and fun this fall. My wardrobe is short on crimson and cream, an error I plan to correct by purchasing "Gogh Sooners" t-shirts from Muse, the museum's store (available soon!). Like the posters announcing OU "has it all," this t-shirt similarly brings together athletics and the arts in a way that is utterly unique among the Big Twelve and is already a proud heritage of OU. Gogh Sooners!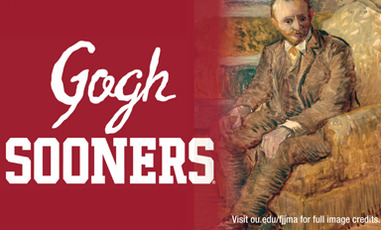 As you know, the FJJMA enjoys a special relationship with the OU Department of Athletics and the Office of the President, whose financial support means free admission to ALL visitors to the museum. Our friends in OU's Housing and Food Services have joined those generous museum supporters by providing a "Gogh Sooners" free drink card, available during all OU home football games this fall. Come by the FJJMA on game days to pick up your card and receive a free drink at the game, one of many ways our friends across campus are supporting the arts. Thank you Dave Annis!
Please mark your calendars for the following highlights: Jim Henkle, beloved OU professor (retired) and one of the subjects of our current show, Oil and Wood: Oklahoma Moderns George Bogart and Jim Henkle, will speak at the FJJMA on September 9 at 12:30. Please join us for this rare opportunity to hear from the artist; the show closes September 14, so please come and see it while you can.
Also, Stephanie O'Hara, President of the FJJMA Museum Association, is hard at work organizing our annual Membership Party on Friday, September 19. This event is for members only (a great reason to join) and there are some truly amazing auction items for the event.
One of our most successful collaborations is with the OU School of Music, which kicks off its Tuesday Noon Concerts series at the FJJMA on September 9. This is by far the best way to spend your lunch hour and you will be introduced to the impressive scope and breadth of OU's superlative musicians.
And Family Day, one of our most popular and well-attended events, is scheduled for September 21. Bring your family and celebrate creativity in your lives.
Upward with the arts!
Sincerely,
Emily Ballew Neff
Wylodean and Bill Saxon Director
Fred Jones Jr. Museum of Art
Through October 12, 2014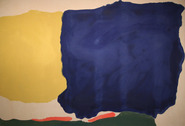 Museum visitors have the chance to view Helen Frankenthaler's Head of the Meadow, for a limited time, on loan from a private collector. Frankenthaler (1928-2011) was an influential American Abstract Expressionist painter. Head of the Meadow, painted in 1967, reflects a sense of impulsiveness with the vibrant colors of blue, yellow, green and orange and expresses Frankenthaler's desire to pursue her own path within the male-dominated realm of Abstract Expressionism.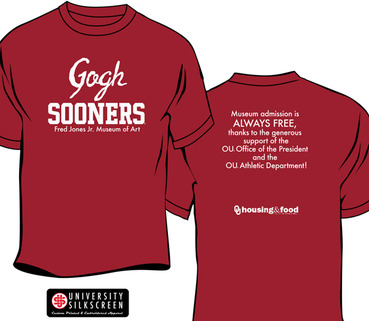 Show your support of art and athletics
with our new "Gogh Sooners" shirts!
$13 for adult S-XL; $15 for 2X and 3X
Coming in early September,
thanks to the support of OU Housing and Food Services.