After almost twelve years of service as GreenLaw's Executive Director, Justine Thompson had the opportunity to take a sabbatical and spend the summer working at the nationally renowned Audubon Center for Birds of Prey in Maitland, Florida. The Center handles the largest volume of eagles, owls, falcons, hawks, and kites east of the Mississippi River and is a leader among all North American rehabilitation centers for speciali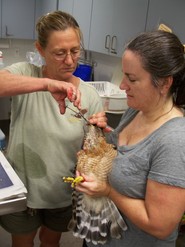 zed eagle care. The Center's ultimate goal is to rehabilitate and release every one of the more than 650 injured, ill and orphaned raptors that comes into its care. Patients that survive but cannot be returned to the wild due to their disability are placed in qualified zoological parks or nature centers across the country, including Georgia.

While at the Center, Justine learned to handle wild birds of prey including osprey, hawks and owls, and observed the rehabilitation process from treatment of the injury to release into the wild. Justine commented about her experience: "I'm not going to sugar coat what I did this summer - I cleaned up a lot of poop! But I also helped eagles cool off from Florida's blistering heat with a shower, quickly learned to duck as osprey careened overhead in the flight cage, and even released a red shouldered hawk back into the wild. It was a remarkable experience that has allowed me to return refreshed and even more energized to clean up the pollution that threatens our fragile ecosystems."
Experience Justine's work by looking at her photos in our "Name That Bird" contest on our website.
Georgians have until August 29th to let the Georgia Environmental Protection Division (EPD) know that the permit for Plant Washington, the mega-coal plant proposed for Sandersville, Georgia, is too lax. In response to a legal challenge brought by GreenLaw with its partners, an administrative law judge found that the permit's limits for hazardous air pollutants were illegal. The permit was improved, but not enough to keep Georgians safe.
The revised permit allows for the release of only about one third of the fine particle pollution the state had originally planned to allow. The new permit also changes the method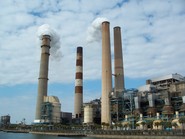 for limiting organic hazardous air pollutants (HAPs). In addition to responding to the judge's order, both these changes are in line with the proposed new federal rule that would set national limits for the emission of all hazardous air pollutants from coal-fired power plants, including those listed in the court's order.
Mercury and Hydrogen Chloride Limits Still Inadequate
While there have been improvements, the state is refusing to tighten up the limits for mercury and for hydrogen chloride (HCl). For example, while EPD looked to the proposed EPA rule to tighten the permit's limits for some toxic air pollutants, it refused to do so for mercury. As a result, the reissued permit fails to achieve the maximum achievable level of reduction of this dangerous pollutant, as required by law. Both scientific research and current industry practice show that power plants can achieve much greater reductions in mercury emissions than the proposed revised permit allows. Plant Washington's mercury limit would allow it to emit 210 times more than the nation's cleanest existing similar source and 36 times more than the EPA rule allows. The permit also fails to meet federal standards for emissions of hydrogen chloride (HCl).
Our Verdict?
• 117 coal-fired power plants around the country emit less mercury than the Plant Washington permit allows.
• Between 99 and 168 units emit less HCl than the Plant Washington permit allows.
• 44 units emit less of both mercury and HCl.
• Plant Washington would not even be the cleanest plant in Georgia. Georgia Power's Plant Hammond has achieved lower emission levels of these pollutants. Three of Plant Hammond's four units were built in the 1950s; the fourth was built in 1970.
Next Steps
On August 18, EPD held a public hearing to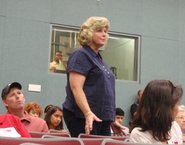 take input from citizens gathered at the Oconee Fall Line Technical College in Sandersville. Twenty-two speakers spoke out against the reissued permit and
only two spoke in favor.

You may send comments to EPD through Aug. 29: Plant Washington, Georgia Air Branch,
Attn: Eric Cornwell, 4244 International Parkway, Suite 120, Atlanta, GA 30354. Or e-mail to: epdcomments@dnr.state.ga.us, with "Plant Washington" in the subject line.