Does your messaging engage and inspire your supporters? Yes, no, maybe so? Unless you answered, "Yes!!!", you've still got work to do, my friend.
In January, you worked on all of the internal parts of your messaging...the ones that are super important but that external stakeholders never see. (If you haven't done this yet, don't worry--below is everything you need to get caught up.)
In February, you will build on your hard work to come up with your snappy, compelling, wowza one-liner!
Bootcamp Catch-up

Click the links below to watch the vids!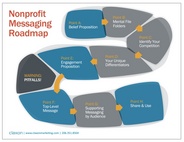 Episode #1 (Point A): Your Belief Proposition
Episode #2 (Point B): Mental File Folders
Episode #3 (Point C): Identifying Your Competition
Episode #4 (Point D): Your Unique Differentiator
Episode #5 (Point E): Your Engagement Proposition

A Lively Meetup
Here is a summary from January's Tune-Up Tuesday Meet-Up. It was a good'n.
Going Viral at NDOA

We had a fantastic time at NDOA's Winter Conference! For anyone who missed it, here's a recap of the "Going Viral" session that Erica moderated with the prezi, video and links to resources from all the pros on the panel.
Note: If you do not want to receive our free monthly newsletter, we totally understand. Simply scroll down to the bottom, unsubscribe and we won't bother you again.
We Have to Have the Money Now!
| February 2
AFP-WA Presents Penelope Burk
Join author, speaker and futurist, Penelope Burk, as she presents practical advice on how to bring your leaders onside with lower risk, higher profit approaches to fundraising. This event is a hosted webinar at the Pacific Science Center for only $15. Check out the details
here (hurry -- event is tomorrow!).
The New and Improved Nonprofit
Annual Report
| February 8
Nonprofit Webinar Hosted by Kivi Leroux Miller

Join the president of Nonprofit Marketing Guide.com for this in-depth webinar where you'll learn the basics of good nonprofit annual reports, including what to emphasize and what to leave out. Registration is $35.

Further Along the Nonprofit
Messaging Roadmap
| February 15
Tune-Up Tuesdays Monthly Meetup
Give your marketing a tune-up at our next monthly meet-up where we will discuss what nonprofit messaging challenges you are facing. Terrific coffee, fabulous fellow nonprofiteers, and free nonprofit messaging tips and tricks.

Learn more...