Temporary site-specific clay installation If It Rains, 2013, by Annie Lai-kuen Wan on the Cattle Depot Artist Village premises, To Kwa Wan, Hong Kong. Photo: Alain Kantarjian, 2013.

EXPANDED EXHIBITION BLOG WWW.ITHINKITRAINS.ORG
Explore the numerous new images, videos and texts on the blog devoted to the exhibition I Think It Rains and to the real-time activities of From Dusk Till Dawn. I Think It Rains successfully kicked off in May of this year with contributions by some thirty artists and cultural producers organized together with artist-run 1a space. The exhibition venue at Cattle Depot Artist Village in To Kwa Wan was part of the project's semantics: an area intensely marked by community life and diverse ethnicities. Visitors could meander through six exhibition spaces spanning some 1,000 m² in the grade II historic site, formerly used as a slaughterhouse, and which since 2011 is home to numerous art and culture organizations as well as artist studios.
Setting up of the real-time activity An Action For An Image by Fiete Stolte, 2013. Fiete Stolte created a tactual and sequential situation, covering his hands with graphite powder, to cover someone else's hands, who in turn covered his bystander's hands. Photos: Alain Kantarjian, 2013.

The exhibition presented existing works from the Burger Collection and newly commissioned works by Hong Kong artists and writers of which several have been acquired for the collection, including Lam Tung Pang's audio installation Ghost– Disappeared Hong Kong Art (1): 90s, Kurt Chan and Annie Lai-Kuen Wan's installation Time Regained.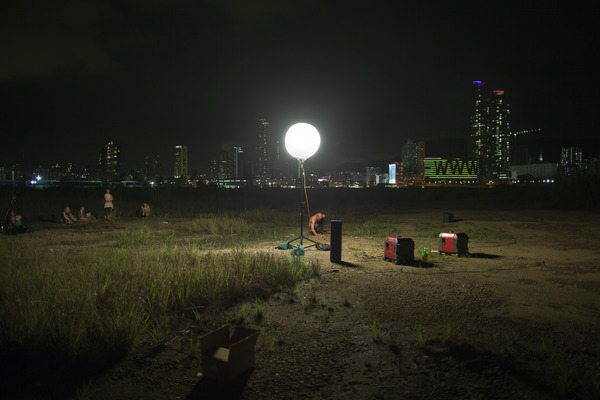 In Wendigo River / The Crystal Source / Kowloon, Florian Germann worked throughout the night with his sonic sensitive digging tools, off at the old Aviation ground in Kowloon. The reverberating sounds echoed against those of night birds and crickets. Germann's labour intensive real-time activity was an experimental steer towards linking his ongoing Wendigo River project with the city of Hong Kong through an underground tunnel. The recorded sounds and tools were later installed on the grounds of the Cattle Depot Artist Village. Photo: Alain Kantarjian, 2013.
The opening week saw various events unfold, including the launch of Torrent No. 1, the one-day festival From Dusk Till Dawn with real-time activities by some fifteen artists, as well as the start of a short-term residency program for artists Muhanned Cader (Sri Lanka), Filipa César (Portugal), Florian Germann (Switzerland), and Fiete Stolte (Germany).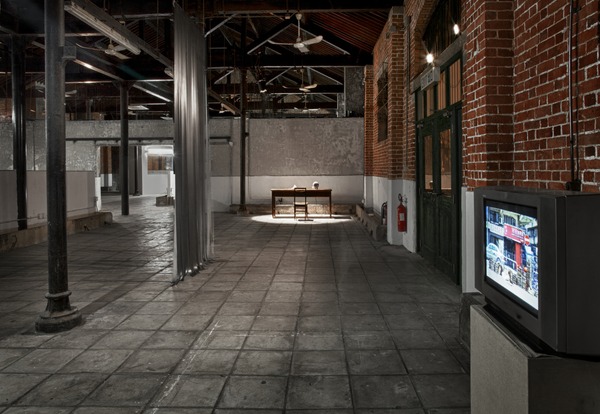 One of the six exhibition halls with works by Ng Ka Chun Hei, Gao Weigang, and Fiona Banner (from right to left). Photo: Alain Kantarjian, 2013.
Bani Abidi, Fiona Banner, Pierre Bismuth, Muhanned Cader, Filipa César, Alejandro Cesarco, Clara Cheung & Gum Cheng & Price Chu (Project 226), Enoch Cheung, Reds Cheung, Choi Yan-Chi, Chow Yiu Fai, Ryan Gander, Gao Weigang, Florian Germann, Jon Kessler, Kong Chun Hei, Lam Siu Wing, Lam Tung Pang, Lau Ching Ping, Ng Ka Chun, Kingsley Ng, Pak Sheung-Chuen, Vittorio Santoro, Fiete Stolte, Annie Lai-Kuen Wan, Wen Yau, Wong Wai Yim and Cally Yu. (Click to view their work in I Think It Rains)
PRESS HIGHLIGHTS
Lee Hyo-won of BlouinArtinfo described the exhibition as "a novel, exciting challenge in rethinking the complexity of the creative process and its temporal and spatial impulses." Click here to read the article.
In an in-depth conversation with Maggie Wong curator Daniel Kurjaković revisits I Think It Rains, Torrent, and the radically present function of a private collection. Click here to read.
See also chief editor Elaine W. Ng's piece in ArtAsiaPacific, profiling in on the collection's recent endeavors and its current framework. Click here to read.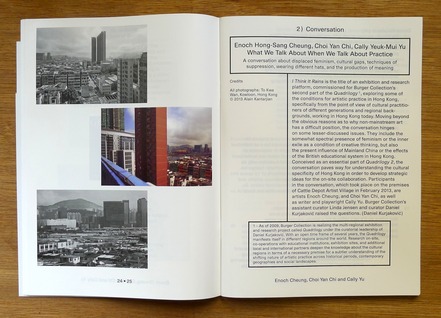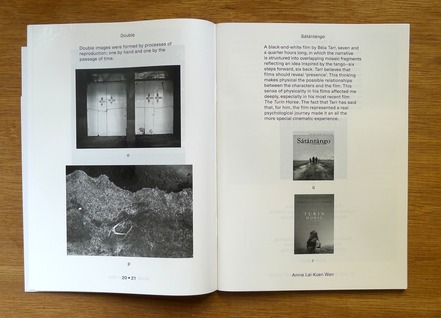 Double spreads of Torrent No. 1 with excerpts of the conversation What We Talk About When We Talk About Practice with Hong Kong artists; and of Annie Lai-kuen Wan's contribution Monumental Time. Design by Philipp Herrmann.
TORRENT No. 1
Burger Collection's bookazine Torrent is now available worldwide through Idea Books, Amsterdam. After the debut of the pilot edition in summer 2012—devoted to Indian artist Nalini Malani and her well-received installation In Search of Vanished Blood for Documenta 13—Torrent No. 1 features an exciting array of source materials, including first-hand artist contributions by Martha Colburn, Vittorio Santoro, Annie Lai-kuen Wan, Paul Winstanley, Lawrence Weiner and a timely inquiry into the twisted conditions for cultural practitioners in Hong Kong. With its process-oriented perspective on art, Torrent focuses on making available yet unpublished materials by artists.

A sneak-peak preview can be seen on issu here.

On December 3, 2013, Linda Jensen, co-editor of Torrent will give a multimedia presentation at Corner College's Theory Tuesdays, Zurich. In the mix will be behind-the-scenes documentation as well as excerpts of video/filmic works by artists featured in Torrent. See here for more details.
NEWS
This past September the Burger Collection team participated at the UBS Arts Forum Pan-Asia: Mapping Contemporary Art in Wolfsberg, Switzerland, presenting the I Think It Rains project in Hong Kong, delving into the necessity to develop a sustainable curatorial model in Hong Kong, but also discussing in which ways the Burger Collection strives to commit and contribute to its art ecology.

Last week Daniel Kurjaković participated in Asia Art Archive's symposium Sites of Construction: Exhibitions and the making of recent art history in Asia in Hong Kong. Part of a long-term inquiry into the implication of exhibitions becoming the primary sites of art historical construction, the symposium saw the participation of international scholars, curators, writers and artists. Video documentation will be available on Asia Art Archive's website. Proceedings will be published in a future issue of Yishu: Journal of Contemporary Chinese Art.

FUNDING AT A GLANCE
Burger Collection recently became Chief Sponsor of Anything Goes, an exhibition by the Hong Kong Baptist University Academy of Visual Arts at the Kunstquartier Bethanien in Berlin. Other recent initiatives, expanding on-going support for various art spaces and institutions in Asia and elsewhere, include the co-funding of Counterspace, a new exhibition and project space in Zurich, the Hong Kong independant art space Para/Site, and Soundpocket, a Hong Kong arts organization devoted to audio and sound art.

PRESENTLY ON VIEW WORLDWIDE
The collection regularly responds to loan requests from artists and institutions in its policy of making works available to the general public. Works by Wim Delvoye, Nalini Malani, Kara Walker and Tim Gardner can be presently seen on tour. Please check our Facebook page for more details.