New books online at the CCBS Store
Applied Behavior Analysis and Autism: An Introduction
by Autism New Jersey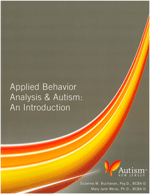 Written to provide accurate and authoritative information to parents and professionals in the autism community about the scope and depth of ABA, this publication provides an introduction to the science of ABA, many ABA techniques, professional development for behavior analysts and science-based resources.
Price: $10.00 - Buy Now!
Behavior Analysis for Lasting Change, Third Edition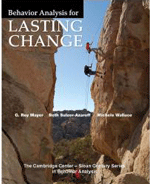 by G. Roy Mayer, Beth Sulzer-Azaroff, and Michele Wallace
This comprehensive introduction to the field of behavior analysis has been completely updated and references thousands of scientifically-supported constructive solutions within hundreds of areas of human performance.
Features of Behavior Analysis for Lasting Change, 2nd Edition:
Written by a team of authors who are experienced, accomplished, and well-respected as scientists, scholars, consultants and teachers in the ABA field.

Includes the BACB Task List and prepares the reader for the BCBA exam. The text covers essentially all current concepts and readies the reader for supervised field application

Provides adjuncts to accompany and support readers' mastery of the material in the text, including:
Price: $86.95
-
Buy Now!
Leading People-Based Safety: Enriching your culture
by E. Scott Geller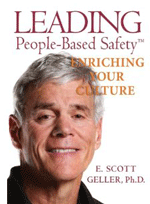 This is for everyone, according to the author, E. Scott Geller, Ph.D. It includes principles and procedures the reader can apply beyond safety to build trust and caring to improve the overall quality of conversations, relationships, coaching and risk perceptions in the workplace. This book extends and refines the content in People-Based Safety: The Source in order to offer advice for leadership and provides an expanded discussion of personality.
Price: $29.95 - Buy Now!
People-Based Patient Safety: Enriching Your Culture to Prevent Medical Error
by E. Scott Geller and Dave Johnson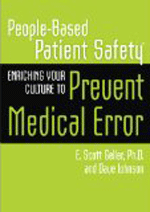 This easy-to-read, practical guide filled with ideas and case studies explains how to apply ACTS - the specific skills that raise staff awareness about working safely and avoiding errors. The four skills - Acting, Coaching, Thinking and Seeing, reshape employee attitudes and actions and put them in control of their environment. By mastering these skills, employees perform their jobs with astute care and develop the ability to assess risks, identify perceptual blinders, hone observation skills and improve communications and coaching.
Price: $49.95
-
Buy Now!
People-Based Safety
The Source
by E. Scott Geller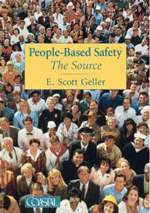 This groundbreaking book is based on articles Dr. Geller has written for Industrial Safety and Hygiene News. Dr. Geller believes there is a need to address person-based factors to improve workplace safety, and he does so here, focusing on the thoughts and attitudes that can influence safe behavior. Dr. Geller draws on his extensive research to discuss the psychology of safety before focusing on four key skills that promote safety – Acting, Coaching, Thinking and Seeing (ACTS). His concluding chapter offers strategies for sustaining People-Based Safety in the workplace. The book is both a psychological study of worker safety and a helpful guide safety trainers can use to teach People-Based Safety to their employees.
Price: $49.95
-
Buy Now!
The Courage Factor: Leading people-based culture change
by E. Scott Geller and Bob Veazie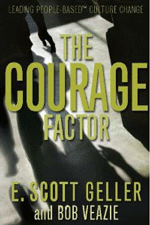 This book can help organizations cultivate a culture of people going beyond the call of duty for the health, safety, and welfare of themselves and others. We call such discretionary behavior "actively caring." Most people care, but too few act on their caring. As you follow our narrative and develop profound understanding of the psychology of leadership and actively caring, you'll discover personal power and potential. This story defines actively caring as showing compassionate courage on behalf of the safety and/or welfare of others. Our story brings these concepts to life and illustrates practical ways to increase actively caring throughout a culture.
Price: $19.95
-
Buy Now!
VB-MAPP Full Set (Guide & Protocol) 1st Edition
by Mark L. Sundberg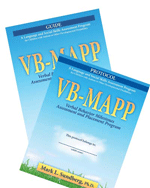 This set contains 1 individual child scoring protocol and 1 Instructor's Manual and Placement Guide. The VB-MAPP Instructors Manual and Placement Guide The VB-MAPP Instructor's Manual and Placement Guide contains a description of how to use Skinner's analysis of verbal behavior for language assessment, the assessment instructions, and the specific scoring criteria for each of the 170 milestones. In addition, the Manual contains a placement guide that offers specific suggestions for programming and direction for each of the 170 milestones achieved, as well as suggestions for IEP goals for each skill presented in the three levels of the VB-MAPP. The VB-MAPP Individual Child Protocol. The VB-MAPP Individual Child Protocol contains scoring forms and charts for each of the 170 milestones, the 24 language and learning barriers, the transition to less restrictive settings assessment, and the over 900 tasks contained in the task analysis of each skill area.
Price: $62.95
-
Buy Now!
When No One's Watching: Living and leading self-motivation
by E. Scott Geller and Bob Veazie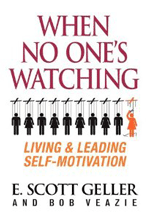 This realistic narrative on the psychology of self-motivation will help you bring out the best in yourself and others. Human behavior is complex and it is difficult to change organizational culture. Within these pages you will find how personal courage, compassion, and determination, as well as family, friends, and mentors can help us stretch to achieve the organizational change we might at times find impossible. Dr. Geller shows readers how to live a self- motivated life and lead others to feel more self-motivated and thereby optimize their performance.
Price: $14.50
-
Buy Now!