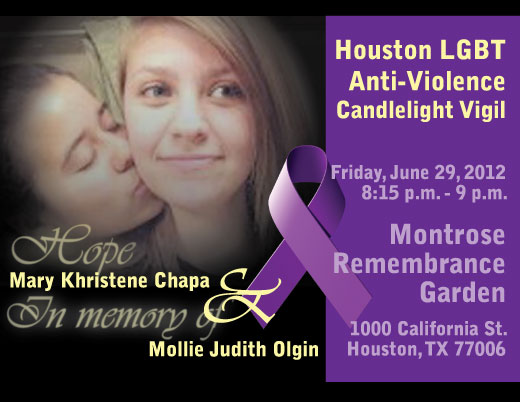 Houston LGBT Anti-Violence Candlelight Vigil
Let's unite Friday and take a stand against all violence.
Let's feel our collective compassion.
Please join Houston Lesbian, Gay, Bisexual & Transgender communities as we hold a candlelight vigil at 8:15 p.m. on Friday, June 29 at the Montrose Remembrance Garden as we take a stand against the attack of two teenage lesbians in Portland, Texas.

We will light our candles in memory of 19-year-old Mollie Judith Olgin and her 18-year-old girlfriend, (Mary) Khristene Chapa. Olgin was shot to death while Chapa is in serious but stable condition after they were shot in the head in a park outside Corpus Christi last weekend.

Law enforcement authorities have not released much information about the investigation except to say that they have not ruled out anti-LGBT violence as a possible motive.

The vigil comes as we approach the first anniversary of the Montrose Remembrance Garden's dedication to all LGBT victims of violence.