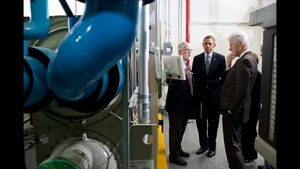 Obama & Clinton Pledge Billions for Efficient Buildings |
On Dec. 2, President Obama and former President Clinton
announced a $4 billion commitment
to making America's buildings more energy efficient. At a press conference held at a DC office building managed by Transwestern, President Obama noted that the retrofit of that property has created 250 jobs and saved $200,000 in energy costs. "Making our buildings more energy efficient is one of the fastest, easiest and cheapest ways for us to create jobs, save money, and cut down on harmful pollution," Obama said. As Obama and Clinton toured the building, Transwestern's Gary Le Francois (above) explained how the energy-efficient chiller plant works. That and other improvements to the building are expected to raise its
ENERGY STAR
rating to 95.
The $4 billion pledge--made by the federal government and a coalition of 60 companies, nonprofit organizations, local governments, and unions--is part of the White House
Better Buildings Initiative
. Among the local governments that have signed on is the District of Columbia.
DC and Mayor Vincent Gray seek to reduce energy consumption by at least 20 percent
by 2020 in over 90 million square feet of city- and privately-owned buildings in DC's downtown core.
DC Moves to Follow Maryland to Adopt 2012 IECC
|
Today the District of Columbia's Construction Codes Coordinating Board voted to include the 2012 International Energy Conservation Code (IECC) without weakening amendments in a revised building code package that will come before the DC Council next year.
Maryland was the first state
in the U.S. to adopt the 2012 IECC. Effective Jan. 1, 2012, all new buildings constructed in Maryland--both residential and commercial--and renovations of existing buildings will be required to comply. The 2012 version of the IECC stipulates energy efficiency standards roughly 15% higher than those in its previous edition of 2009, which is currently in effect in Maryland.
In 2009, IMT provided technical assistance to draft and put in place the state law that requires Maryland and its counties to accelerate energy code adoption when a new version of the IECC is published. Read IMT's
press release
to learn more.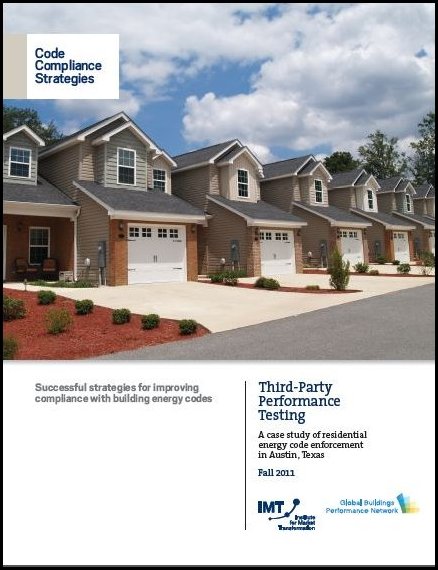 IMT Releases Case Studies on Energy Code Compliance |
IMT staff recently completed three
case studies
in a new series devoted to improving energy code compliance. Working with the
Global Buildings Performance Network
, IMT is developing best practices for improving code compliance, which is just as important for energy efficiency as adopting strong codes.
The first case study looks at the requirement in Austin, Texas, for third-party performance testing to ensure that new homes meet the energy code. The second examines the requirement in Wisconsin that design professionals be accountable for assuring that buildings are constructed (and not just designed) in compliance with all building codes, including the energy code. The third case study in the series, "Third-Party Plan Review," describes how the use of third-party construction plan reviewers (a strategy used in multiple cities and counties) can improve compliance with energy codes as well as speed up the regulatory approval process.
More case studies will appear in early 2012. IMT's code compliance specialist
Ryan Meres
writes about what's coming up over at his blog,
Energy Code Compliance
.
DC SEU Meets FY2011 Goals
|
The
DC Sustainable Energy Utility
announced that it has met its Fiscal Year 2011 (FY 2011) goals, completing more than 5,600 energy efficiency projects in the District since the approval and signing of its contract in March 2011. Projects have ranged from direct installations of efficient products and renewable energy measures in multifamily and small commercial buildings to "mini-retrofits"--small energy efficiency measures in single-family homes. DC SEU met its specific goals of dedicating 30% of the contract budget to improving energy efficiency in low-income housing, and dedicating 75% of spending on program implementation, employment, and supplies to DC-based businesses. IMT is a DC SEU team member.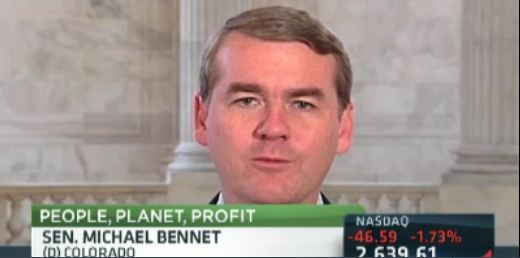 SAVE Act on CNBC |
CNBC recently reported on how the
SAVE Act
would help homeowners recoup the upfront costs of going energy efficient and stimulate homebuilding activity. Introduced to Congress in October by Sens. Michael Bennet (D-Colo.) and Johnny Isakson (R-Ga.), SAVE would factor energy costs into mortgage underwriting--improving lending standards and spurring energy-efficient home construction and renovations at no cost to the taxpayer. An
analysis
by IMT and the American Council for an Energy-Efficient Economy estimates that the bill would create 83,000 jobs and save $1.1 billion on energy bills by 2020. SAVE is backed by an extremely broad coalition of business, professional, and environmental groups, ranging from the U.S. Chamber of Commerce to the Center for American Progress.
---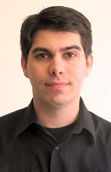 IMT Welcomes Marshall Duer-Balkind
IMT's newest employee is
Marshall Duer-Balkind
, Program Associate in the Building Energy Rating program. Marshall works primarily at the District of Columbia Department of the Environment, where he helps manage the implementation of
Washington, DC's energy benchmarking program
and collaborates with other cities to share best practices. A native of DC, he is excited to be working to improve the sustainability of his home city. He holds a Masters of Environmental Management from the Yale School of Forestry and Environmental Studies and has a Bachelor's degree in Political Science from Oberlin College.