BlueChairFruit.com is now able to offer FREE FedEx Ground shipping on all orders of 7 jars or more! And yes, this does include our gift packs!

Check out our current flavors!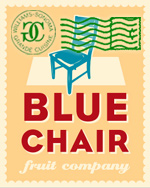 It's official:
Our jams will be available
at a whopping 154
Williams-Sonoma locations
in the very near future!

These stores will feature:
Strawberry-Pluot Jam
Pear-Lemon Marmalade
End-of-Summer Nectarine Jam

Keep checking your nearest Williams-Sonoma store to see that our jars are settling well into their new homes!
Enrich Your Thanksgiving Feast
With Our Festive Jam 2-Pack!

Seeking a new twist on your favorite holiday dishes? Our festive Thanksgiving Jam 2-Pack is sure to delight!

This limited-edition set is on sale for $22 and includes one jar each of:

Cranberry-Pluot Jam, our take on traditional cranberry sauce, adds a dash of color and spice served with your turkey, spooned over sweet potatoes, stirred into cooked greens, or incorporated into pumpkin pie.
Rosemary-Damson Jam is a savory spin on our favorite rich and tart plum; pair this flavor with cheese for a stunning appetizer, and generously spread it on a leftover turkey sandwich to take it from so-so to sublime!

We can guarantee Thanksgiving delivery if we receive your order by Monday, November 21st at 3pm.
New Flavors to Celebrate Autumn!

Every autumn ritual, from a cozy morning piece of toast to a rollicking Thanksgiving feast, just feels more special with jam. We should know -- we have seven flavors that are pitch-perfect to enjoy all November long.