Dear Chiral Chemistry Colleague,
Welcome back to the ChiroSolve Monthly Newsletter designed to bring insightful and timely information on trends and technology to innovators in Organic Chemistry.
In this issue, we would like to provide more in-depth information about our NEW SCALEPREP™ solution to optimize kilo lab and manufacturing chiral separation processes. After identifying the optimal chiral separation candidates using our screening kits, ChiroSolve's ScalePrep™ is used to define the optimum chiral separation method for the target enantiomer. Optimization is done in terms of energy savings and maximizing yield. The latter is done through finding the optimum ratio between the resolving agent and the racemate and ideal solvent concentrations.
ChiroSolve's ScalePrep solution methodically refines enantiomer development process and optimizes it for manufacturing scale-up
ScalePrep Kits are used to develop a robust, optimized chiral separation method for target enantiomer production that can be scaled up from multi-kilo quantities to manufacturing.

Precision of the methods used for process development are critical since time and material required to attain target purity and yield are magnified as the production requirements increase. Small improvements in the process can have incredible positive impacts on costs.
ScalePrep provides a stepwise solution to achieve optimum separation performance. Starting with a screening process, it identifies 2-3 candidate separation approaches and identifies which approach offers fastest end-results. Selected approach is then optimized through Optimize kits to ensure highest purity and yield is achieved using the minimum number of steps. The optimization factors are:
Ideal ratio between racemate and resolving agent

Ideal concentration of solvent (or combination of solvents)

Minimum material waste and highest energy efficiency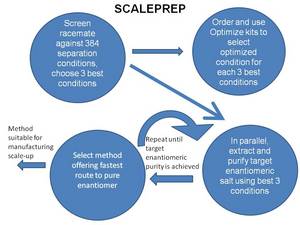 It includes:
Screen Kits (4kits) offer exhaustive screening to identify 3 best separation conditions
Purify Kits (3 kits) define detailed optimum separation process that yields highest amount of purified enantiomer using minimum number of crystallization steps
Optimize Kit(s) fine-tune the separation process using above listed optimization factors

Results within 2 weeks
Key Green Engineering Research Areas for Sustainable Manufacturing: A Perspective from Pharmaceutical and Fine Chemicals Manufacturers
By: Concepci
n Jim
nez-Gonz
lez, Peter Poechlauer, Quirinus B. Broxterman, Bing-Shiou Yang, David am Ende, James Baird, Carl Bertsch, Robert E. Hannah, Phil Dell'Orco, Henk Noorman, Sandy Yee, Raf Reintjens, Andrew Wells, Viviane Massonneau, and Julie Manley

Org. Process Res. Dev., Article ASAP

DOI: 10.1021/op100327d

Publication Date (Web): February 22, 2011

Copyright © 2011 American Chemical Society

*conchita.j.gonzalez@gsk.com



In 2005, the American Chemical Society (ACS) Green Chemistry Institute (GCI) and global pharmaceutical companies established the ACS GCI Pharmaceutical Roundtable to encourage the integration of green chemistry and engineering into the pharmaceutical industry. The Roundtable developed a list of key research areas in green chemistry in 2007, which has served as a guide for focusing green chemistry research. Following that publication, the Roundtable companies have identified a list of the key green engineering research areas that is intended to be the required companion of the first list. This publication summarizes the process used to identify and agree on the top key green engineering research areas and describes these areas, highlighting their research challenges and opportunities for improvements from the perspective of the pharmaceutical industry. (see more >>>)




Contact us at:

ChiroSolve, Inc.
2065 Martin Ave. suite 107,
Santa Clara, CA 95050
Phone: +1(408) 834-8597
Fax: +1(408) 351-7900
Email: info@chirosolve.com