May E-News

Tomorrow, May 17, from midnight to midnight is an important day for us. And we humbly ask for your help.
We invite you to be involved in our mission of supporting artists who serve community needs! You can support culture AND help to meet critical needs in our community.
​The Great Give is important to us because your dollar will go further on May 17. Each donation made during the 24-hour period will be amplified by bonus pool dollars and hourly prizes!
Your donation will support programs that:
Help Dancers to Feed the Hungry

Activate Community Responsible Arts Students

Employ the Arts to Support Worthy Causes

Use the Arts to Heal the Elderly & Engage At-Risk Youth
If you plan to give to Artists for a Cause at all this year,
we hope you will consider...
...during the event.

We thank you for your generosity. Let's do this together!!



We have been fortunate enough to be able to award scholarships to student artists in our network. Those scholarships are paying off. Our students are excelling. In fact, for many of them, this is their senior year and as they graduate, they have chosen majors in performing arts! Bravo to:

​

Tony Capizzi (pictured above) who will attend Stetson University for Vocal Performance
Charlotte Kreibich who is attending University of Central Florida for Music Education
Chloe Leadabrand who will be studying theatre at Florida State Universit

y

Megan Savage who is going to Stetson on a full ride to study cello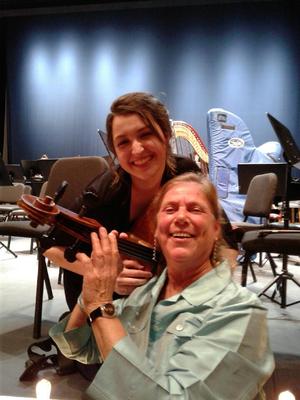 (Left) A4AC young artist Megan Savage, and her mentor, Jackie Robbins, Certified Clinical Musician working together after Treasure Coast Youth Symphony as well as for Artists for a Cause therapeutic musical programs.

A Note From Jackie:

"A great day at grand Oaks! I arrived and only one person was awake at 2:00 p.m. when I was setting up. By the time I left there were 12 or 13 memory care residents, additional family and friends, and three or four staff enjoying themselves and the music. A mixture of classical, to go with sing-along, and the Great American songbook - as well as a lot of melodies from around the world.

When I exited, the group of people who were taking painting lessons on the third Wednesday of every month, were just finishing up an "out of the box session." When they heard the live music - which had never happened before - the teacher chose to ask for something new. Instead of the usual simple watercolor, the instructor asked them to paint reflections of the music. It was very cool to see all these different interpretations of a jazz trio, with the big stand-up bass instead of a cello." ~ Jackie Robbins

And to top this all off - the watercolor class was taught by our own Val Lally scheduled through Artists for a Cause!
Back to top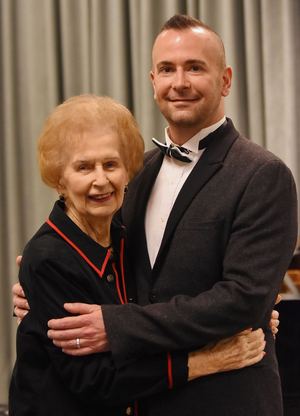 Again, we would like to thank the venerable and philanthropic Elisabeth Lahti for her contribution to the community and the arts. Last month, our Executive Director Terry Barber performed with soprano Lorrianna Colozzo at the Elisabeth Lahti Concert Series which was underwritten by a grant from Ms. Lahti and awarded to the Library Foundation of Martin County. The concert was a success and we thank all who attended.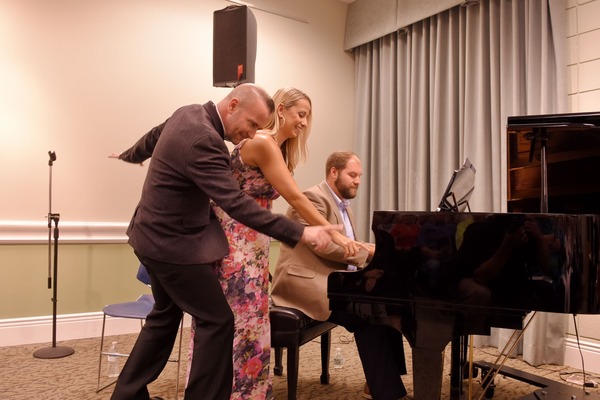 Support for Charities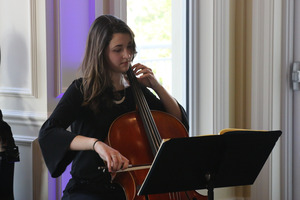 On April 27, Megan Savage entertained guests for the St. Lucie County Economic Development Council's Leadership Dinner. She played cello during happy hour while notable community members, elected officials and nominees for the prestigious

Pete Hegener Leadership Award. The award is presented to a dedicated organization or business leader who has significantly contributed to St. Lucie County's economy and quality of life. Thank you, Megan!
Back to top
Artists for a Cause supports artists who serve community needs.



Artists for a Cause is a national nonprofit organization that supports artists who serve community needs. Some programs help artists and charities to get the most out of their collaboration, while most produce results directly, by feeding the poor, healing the sick, or solving other problems through unique artistic solutions. Additionally, we never ask artist professionals in a struggling industry to donate or give away their livelihood. No program is merely about art for arts' sake –
Artists for a Cause is about the arts as a solution.
We would like to thank the following for their support.
Please, click to learn more.
Mr. Chain | The Elmezzi Foundation | Amy Inman | The Terrio Group
Tim & Maureen Cotter | TC Palm | Paul J. Feinsinger, CPA, CFP
The Firefly Group | Terrance & Patricia Barber | Faye A. Haverlock
The Pedersen Family Foundation | Jill Arbet | Forest Hills | Gunster | Gordon & Doner
Women Supporting the Arts | Elisabeth Lahti | Lesser, Lesser, Landy & Smith
The William H. Donner Foundation | Steven & Alison Clark
The Kranzberg Arts Foundation | Style Encore | NisAir
The MAH Foundation | The Des Lee Arts Collaborative

Artists for a Cause, Inc
1211 SW Sunset Trail, Palm City, FL 34990
With a new office at the .ZACK, 3224 Locust Ave., St. Louis, MO 63103
t:772.419.8778