We have many things to be thankful for. But we would like to take a moment to thank everyone who participated and donated during the Great Give, and also to thank Style Encore and Leslie Levy for hosting a special fundraiser for us. Please read below for more information.

The Great Give: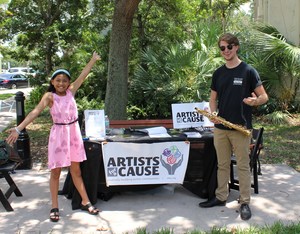 We would like to thank Ryan Cox and Alexis Bentingannan for performing at the collaborative Great Give gathering that the Arts Council was kind enough to plan. We would also like to thank Susie McAllister and The Firefly Group for representing A4AC at the event. The performances were wonderful! We would also like to recognize that although there were technical difficulties with the Great Give website during the day of giving, we still raised more than $10,000, even before the Community Foundation has awarded dollars from their donation pool! Thank you again to everyone who made the Great Give so successful for us.

We will report the total raised soon. These donations will go far in allowing us to grow our programs and help improve the community through the arts.

Style Encore:

Thank you to Leslie Levy for organizing this event! On May 10, from 6 to 9 pm she held a fundraising event at her store Style Encore. She gave a 20% coupon to everyone who donated at least $20 to A4AC and then matched those donations. People shopped while enjoying wine & cheese, a silent auction - and best of all they were treated to performances by exceptionally talented students in the A4AC network! Artists included: Eliza Levy; Megan Savage; Anthony Capizzi; Nathalia Ricardo; Lucia Izzolo; Michael Stern; Erica Lucio and Alexis Bentinganan.

Back to top
---
Therapeutic Arts Update

Please CLICK HERE to take a moment and view the Therapeutic Arts Program Highlights brochure that Firefly Intern, Olivia Ranieri compiled and designed for us. Thank you, Olivia!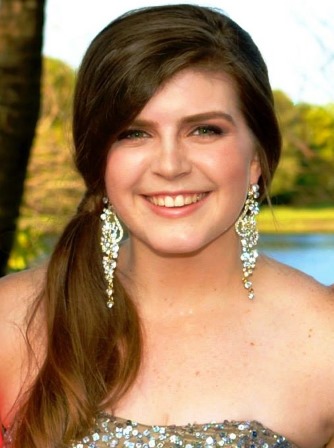 On May 7, Sydney Carbo once again delighted audiences at the Cove Apartments in Port St. Lucie when she sang at a Mother's Day event they hosted for their residents. General Manager Thomas Coxey specifically asked to have Sydney back to entertain the residents because they were so pleased with her performance during the Christmas season. Mr. Coxey thanked Artists for a Cause for, "doing great things for the community."

Sydney left feeling fulfilled and elated. "Thank you so much for all these opportunities," she said. "It makes my heart so happy to sing for these wonderful people."



Back to top
---
Laura Kutey has finished her internship with us and is ready to go to college where she will pursue her education in drama therapy. We asked Laura to write what Artists for a Cause and her internship meant to her. We were so pleased with she had to say. We hope you'll take a moment to read this excerpt from her essay:

My main project as an intern for A4AC was to establish a drama therapy program at the Boys & Girls Club. I spent time coming up with improvisational exercises, theatre games, and other aspects of drama therapy that would suit children in the 7-12 age range. Teaching children is a different kind of challenge, so I had to have a lot of patience! However, working with children is also very entertaining, not to mention rewarding. I loved watching them get creative with the skits and seeing the spark of learning finally click with each of them! Also, I asked the children the chooose a topic for a short improv play, and I guided them in directing it. They all easily agreed on the topic of bullying, which was very interesting to me because as elementary school children, bullying is a prevalent part of life. This further made me realize that there is a significant need for drama therapy for children who need an outlet to express what they are going through at this point in their development.

Overall, I thoroughly enjoyed interning at Artists for a Cause. I love, and believe in, everything that Terry and A4AC stand for, which in short, is helping others through the arts. Anyone with a passion for the arts, including visual art, dance, music, theatre, and performance can utilize their talents to help others through artistic healing. It is an enjoyable and rewarding way to give back to those in our community who are in need, and to be a part of something greater than yourself.

Back to top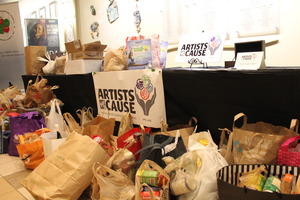 Artists for a Cause is doing its part to help fight hunger by producing our eight annual Dance for Food series.
Dance for Food is a program designed to bring dancers and audiences together to collect food for the hungry. Artistically directed by Anna Preston, the annual Dance for Food events convene many of Florida's finest contemporary dancers to showcase their talents to an audience whose only admission fee is a bag of unexpired, nonperishable goods.
This season, we will also produce one or more events in the midwest, T.B.A.
We are pleased to announce our four 2016 Florida Dance for Food dates & venues*:
Nov. 5




Duncan Theater, Lake Worth


Benefiting Cros

Ministries and The

Farmworker

Coordinating Counsel



Nov. 6
4pm-5pm performance (3:30 pre-show entertainment)
Kane Center, Stuart
Benefiting Kane Center Food Pantry


Nov. 12




Southfork High School (Student Edition in Partnership with Martin County

A4AC Club)


Benefiting House of Hope




Nov. 13


4pm-5pm performance (3:30 pre-show entertainment)
Sunrise Black Box Theatre
Benefiting Mustard Seed