Dance for Food Series is Coming Soon!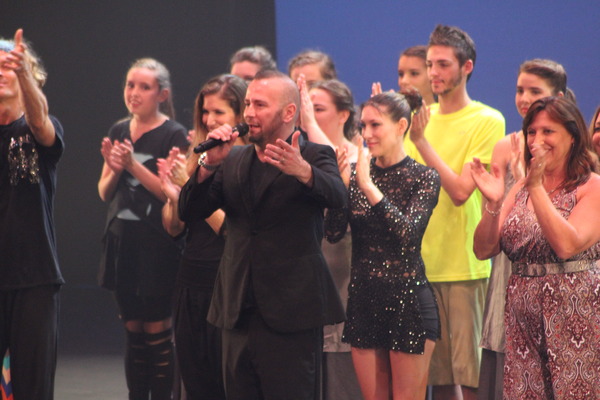 Did you know nearly 100,000 people on the Treasure Coast and more than 200,000 people in Palm Beach County don't know where their next meal will come from? About 16% of the residents on the Treasure Coast, which includes Indian River, St. Lucie, Martin and Okeechobee counties, struggles with hunger, including nearly 35,000 children. Palm Beach County is not immune either. Hunger impacts families and individuals, seniors, children, and people with disabilities. It affects the homeless as well as working families who were once stable but now need help to survive. Artists for a Cause is doing its part to help fight hunger by producing their seventh annual Dance for Food event series.

Dance for Food is a program designed to bring dancers and audiences together to collect food for the hungry. Artistically directed by Anna Preston, the annual Dance for Food events convene many of Florida's finest contemporary dancers to showcase their talents to an audience whose only admission fee is a bag of unexpired, nonperishable goods.

The popular "food raiser" will showcase exceptional talent and provide quality entertainment in a variety of venues to help people throughout the region. The four events take place on:
Nov. 7 at 7:30 p.m.
Duncan Theatre
4200 Congress Avenue, Lake Worth
Nov. 8 at 4 p.m.
Ft. Pierce Arts Magnet School for the Arts
1100 Delaware Avenue, Ft. Pierce
Nov. 15 at 4 p.m.
Martin County High School
Produced by the Martin County A4AC Club
2801 Kanner Hwy, Stuart
Nov. 22 at 4 p.m.
The Kane Center
900 SE Salerno Road, Stuart
The only admission fee is a bag of unexpired, nonperishable goods.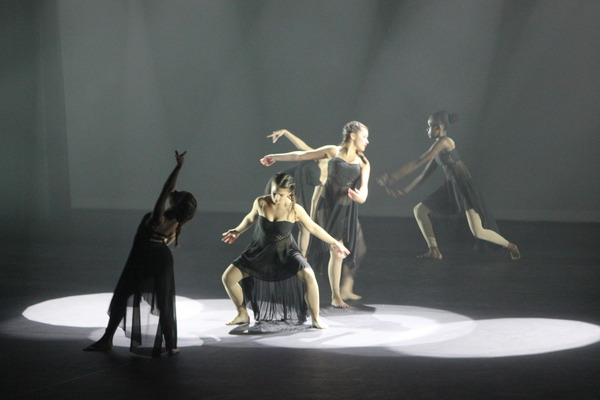 Dancers for the events are all registered with Artists for a Cause and include: Anna Preston, Preston Contemporary Dance Theatre, Treasure Coast; Eric Yow, Yow Dance, Orlando; Anna Nunes, AGWA, Lake Worth; Jesse Hammel, Ballet Atlantica, West Palm Beach; Alicia Chodera, Atlantic East Coast Dance Theatre, Stuart; Donna Murray, The Dancer's Space (Kravis Center), West Palm Beach; Katrina Soricelli, Independent Artist, Tampa; Maria-Elena Marso, Florida Aerial Dance and Circus Arts, Stuart and Jupiter; Jerlyn Scott, Sinsational Pole Fitness, Jensen Beach; and Bill Evans, International Artist, piece commissioned by Florida Atlantic University Dance Department, Boca Raton.

Student Companies include: Downtown Dance, Lake Worth (November 7); That's Dancing, Lake Worth (November 7); South Florida Dance Company, Port St. Lucie (November 8); Port St. Lucie High School Dance Department (November 8); Dance Academy of Stuart, Stuart (November 22); and Mo's Dance Works, Stuart (November 22).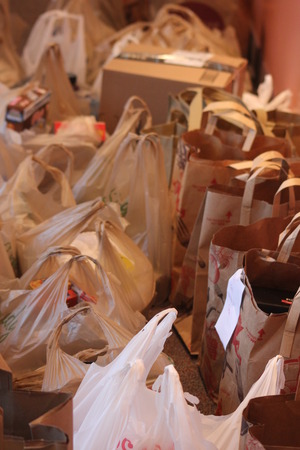 In the past, Dance for Food has raised over 6,000 meals for families through a single performance. Last year's series collected almost 5,000 pounds of food, which was distributed to those in need through charity food bank partners. This year the CROS Ministries, Farmworker Coordinating Counsel, Treasure Coast Food Bank and Kane Center Emergency Pantry will partner with A4AC for the Dance for Food events.
For those who cannot attend a Dance for Food event but would still like to donate nonperishable goods for struggling families, they can be dropped off at the A4AC office at 1211 Sunset Trail, Palm City. For those who would like to sponsor the event, there is still time. Call A4AC at 772.419.8778, visit our website at a4ac.org, or email terry@a4ac.org for more information. Follow Dance for Food on Facebook at www.facebook.com/DanceForFood.
Sponsored by:

Therapeutic Arts
Palliative Care Music: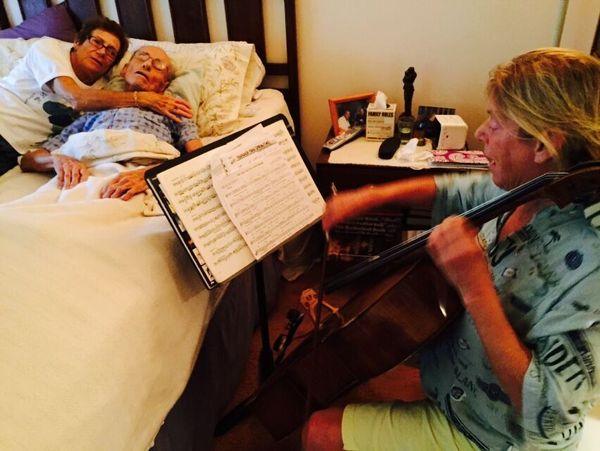 Jackie Robbins, Cellist and CCM is doing beautiful things.

Jackie's services were requested as this patient was admitted to Treasure Coast Hospice Care. It was Rosh Hashana and the family asked her to play High Holy Day prayers and melodies for him. He is pictured here with his wife. They are both eternally grateful for the gift of music that Jackie gave them.
---
Also performing in September at assisted living facilities: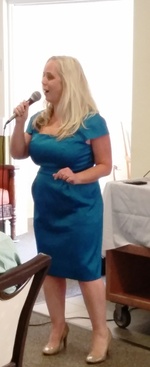 A big thank you to Mary Murphy who

came to our general auditions and has already completed her first Therapeutic Arts performance on September 30 at

Lynmoore Lawnwood in Ft. Pierce.



"There were about 30 residents who attended, and they greatly enjoyed the performance," wrote Jennifer Lussier-Fontaine, Life Enrichment Director at Lynmoore. "THANK YOU! Mary was truly amazing. She will definitely have to come back. The residents continued to talk about her the entire next day. Her style of music touched people in such a great way. Thank you again for sending amazing talent to us."
---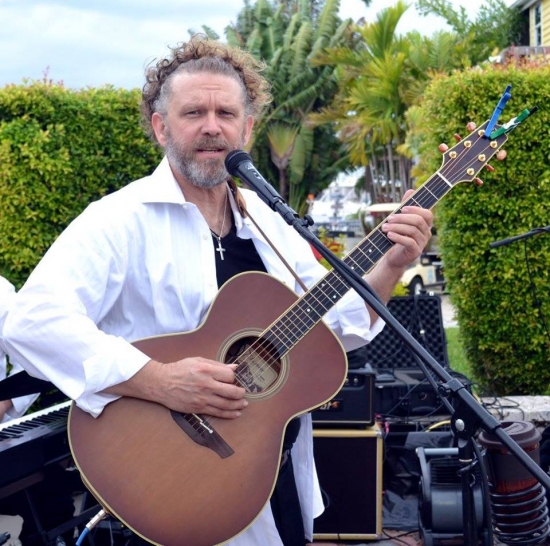 Jonathan Cummings, Entertainer
Sept 27 at 7 p.m.
Brookdale Palm Beach Gardens
Among local musicians Jonathan is at the top of the food chain. He is a singer, songwriter and producer who plays more than one instrument, and has considerable experience in several genres. We are so proud that Jonathan is among the top artists in our database.
You may remember that this artist, who toured with Barry Manilow, was one of the Stars in our inaugural "Singing with the Stars" event two seasons ago?
---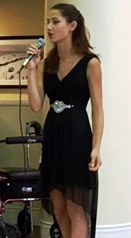 Alexandra Marra, Soprano
Sept 26 at 1:30 p.m.
Brookdale Palm Beach Gardens
Alexandra's mother, Tammy Marra said, "Thank you once again for giving Alexandra the opportunity to sing today. She did very well and it was good practice for her to sing a 45 minute set on her own. She even sang 'Happy Birthday' to a 99 year old man in the audience. The audience seemed to love the show and many came up to speak with her at the end."
---
Art with Danuta
Danuta Rothschild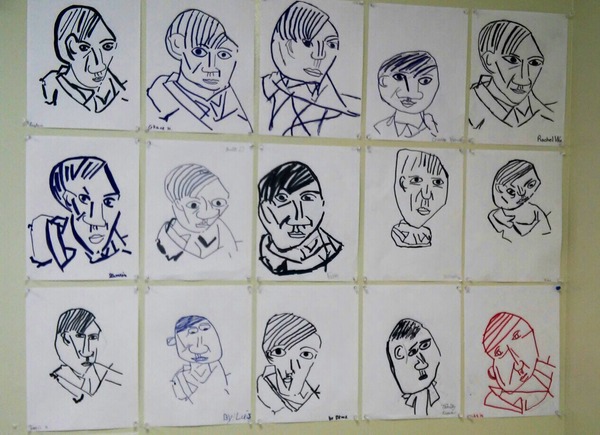 As Danuta continues to teach the children of the Boys & Girls Clubs the styles of the masters, they continue to excel. The picture below was created by a 12 year old girl! Channeling energy into art and education can focus the mind and soothe the soul.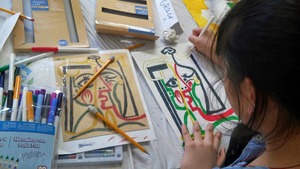 ---
Art Therapy with Shawna Scarpitti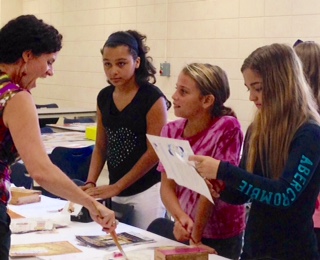 Shawna Scarpitti, a wonderful art therapist working out of Palm Beach Gardens, facilitated an art therapy workshop Sat., Oct 3 for tweens ages 10-14, through Tykes 'n Teens. A4AC was able to connect her with Lucia Girado, a student volunteer new to our A4AC network who has aspirations to become an art therapist herself! They met prior to the workshop and worked very well together at the workshop. Shawna wrote, "Lucia was an AWESOME asset Saturday, and I would have her assist any day as a volunteer!!!!! Thank you so much for introducing us!!!"
The Music of Andrew Lloyd Webber
The event was a smash hit! We can't wait to report more details in next month's e-news and on our facebook page, so stay tuned! The entire cast, Jordan Jones, Olivia Bosaw, Maggie Kuntz, Madison Lay, RhonniRose Mantilla, Arielle Pederson, and Abigail Gawart, made an incredible impression, as the featured young artists. Professional orchestral musicians, Stephanie Hunt, Nick Savage, Robert Hughes, Jane Price, and Stephen Neale, supported the performance, emcee'd by Terry Barber.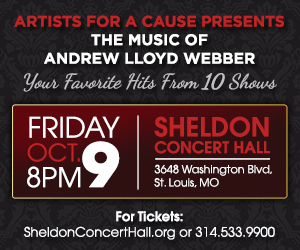 We want to thank COCA (especially Phillip Woodmoore), The Muny, St. Louis Children's Choir, and Stages St. Louis who recommended youth talent to audition for our inaugural event in St. Louis!
Singing with the Stars
At the request of our seasonal residents that suport A4AC, we have extended the application deadline for Singing with the Stars to November 6! We already have many qualified and talented applicants. If you would like to be among them, submit an application and a video audition today! Time is running out. The stage awaits.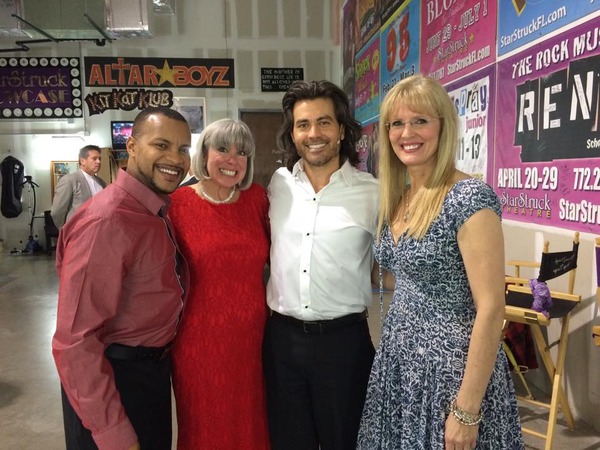 Singing with the Stars pairs local community stars with professional singers. Each duo selects a song, practices and prepares, and then competes on stage where a panel of judges determines the winners based on a combination of singing and fundraising prowess.
The main event will take place
Saturday, February 27, 2016 at 7:00 p.m. at StarStruck Theatre.


Artists for a Cause is a national nonprofit organization that helps visual and performing artists to use their talents for community improvement, stimulating culture, while addressing the critical needs of communities. Some programs help artists and charities to get the most out of their collaboration, while most produce results directly, by feeding the poor, healing the sick, or solving other problems through unique artistic solutions. Additionally, we never ask artist professionals in a struggling industry to donate or give away their livelihood. No program is merely about art for arts' sake – Artists for a Cause is about the arts as a solution.
We would like to thank the following for their support. Please, click to learn more.
Anchor Home Health Services | Mr. Chain | Price Wealth Management UBS
Target | Forest Hills Funeral Home | Crary Buchanan
Arts and Cultural Alliance of Port St. Lucie | Bold Tunes | BB Jones / PD-Go Web hosting
The Firefly Group | Mitch Kloorfain Photography | Wallace Auto Group
NisAir Air Conditioning | StarStruck Academy & Theatre
Stuart Art Supply & Studio | TCPalm.com | Your Voice Weekly
Women Supporting the Arts
The William H. Donner Foundation
_______________________
Artists for a Cause, Inc | 1211 SW Sunset Trail, Palm City, FL 34990 t:772.419.8778