Artists for a Cause has become entrenched in the Marnier Sands Community and we couldn't be happier about it! From the intimate connection via the Cotter's Salon Series to the outpouring of support for Susie McAllister in Singing with the Stars, we truly appreciate all the attention we receive from the community.

Of course we want to mention our involvement in Mariner Sands Charity Week, the largest fundraiser in Martin County, as it continues to grow each year. We received this wonderful feedback this season:

Events included: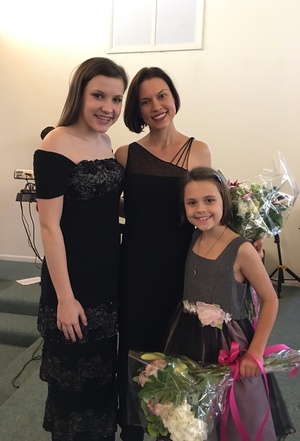 February 26 - Benefit Concert, Mariner Sands Chapel - Carla Holbrook performed with her daughter Lexie Laverty as well as A4AC young talents Eliza Levy and Anthony Capizzi: "At Last," a program of jazz and popular favorites.

We would especially like to thank Tanya and Vince Condello for generously opening their home and hosting an elegant reception following the concert. We are truly grateful.

March 4 - Terry Barber, countertenor and his trio performed "Around the World in 80 Minutes," the world's favorite melodies in 10 languages. The trio included Julliard-trained concert pianist, Alina Kiryayeva, multi-wind instrumentalist, Ryan Walsh. Additionally, Terry mentored some of the most gifted in A4AC's youth network including Mikaela Danchenko and Alexis Bentinganan (singers) plus Erica Lucio (clarinet) and Nathalia Ricardo (flute).

Thank you again to Maureen and Timothy Cotter for hosting the reception following that moving event.

March 5 - Charity Week Gala included entertainment by the band Mccartney Mania who were joined on stage by Eliza Levy who blew away the crowd with "Let It Be". Southfork High School's Carillon Singers also entertained as folks entered on red carpet, and cocktail entertainment was provided by students Megan Savage on Cello and Ryan Cox on Saxophone.

---
We are pleased and humbled to share some kind words from our friends at Mariner Sands: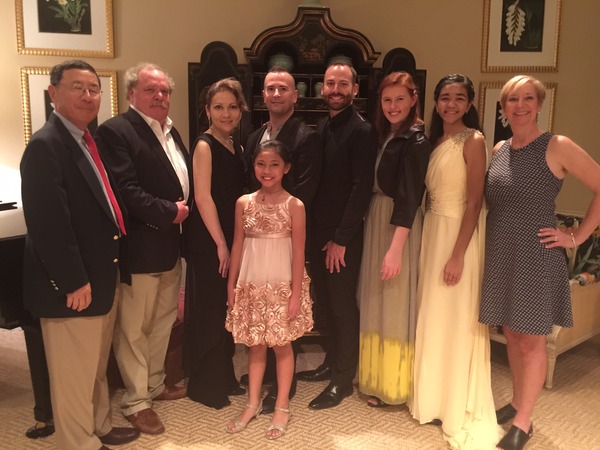 Cindy Black, Chair of the Charity Gala:
Terry.... I'm just not sure where to begin. From the beginning, you and your amazing and talented artists have brought so much class and excitement to our Gala Event. It has been such an honor to say to our members that our Gala entertainment is McCartney Mania and Artists for a Cause and our wonderful members. You exude warmth, charm and an amazing talent which you are passing on to very fortunate young Artists who have the privilege of developing their talents under your 'wing'. I sit in awe of your amazing voice Terry.

All feedback I have received has been absolutely positive. Eliza Levy's song "Let It Be" with the most incredible, fun and over-the-top. And everyone's favorite band McCartney Mania, brought the house down. I do believe, according to an email that I received from Jimmy, the lead singer of the band, that Eliza is now an honorary member of McCartney Mania. Ryan Cox's saxophone playing filled our grill room with a sophisticated ambiance, while everyone fell under the spell of Megan Savage's cello playing. Our guests were enchantingly greeted by the Carillon singers who beautifully handed our guests over to Susie McAllister who welcomed our guests in the lobby with her melodic voice. She was accompanied by the lifting sounds of Frank Rawdling and Tabitha Merks on piano. Christine Jung brought every guest to their feet with her powerful Star Spangled Banner.

It was an evening filled with such beautiful music and talent, and everyone walked away with this sweet music memory. I just don't know how we could improve.

On top of all these Stars that lit up our night with their talent, their sweet demeanors and manners were exemplary.

Terry the concerts that you performed at the Chapel were incredible. Everyone was in awe of your powerful voice and your stage presence with the other artists. Maureen and Tim Cotter are an amazing couple to introduce us to you and your Artists for a Cause group.

I could give you a word for every letter of the alphabet...from Awesome to Zest.... that says...you're the Best.

Thank you for all that you do!!!


Maureen Cotter, newest A4AC Board Member and member of Mariner Sands:
We hated to miss the gala this year but through your description, I felt like I was there.

Having heard Eliza sing at the Salon Series, I'm not at all surprised to hear that she brought the house down and made a lot of new fans. We are so proud of her.

Terry, I echo what Cindy shared. All I have heard is rave reviews for the gala and both concerts. Thank you for using your many gifts to help strengthen our community.


Bob Kung, board member of Mariner Sands Charity Week: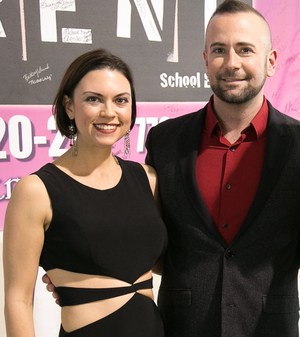 The reviews are in, the critics have spoken. Mariner Sands loves CARLA.

Great performance. Out of the ballpark. Right on target. Great band. Superb guitar.

Let me echo all the great sentiments. Carla was the consummate professional, the guitarist was fantastic, Lexi's performance went viral, Ryan and Alina got rave reviews from our local classical music expert. They seemed to mutually enjoy performing here as much as we enjoyed their talent. And, your energy and dedication is simply incredible. The highest praise a navy guy can give is to hoist Bravo Zulu...well done!

Attendance at both performances and receptions combined were higher than last year. We think the partnership of Charity Week and A4AC should be able to fill both wings and the outside of the chapel with the right production! We look forward to next year.

Back to top