A4AC presents
Outstanding Artist of the Month
Our selection is based on exceptional talent,
and creative use of talent for community improvement.

Jonathan Cummings
Award-winning musician Jonathan Cummings' credits include performing alongside The William Hall Coral, The Paul Solomonovich Orchestra, and entertainer Barry Manilow. He has been featured in countless local theater productions; including The Pajama Game, Company, Gypsy, and Chicago.
Throughout his career, Cummings has also produced many commercial jingles for radio and television. Several of his projects have benefited important causes such as Drug Abuse Resistance Education (D.A.R.E). His latest album, Sailing The Wave of Rigel, is now available for download via his official website.

He currently sings with his outstanding jazz group, Jonathan Cummings and Friends, and the Sunshine Party Band. Both are available for booking to support charity functions.

A4AC Artists Featured

in Dorothy Day Event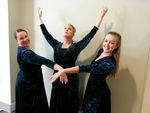 Celebration of Dorothy Day was a lecture and devotional service put together by The Celebrations, a group of nine women who present an annual event focusing on the work of an exceptional female leader.

The focus of this year's event was Dorothy Day, an American journalist, activist, and founder of hospitality houses for the poor. She is in the first stages of Sainthood consideration.

A keynote address by a speaker from St. Thomas Aquinas University was followed by a service led by members. A4AC artists
Nicole Fugelo, Jen Jacoby, and Lisa Zahradnik
from Preston Contemporary Dance shared their talents at the event.

"We felt honored to have participated in the company of such outstanding women. Thank you A4AC for connecting our groups!"
- Preston Contemporary Dance Theatre
A4AC Artists Rock Sailfish Point Beatles Gala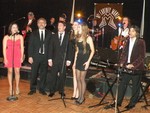 On February 9th, A4AC and the popular tribute band McCartney Mania joined forces to entertain over 150 guests at a Beatles nostalgia-themed fundraising event organized by the Sailfish Point Foundation.

The event, a benefit for education, featured performances by talented young registered A4AC vocalists trained at the StarStruck Performing Arts Center, StarStruck Music Director, Peter Jones, A4AC founder Terry Barber, and A4AC February Artist of the Month, Jonathan Cummings.

"We have been told by many of the members who attended that this was possibly the best entertainment event ever held at Sailfish Point" said Rich Evans, President of the Foundation.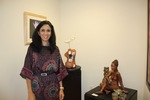 Talented visual artist Patricia Reagan has pitched in wherever and whenever we have needed it over the past several months. For this reason, we are happy to name her A4AC February Volunteer of the Month!

Helping us organize fundraisers, open houses, and even hosting an event to promote our cause with friends Ana Alvarez and Christine Mulrooney, Patricia Reagan has gone above and beyond becoming a valued member of our team.

You'll likely see Patricia and some of her work at our next Open House this upcoming March 28th. You can thank her on our behalf, then!


A4AC Proud to Support Children's Emergency Resources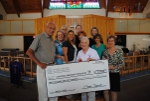 Last January, Children's Emergency Resources received a $2,500 gift from the Treasure Coast Music Teachers Association. The funds were collected through a recent Music-Thon held at the Treasure Coast Mall. Performers participating in the event were introduced by local community leaders, among whom was our founder, Terry Barber, who also performed to support the event.
Children's Emergency Resources is a nonprofit organization which provides health-related services to local children and families in need. The organization has been serving Martin Country for over 30 years, we are proud to be their friend!
Pine School Students Support A4AC on Valentine's Day

Last week, members of the A4AC student club at The Pine School helped us raise funds to support our cause through a Valentine's Day sing-a-gram event. In exchange for $5 donations, the group serenated dozens of High School sweethearts with popular romantic tunes.

All funds raised through the event will go to support A4AC School Club initiatives such as the "Share Arts" program, which allows artistically-inclined students to share their talents at local cultural events.



A4AC Clubs Lend Their Talents to

REACH Program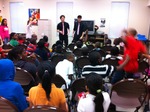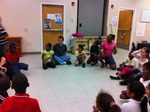 As part of an ongoing program, A4AC Club students led by club president, Kevin Paul; Spencer Ballantyne, Nathaniel Romero, Michael Hadhacy, Katie Rodgers, Peg Parnezik, and Katlin Afshar served as many as 60 children enrolled at the Stuart REACH program as part of our "Share Arts" initiative.

At the event, which took place at Morovia Park, A4AC students played the role of mentors as they shared their unique talents through creative activities such as improvisational games, singing, and acting skits.

"Many of the [REACH Program] children came to me and let me know how much they enjoyed the program. I was amazed with what some of the groups were able to create" said Anna Hartnig, Recreation Leader at the Parks and Recreation Department of Martin County.

Alison Lax, Teacher Sponsor for the A4AC Pine School Club was also delighted by the positive impact that program involvement had on her students: "I was so impressed both with the enthusiasm, and the initiative the students had in supporting Artists for a Cause. It's a unique project that has been executed with incredible passion."