Dear A4AC Artists, Friends, and Supporters,

I have never been more proud of all that we are accomplishing. We simply don't have space in this newsletter to share all of it with you, so please see the event calendar listing in the right column, which has links to more detailed information.

I ask that you continue to spread the word to artists, and potential volunteers or donors. There has never been a better time to get involved with A4AC!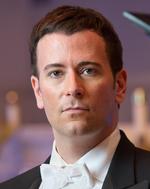 Terry Barber, Executive Director
---
Local students impacting future
generations through art education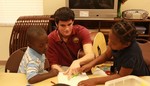 From TC Palm - Evelyn Lespinasse

If you walk into the Costella Williams Learning Center in New Monrovia Park in Stuart on a Thursday afternoon, you will see many happy children running about, singing, laughing and taking part in a variety of after-school activities.

Even more inspiring, is the ability to see first-hand how one generation of students is working to positively influence a younger generation. Once a week, students from The Pine School's Artists for a Cause (A4AC) Club go to the center to share their talents and passion for the arts with younger students in the Residents Empowering All Children's Hope (R.E.A.C.H) after-school program.

The A4AC Club is a student-chapter of the local nonprofit organization, Artists for a Cause, which aims to improve communities through various artistic endeavors. By having a club at The Pine School, the organization is able to broaden its reach and assist students in using their artistic abilities to better their community.
Artists for a Cause, a lesson in stewardship
From Stuart News, Alex Boerner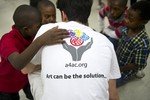 The Pine School Artists for a Cause club President junior Kevin Paul, sophome Katie Rodgers, sophomore Mike Hadhazy, and English teacher Adison Lax visited students at Costella Williams Learning Center in Port Salerno as part of a Share Arts program that teams older students with younger ones to encourage them to express themselves in a safe, creative way.

It was the Pine School students sixth visit, and they were greeted with a loud, enthusiastic cheer when they entered the center. They wasted no time engaging the students in a sing-a-long, followed by a performance on conflict resolution.

There are benefits for both the young students and the group of leaders, according to A4AC founder Terry Barber. "The younger kids get access to arts education and the older kids are actually learning some great leadership skills, too, maybe without even realizing it first" Barber said.

Read More
_________________________________________________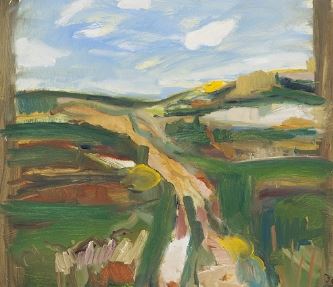 A4AC presents
Outstanding Artist of the Month
Our selection is based on exceptional talent,
and creative use of talent for community improvement.
Barbara Stacher
Barbara Stacher, born in Vienna in 1967, graduated in economics and international relations. From her early life on, she dedicates herself to painting and sculpture and has been pursuing formal art education inter alia at the Art Academies of Ixelles and Etterbeek in Brussels as well as private ateliers and has exhibited her work in different places (in Brussels, Salle Allende-ULB, Espace Art Gallery, Art-Base Gallery).
She is currently preparing her participation in a group Expo this June in London (Royal Opera Arcade Gallery, Pall Mall) and in January 2014 in New York (Ward-Nasse, Soho).

We would like to thank Barbara for sending several of her works from Belgium. They are currently on display at our office location!
_________________________________________________

SFHS A4AC Club presents Hope for Freedom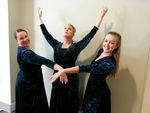 Students from Southfork High School will perform a benefit concert to A4AC this upcoming April 13th at 7 P.M at the school's auditorium. The event, featuring performances by singers, actors, and dancers from Preston Contemporary Dance Theater, StarStruck Performing Arts Center, Tasha Paterson Dancers, and the CF Youth Band aims to raise awareness about about human trafficking.
Following the program, a silent auction will be held at the premises. Admission cost will be $5. We hope to see you there!
_________________________________________________
Volunteer of the Month
Peter Perry
We would like to extend a warm thank you to Chef de Cuisine Peter Perry for lending his talent and expertise to making our Pasta-Making fundraiser event, April 9th, possible.
_________________________________________________
A4AC Best & Brightest event



Up-and-coming A4AC performing artists share their talents to support our cause. Funds raised will support A4AC programs which improve communities through artistic endeavors.
The event, scheduled for May 4th at the Forest Hill Young & Prill Chapel in Stuart, FL, will include 1-hour musical theater, pop, jazz, and classical performances featuring some our best and brightest showing off their best song.
Entry cost for audience will be a donation of any size to A4AC. Please RSVP to Michelle@a4ac.org due to limited space!

May 4th, 2013 at 2:00 P.M
Forest Hills - Young & Prill Chapel
6801 SE Federal Hwy.
Stuart, FL 34997
Phone: 772-223-9300

_________________________________________________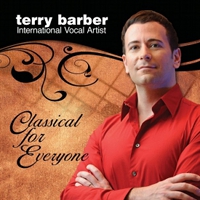 A4AC founder Terry Barber
to perform Classical for Everyone
Artists for a Cause founder, international countertenor Terry Barber, will perform this upcoming April 21st at Sandhill Cove as part of his Classical for Everyone concert series. The program will highlight classical favorites, and feature a few modern crossovers of timeless hits.

Sponsored by Elizabeth Lahti, the event is a low cost opportunity for students and parents alike to experience our founder's national tour. Entry cost will be a donation of any size to Artists for a Cause.
April 21st, 2013 at 3:00 P.M
Sandhill Cove
1500 SW Capri St
Palm City, FL 34990
_________________________________________________
Artists for a Cause t-Shirts now available
We are proud to announce our release of a new and improved t-shirt design. The ts, printed on 100% cotton, are available in sizes ranging from small to 3XL at our office location.

Through your purchase of a $10 t-shirt you will be helping A4AC programs to continue to make a difference in our community. Get yours today!
Connect with us

!


_________________
Support us!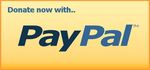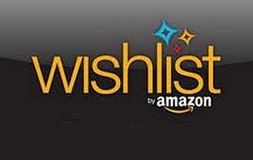 _________________
Upcoming events
Pasta-Making Fundraiser
April 9th (only 2 spots left!)
"Hope for Freedom"
April 13th
"Sunday Afternoon Dance"
April 14th
A4AC Talent at "Women of Distinction" Event
April 18th
"Classical for Everyone"
April 21st
A4AC Best & Brightest
May 4th
A4AC Open House
May 30th
_________________
Charity support
Does your organization need a benefit concert? jazz? classical? musical theater? We can produce the entire performance and support your cause with a unique source of revenue.
Are you a visual artist interested in showing at one of our events? We have display spaces available!
Contact us!
_________________
About us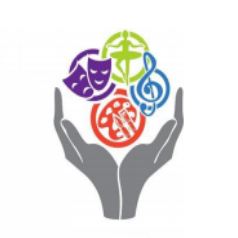 A4AC is a Stuart-based, non-profit organization that improves communities by using the arts as a catalyst to achieve incredible results. The organization strives to solve community need problems through unique artistic endeavors.