Stay Connected!
Need Legal Help?
Click here to complete our online intake form: CLRCIntake.org


Get Involved!
Join the
CLRC Professional Panel!
The CLRC is seeking attorneys to join its Professional Panel and help people navigate their
cancer-related legal concerns.
A volunteer attorney can make the difference! For more
Sign up to volunteer!
If you are interested in helping
out in the CLRC office or in attending events as a representative of the CLRC, please call us at (866) 843-2572 or click here to complete a volunteer application.



May 2012 Events
For information about these events, contact us at
866-THE-CLRC
(866.843.2572) or CLRC@LLS.edu.


CLRC FREE teleconference/webinar
"Employment"
Wednesday, May 9, 2012
9:00am PST/ 12:00pm EST
To register, click here.

LivingWell Cancer Resource Center
"Health Insurance and Health Care Options"
Thursday, May 10, 2012
6:00pm-7:30pm CST
Naperville, IL
For more information, contact Jillian Smallwood at (630) 262-1111

Orange County Women's Health Project
Women's Policy Conference
Tuesday, May 15, 2012
8:00am-4:30pm PST
University of California- Irvine
For more information, click here.

CLRC FREE teleconference/webinar
"Health Care Reform"
Tuesday, May 15, 2012
5:00pm PST/8:00pm EST
To register, click here.

South Bay Survivorship Consortium
Tuesday, May 15, 2012
6:00pm-8:00pm PST
Torrance, CA
For more information, click here.

Lymphoma Research Foundation
"Cancer and the Law" webinar
Wednesday, May 16, 2012
6:30-7:30pm CST
For more information, please call (312) 263-1717.

Family Health Partnership Clinic
McHenry County Women's Health Task Force
Thursday, May 17, 2012
9:00am CST
Crystal Lake, IL
For more information, contact hpclinic@mc.net

Planned Parenthood Los Angeles
Cáncer y la ley
Friday, May 18, 2012
9:30 am PST
Los Angeles, CA
For more information, contact (213) 284-3200

Latinas: Salud y Vida
Saturday, May 19, 2012
8:00am- 1:00pm PST
Los Angeles, CA
Para reservar un lugar, por favor llame al (213) 484-7766.

UCLA- LIVESTRONG Cancer Survivorship Conference
Saturday, May 19, 2012
8:00am-5:00pm PST
Los Angeles, CA
For more information, click here.

Hoag Memorial Hospital Annual Caregivers Conference
Saturday, May 19, 2012
8:00am-12:30pm PST
Newport Beach, CA
To register, click here.

Cancer Legal Resource Center
2012 Boston Cancer Rights Conference
Tuesday, May 29, 2012
8:00am-4:30pm EST
Boston, MA
To register, click here.

Association of Oncology Social Work
28th Annual AOSW Conference
Wednesday, May 30, 2012
Boston, MA
For more information, click here.


Stay tuned for updates on events, conferences, teleconferences, and
webinars, and to online resources!
May 3, 2012
National, Volume XXI
Dear Friend,

In this month's issue of the CLRC Chronicle, you will find:
What's New at the CLRC!
Our 2012 Boston Cancer Rights Conference is May 29!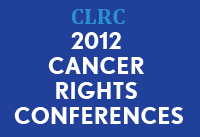 Register today for our FREE Boston Cancer Rights Conference on May 29! This conference will bring together cancer patients, survivors, advocates, and navigators, as well as health care professionals and attorneys. It is offered as a pre-conference session of the 2012 Association of Oncology Social Work Conference and has been approved for 5.5 CE credits for social workers through NASW and for 5.5 CEU credits for nurses through ONS. Don't miss out on this unique educational event! To register, click here.


Spring Forward Chicago!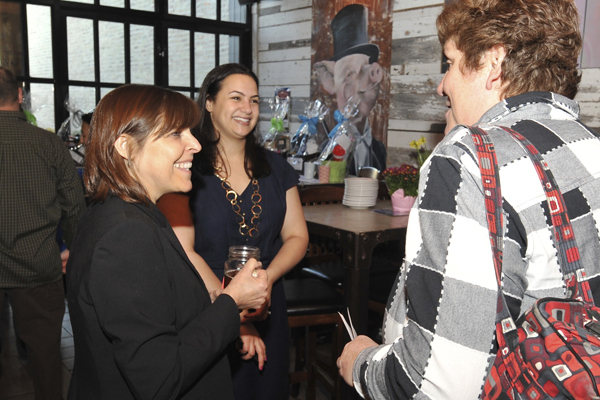 On Tuesday, April 17, 2012, the Disability Rights Legal Center (DRLC) hosted its first-ever fundraiser in the Midwest in support of the Cancer Legal Resource Center (CLRC). The event was a celebration of the legal impact the CLRC has had on the Midwest's cancer community. Held at Barn & Company in Chicago, IL, the event drew approximately 40 people and raised over $2,000 through ticket sales and an exciting opportunity drawing. Paula Pearlman, DRLC Executive Director, was in attendance, along with Midwest Regional Director, Monica Bryant and Administrative Assistant, Sarah Aguirre. A special thanks to all those who donated and attended!
The CLRC Submits Comments to the California Health Benefits Exchange
The California Health Benefit Exchange is an independent public entity within the state government, and its goal is to improve the health of all Californians by assuring their access to affordable, high quality care. It was created in response to the Affordable Care Act's mission to offer consumers a competitive marketplace where individuals and small businesses can shop for and buy health insurance that is best suited to their needs.

In order for health insurance plans to be offered in exchanges like the one set up by the California Health Benefit Exchange, they must cover "essential health benefits." Coverage of essential health benefits means that coverage is required by insurance companies in at least ten categories: ambulatory patient services; emergency services; hospitalization; maternity and newborn care; mental health and substance use disorder services, including behavioral health treatment; prescription drugs; rehabilitative and habilitative services and devices; laboratory services; preventive and wellness services and chronic disease management; and pediatric services, including oral and vision care. In practice, this also means that health insurance companies can no longer create lifetime dollar limits on spending for these types of services, and with limited exceptions must also phase out any annual dollar limits on these services by 2014.

In April, the CLRC submitted comments to the California Health Benefit Exchange Board on suggested improvements to California's Exchange system. As part of its comments, the CLRC suggested expanding certain "essential health benefit" categories for health plans that participate in California's Exchange. For example, the CLRC advocated inclusion of all cancer screening services, not just coverage for certain age groups. The comments pointed out that many young people have a high risk of cancer due to family histories, and it would be highly beneficial for these individuals to receive cancer screening early. The comments also called for expanded mental health services, especially in instances where there can be mental health related consequences to chronic diseases like cancer, e.g., depression or anxiety. Finally, the comments emphasized the importance of having dental and vision services available to all consumers, particularly for those who have experienced dental and/or vision problems due to cancer treatment.

In addition to its suggestions on expansion of already-existing categories, the CLRC suggested the inclusion of genetic services, such as genetic testing and counseling, as an essential health benefit. This inclusion is in line with the idea that prevention and early detection is key in treating and managing chronic diseases and other serious medical conditions.
2012 Cancer Rights Conferences-- Register Today!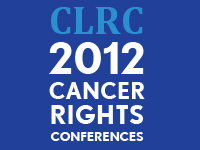 The CLRC's first 2012 Cancer Rights Conference is rapidly approaching. Register today!
Chicago, IL: September 7th To register, click here.
Central Valley, CA: October 5th To register, click here.
Our conferences have been approved for 5.5 hours of CLE credit for attorneys in the states of Arkansas, California, Indiana, Nevada, Ohio, and Pennsylvania. Our Chicago conference has been approved for 5.5 hours of IL MCLE credit. Other CLE applications are still pending.

This program is Approved by the National Association of Social Workers (Approval # 886543579-9899) for SOCIAL WORK continuing education contact hours.

This continuing nursing education activity was approved by the Oncology Nursing Society, an accredited approver by the American Nurses Credentialing Center's Commission on Accreditation.

For more information on these upcoming Conferences, please visit www.CancerRightsConference.org
Meeting the CLRC's Professional Panel: Leslie A. Soley
By Jamie Ledezma, CLRC Staff Attorney
Leslie A. Soley, a member of the CLRC Professional Panel, is
currently a partner and owner at Judith Leslie Soley, Inc., in Fresno, California. The firm has been providing family law services to clients in the Central Valley region since 1986. Leslie joined the firm in 2009 and has successfully represented clients in areas of divorce, child custody and visitation, child and spousal support, and adoption.

In addition to volunteering as a member of the CLRC Professional Panel, Leslie is a member of the Central Valley Collaborative Law Affiliates where, as part of the divorce process, she, along with other Collaborative professionals, assists parties in reaching a mutually acceptable settlement without litigation. Leslie is also a family law mediator, which enables her to utilize conflict resolution tools to resolve disputes outside of the court system and reduces the emotional and financial costs associated with litigation.

Leslie says, "I've volunteered to work with the CLRC because I have seen firsthand the overwhelming stress that people face when dealing with divorce and child custody issues. Our clients come to us worried about their future, afraid their bank accounts will be frozen, worried about their children, and afraid they will lose their health insurance, and worried they will be kicked out of their home. Because of my personal connection to cancer, I thought volunteering with the CLRC would be a great way to help reduce some of the worry that comes with family law matters for people touched by cancer."

For her dedication and work, we commend Leslie A. Soley and thank her for her participation on the CLRC's Professional Panel. If you are interested in applying or learning more about the CLRC's Professional Panel, please click here: http://bit.ly/j55VWN.
Thanks to our 2012 Cancer Rights Conferences Session Sponsor, Cancer and Careers!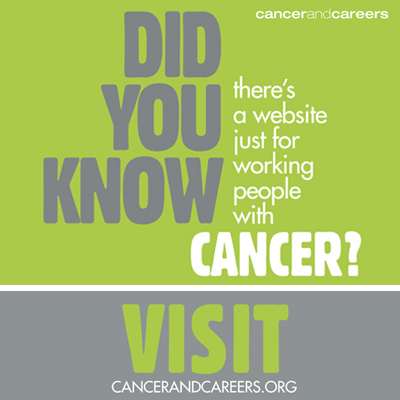 About the CLRC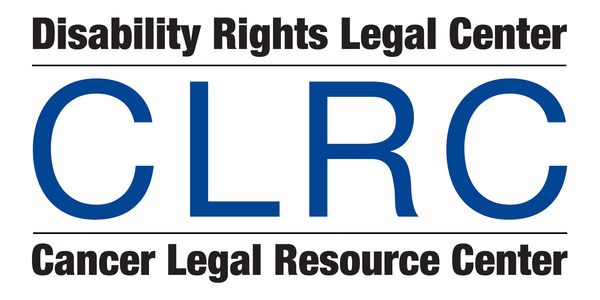 The Cancer Legal Resource Center (CLRC) is a national, joint program of the Disability Rights Legal Center and Loyola Law School Los Angeles. The CLRC provides free and confidential information and resources on cancer-related legal issues to cancer survivors, caregivers, healthcare professionals, employers, and others coping with cancer.
A cancer diagnosis can carry with it a variety of legal issues, including insurance coverage, employment discrimination, access to health care, and estate planning. These legal issues can cause people unnecessary worry, confusion, and stress, and can be overwhelming. When these legal issues are not addressed, people may find that although they have gotten through treatment, they have lost their homes, jobs, or insurance.