Stay Connected!
Need Legal Help?
Click here to complete our online intake form: CLRCIntake.org


Get Involved!
Join the
CLRC Professional Panel!
The CLRC is seeking attorneys to join its Professional Panel and help people navigate their
cancer-related legal concerns.
A volunteer attorney can make the difference! For more
Sign up to volunteer!
If you are interested in helping
out in the CLRC office or in attending events as a representative of the CLRC, please call us at (866) 843-2572 or click here to complete a volunteer application.


July 2012 Events
For information about these events, contact us at
866-THE-CLRC
(866.843.2572) or CLRC@LLS.edu.


Cedars Sinai Brandman Breast Center
"Cancer and the Law"
Wednesday, July 11, 2012
11:00am PST
Los Angeles, CA
For more information, call (310) 423-4691

Latinas Salud y Vida
Saturday, July 14, 2012
St. Vincent Medical Center
Los Angeles, CA
Para reservar un lugar, por favor llame al (213) 484-7766

CLRC FREE teleconference/webinar
"Health Care Reform"
Tuesday, July 17, 2012
3:00pm PST/6:00pm EST
To register, click here.

Kaiser West LA
Understanding Resources for Patients with Disabilities and Chronic Diseases
Wednesday, July 18, 2012
2:00pm PST
Los Angeles, CA
For more information, call (323) 857-2772

Advanced Radiation Center
"Employment and Estate Planning"
Wednesday, July 25, 2012
6:30pm PST
Beverly Hills, CA
For more information, contact Suzy Delgado at (424) 249-7500

Long Beach Memorial Medical Center
5th Annual Survivorship Symposium
Saturday, July 28, 2012
9:30am- 12:30pm PST
Long Beach, CA
For more information, contact Cindy Gotz at (562) 933-2889

Cancer Support Community
Frankly Speaking about the Cost of Cancer
Tuesday, July 31, 2012
2:00pm-3:00pm PST
Walnut Creek, CA
For more information, call (925) 933-0107

Cancer Support Community
Frankly Speaking about the Cost of Cancer
Tuesday, July 31, 2012
6:00pm PST
Pasadena, CA
For more information, call (626) 796-1083



Stay tuned for updates on events, conferences, teleconferences, and
webinars, and to online resources!
July 11, 2012
National, Volume XXIII
Dear Friend,

In this month's issue of the CLRC Chronicle, you will find:
What's New at the CLRC-- A message from CLRC Director, Jen Flory
Dear Friend,

Do either of these sentiments sound familiar?

"If there's anything really wrong, I'd rather not know. You can't get health insurance if there's something wrong."
"I need to see a doctor, but I'm not sick enough to qualify for help."

Now that the Supreme Court has upheld most of the Affordable Care Act, two large barriers to early cancer detection and treatment will soon be done away with – the fear of forever being labeled with a pre-existing condition in a world where insurance availability and rates are based upon likely health needs, and the government policy to only cover those low-income people at the point they are deemed too sick to work.

Additional barriers to accessing lifesaving treatment are also on the way out with the elimination of annual and lifetime limits on health insurance policies.

It is in such a climate of change that I am proud to join the Cancer Legal Resource Center as its new Director. Having spent the majority of my legal career as a health policy advocate, it is the most exciting time to begin a new position at an organization whose mission it is to educate and advocate for persons coping with cancer and others who care about them on their legal rights.

Of course, we at the CLRC have our work cut out for us. While it is true that the Affordable Care Act should make health insurance more affordable and accessible to those who have been diagnosed with cancer, the devil is always in the details. Every state will have to take steps to implement these new protections and will have stakeholders from across the health care spectrum weighing in.

The CLRC is well-positioned to offer the technical expertise of an organization that already presents on and participates in the regulation of health care law. The CRLC also brings to the table the experiences of those who call our Telephone Assistance Line seeking legal help, grounding our work in the real world needs of the community we serve.

In addition to our work around health care reform, we will continue our work educating our community on the legal issues that come with a cancer diagnosis, such as taking time off from work, retaining insurance coverage, obtaining treatment, and access to government benefits.

I truly look forward to working with all of our partners and the individuals that make up this caring community. I can be reached at Jen.Flory@lls.edu. Please reach out and introduce yourselves to me so I can get to know you better.

Kind regards,

Jen Flory

Director
Cancer Legal Resource Center
What the Supreme Court's Decision Means for Health Care Reform
Thursday, June 28 was an exciting day for the cancer and disability communities, and for all Americans with pre-existing conditions: the Supreme Court of the United States found the key provisions of the Patient Protection and Affordable Care Act—President Obama's Health Care Reform legislation—to be constitutional. The DRLC followed the case carefully and filed an amicus brief with the US Supreme Court to ensure that everyone has access to affordable health care.
"A central tenet to championing the rights of people with disabilities includes the promotion of access to adequate, affordable health care for those with any type of health condition, including people with pre-existing conditions such as cancer. The DRLC has a particular interest in cancer-related legal issues through its national Cancer Legal Resource Center (CLRC) program," stated Shawn Kravich, Associate Director of the CLRC. "Using cancer as a lens for all chronic health conditions, the DRLC believes that by giving new populations access to health care coverage through the provisions of the Affordable Care Act opportunities are created for early screening, prevention, and treatment that will ultimately save tax dollars and—more importantly—increase survivorship."

The Court upheld all of the law's patient-focused protections that rely on an increased number of people being insured through the individual mandate:
Young adults will continue to be insured on their parents' plans until the age of 26

Children under the age of 19 will still be able to get coverage even with pre-existing conditions

On January 1, 2014 health insurance companies can no longer deny people coverage because of pre-existing conditions

Health insurance companies will not be able to impose annual or lifetime limits after 2014
In human terms, Health Care Reform's 2014 elimination of lifetime limits and pre-existing condition denials will save countless lives. Jamie Ledezma, a staff attorney at the CLRC, relates her personal story:

"As a young 20-something year old, I never dreamt that I'd be in jeopardy of exhausting my employer-provided health benefits, which provided a $1 million lifetime limit. At 27 years old, and 14-weeks pregnant, I was diagnosed with triple-negative breast cancer. In less than a year's time, I had nearly blown through the $1 million limit on my health insurance. My first surgery came with a $250,000 price-tag and I'd have five more surgeries, 10 months of chemotherapy, and a pregnancy with high-risk doctors and specialists to follow. Like many cancer survivors, once my treatments ended, I faced a fear of recurrence. Believe it or not, much of my fear and anxiety about a recurrence was whether I could "afford" another round of chemotherapy and surgeries as I was approaching the $1 million lifetime limit. As a 27-year old, new mother battling cancer, my husband and I were teetering on financial ruin if faced with a recurrence. Thankfully, the SCOTUS decision on the Affordable Care Act reassures my family and me that if we are faced with cancer again, my access to care will remain intact."

The Supreme Court's decision today means that 30 million Americans will be able to access care for the first time, and that Jamie Ledezma and others who are currently insured will be able to get more out of their existing coverage.

The CLRC has just released parts one and two of its analysis of the Supreme Court's decision. For part one, "The Supreme Court's Decision," click here. For part two, "What Health Care Reform Means," click here.

In the coming weeks, more information and analysis will be available on the CLRC's website, www.cancerlegalresourcecenter.org.
2012 Cancer Rights Conferences-- Register Today!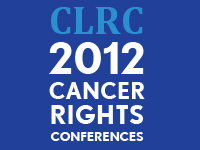 Missed our Boston conference? There's plenty of time to register for our upcoming events!
Chicago, IL: Friday, September 7 To register, click here.
Central Valley, CA: Friday, October 5 To register, click here.


Houston, TX : Friday, March 8, 2013

To register, click here.
Our conferences have been approved for 5.5 hours of CLE credit for attorneys in the states of Arkansas, California, Indiana, Nevada, Ohio, and Pennsylvania, and for 6.5 hours of CLE credit for attorneys licensed in Wisconsin. Our Chicago conference has been approved for 5.5 hours of IL MCLE credit. Our Houston conference has been approved for 5 hours of TX MCLE credit.

This program is Approved by the National Association of Social Workers (Approval # 886543579-9899) for SOCIAL WORK continuing education contact hours.

This continuing nursing education activity was approved by the Oncology Nursing Society, an accredited approver by the American Nurses Credentialing Center's Commission on Accreditation.

For more information on these upcoming Conferences, please visit www.CancerRightsConference.org
About the CLRC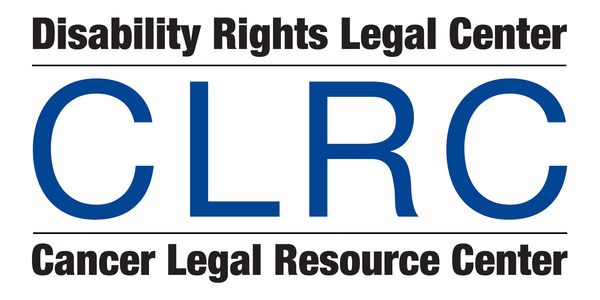 The Cancer Legal Resource Center (CLRC) is a national, joint program of the Disability Rights Legal Center and Loyola Law School Los Angeles. The CLRC provides free and confidential information and resources on cancer-related legal issues to cancer survivors, caregivers, healthcare professionals, employers, and others coping with cancer.
A cancer diagnosis can carry with it a variety of legal issues, including insurance coverage, employment discrimination, access to health care, and estate planning. These legal issues can cause people unnecessary worry, confusion, and stress, and can be overwhelming. When these legal issues are not addressed, people may find that although they have gotten through treatment, they have lost their homes, jobs, or insurance.
CLRC staff members include:

Jen Flory, Esq., CLRC Director
Shawn Kravich, Esq., CLRC Associate Director
Jamie Ledezma, Esq., CLRC Staff Attorney
Anya Prince, Esq., Skadden Fellow/Staff Attorney
Laura Riley, Esq., CLRC Staff Attorney
Stephanie Fajuri, Esq., CLRC Staff Attorney/DRLC Development Coordinator
Maria Badillo, CLRC Coordinator
Visit www.CancerLegalResourceCenter.org for more information about cancer-related legal issues and services provided by the Cancer Legal Resource Center.